02 Nov 2022

Bears cruise past Lions 64-29

CONWAY — The University of Central Arkansas Bears piled up the yards and the points Saturday, cruising past the North Alabama Lions 64-29 in ASUN Conference play on a wet Homecoming evening at First Security Field at Estes Stadium.


The Bears (4-4, 3-0), coming off a bye week, remained perfect in league play by putting up an NCAA Division I-era school-record 733 yards of total offense, including nearly 500 rushing yards. UCA sophomore running back Darius Hale topped his career rushing mark set last year with 255 yards and two touchdowns on 19 carries, for a 13.4-yard average. Sophomore Kylin James added a career-high 113 yards on just six carries (18.8 avg.).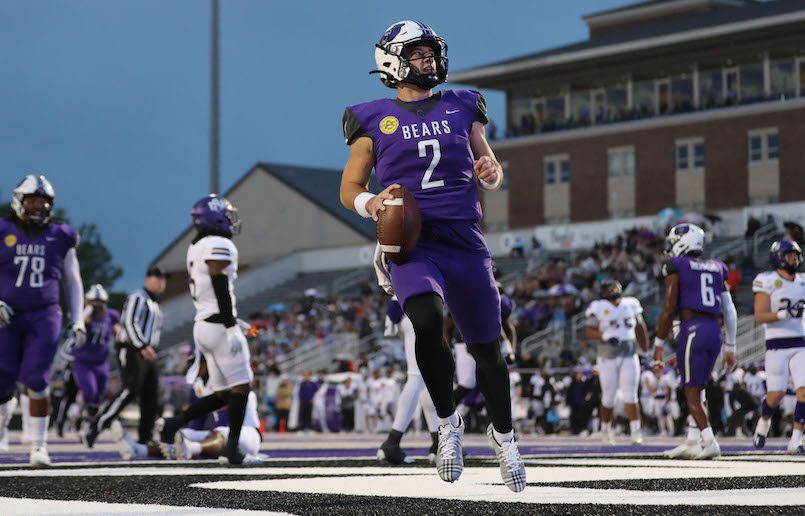 The Bears, who have now scored 49, 49, 51 and 64 points in their past four games, also had two 100-yard receivers in junior Jarrod Barnes (six catches, 103 yards) and Myles Butler (2 for 117).  Junior quarterback Will McElvain kept the offense clicking throughout the night and was an efficient 15 of 24 passing for 277 yards and a pair of touchdowns.

Junior wide receiver Christian Richmond, who was the ASUN Offensive Player of the Week after UCA's last game against Kennesaw State two weeks ago when he sat a league record with 12 receptions, contributed just one reception on Saturday but broke the game open with an 82-yard kickoff return for a touchdown after a UCA safety in the first quarter. Senior placekicker Hayden Ray was a busy man as well with a pair of field goals (24, 25 yards) and eight extra points, tied for third-most in school history.

Following a first-quarter fumble, the Bears scored three consecutive touchdowns, then had a second-half stretch with scores on five straight possessions (four touchdowns, one field goal). Three of those scoring drives took a combined seven plays and just 2:31 off the clock.

UNA (1-7, 0-4), which scored 53 points in a loss at Eastern Kentucky last week, totaled 392 yards of offense, with 126 of that coming on its only two drives of the fourth quarter after trailing 57-14.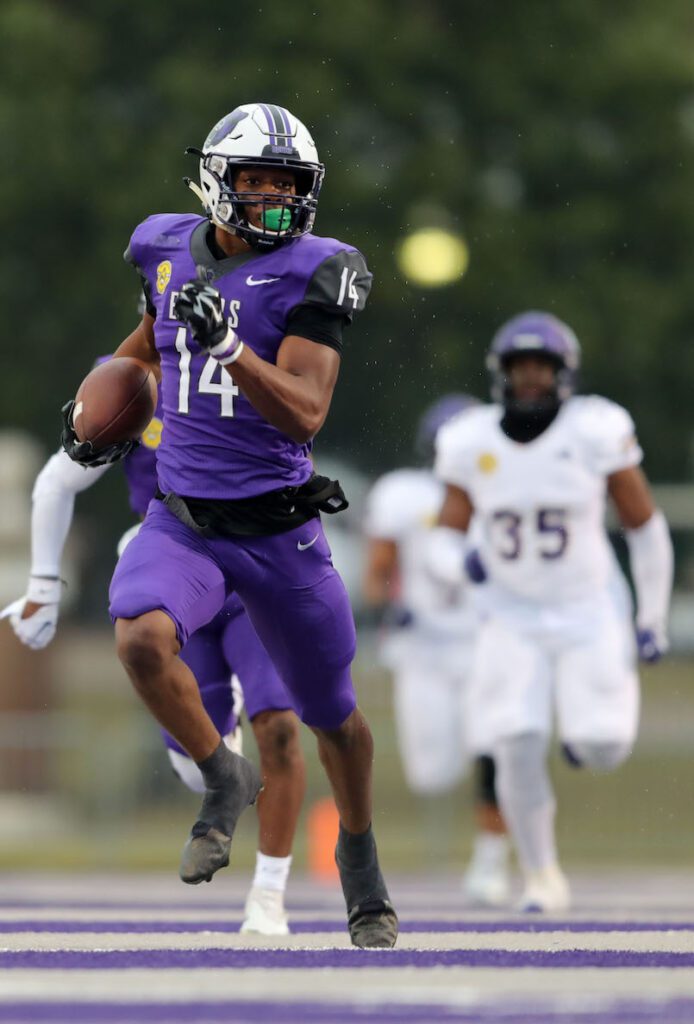 "I'm proud of our guys. Bottom line is we took advantage of the bye week" said UCA head coach Nathan Brown, whose first career start as a UCA quarterback was against UNA in 2005. "You're always concerned that you're going to come out flat. But I thought we looked fresh out here tonight, really in all three phases of the game, we dominated the game. And that's what you're looking to do off a bye week. We knew coming in North Alabama had a really dangerous offense. 

"But when it mattered, our defense game up 14 points, against a team that just got through scoring 53 points last week. We bottled up a really good offense, held them to 392 yards. To me, the defense set the tone on the night. They made stop after stop after stop. And again, our offense was able to capitalize." 

Hale, the reigning ASUN Freshman of the Year, bested his career high of 253 yards set last year against Lamar and had touchdown runs of six and 64 yards.  Hale now has 928 rushing yards on the season and 10 touchdowns. James went 21 yards for a touchdown and Barnes had a 32-yard touchdown reception. Redshirt freshman receiver Myles Butler had the second-longest play of the night with an 81-yard touchdown reception that put UCA up 19-0 early in the second quarter.

"We knew coming in we were going to have to pound it," said Brown. "You're not going to make a living in the pass game as wet as it was. I was just pleased with the way those guys battled. We know what type of back Darius is, we know what type of back Kylin is. But I think it's fun to watch that offensive line have some success, those tight ends have some success. They work hard, and they were opening holes. And I thought we had a good game plan. Coach (Ken) Collums called a great game tonight. We had them off balance, we were able to throw the ball when we needed to throw it.

"And we were able to run it, really at will. Anytime you can do that in a football game _ and you never go into a game expecting to have 733 yards of offense, that's crazy _ but that's a testament to our work ethic of our guys and the way they've continued to get better throughout the year."

UCA, which improved to 65-27-1 in Homecoming games, hits the road for a long trip to Richmond, Ky., next week to face the Eastern.