02 Sep 2020

Bears come back again for win

The Cardiac Bears are back, and this time on national television.

The 11th-ranked University of Central Arkansas Bears allowed an Austin Peay go-ahead touchdown with 1:40 to play late Saturday night in the Guardian Credit Union FCS Kickoff at the Cramton Bowl on ESPN. But UCA junior quarterback Breylin Smith connected with junior Lujuan Winningham on a fade pattern in the left corner of the end zone with just 34 seconds left. A two-point conversion pass from Smith to tight end Sam Camargo handed the Bears a 24-17 victory over the Governors, their second come-from-behind win in two years.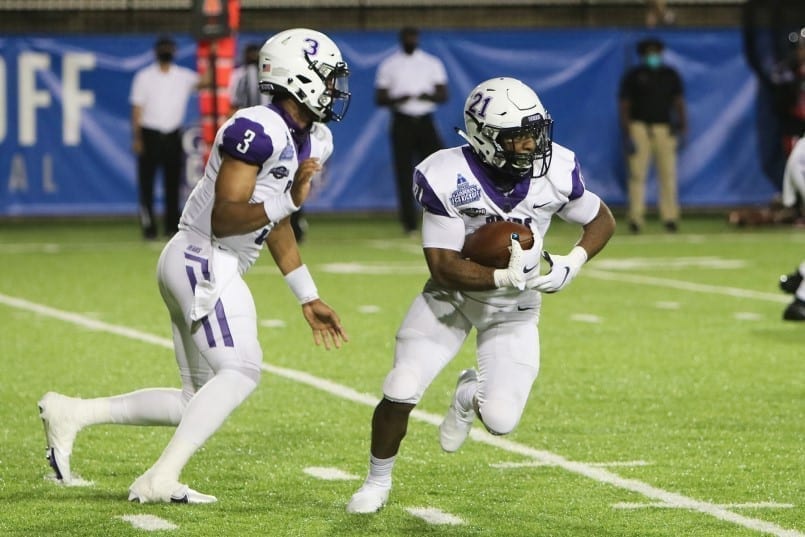 Freshman defensive back Tamaurian Wilson sealed the win with an interception at the UCA 6 as time expired.
The Bears beat the Governors in similar fashion a year ago on the road, with Smith hitting Winningham with touchdown passes twice in the fourth quarter and cornerback Robert Rochell capping a 24-16 win with an interception in the final minute.
"Boy, wasn't that like last year?' said UCA Head Coach Nathan Brown. "At the end of the day, we found our two horses, Tyler (Hudson) and Lujuan made big plays in the end. Any time you get a win, that's a big win. It's hard to win Division I football games, regardless of who you're playing. But a team like Austin Peay, which we know is coming off an 11-win season, a quarterfinals team.
"So tonight was a great night. You get a chance to play in front of probably the biggest audience to ever watch a UCA football game. And to win in the fashion we did. We gave them a show. We weren't pretty but I guarantee it was fun to watch. Our big players made plays when it mattered."
UCA, which gave up a 75-yard touchdown on the Governors' first play of the game, trailed 10-6 at halftime and did not grab a lead until the 14-minute mark of the third quarter with a 34-yard touchdown run by senior Kierre Crossley. Sophomore Christian Richmond returned the second-half kickoff 39 yards out to the UCA 44 and Crossley did the rest. He went 17 yards on first down, added a five-yard run and then went the final 34 yards on the third play of the half, good for a 13-10 UCA lead with 14:00 remaining in the period.
UCA then added a 32-yard field goal by junior Hayden Ray, his third of the game, with 7:44 left for a 16-10 advantage. The Governors answered with a 7-play, 60-yard drive, capped by a one-yard run by quarterback Jeremiah Oatsvall to re-take the lead at 17-16 with just 1:40 remaining.
The Bears went into what was a familiar mode last season and quickly drove into APSU territory.
Smith hit Crossley for 11 yards and Hudson for 17 to get across midfield. A six-yarder to Winningham and then a nifty 29-yard strike to Hudson down UCA's sideline put the Bears at the APSU 10. That would have been good enough for a game-winning field goal, but instead, Winningham then beat his defender in the left corner and came down with the game-winning catch with :34 on the clock.
After the Governors drove to the UCA 27, Wilson, a true freshman from Bryant, went high to intercept Oatsvall and returned it 28 yards before running out of bounds amid a jubilant UCA sideline.
"Hayden Ray is as solid a kicker as there is in the country and we knew if we had to use him to win the game there at the end, we would be in good shape,' said Brown. "(But) I wanted to get the football in the end zone. That's kind of how we do, we go to our horses and Lujuan made a big play.
"I thought our defense played lights out all night, after that first play. But our defense got their wits about them and Coach (Chad) Williams did a great job staying poised, calling his defense, making adjustments. I thought we dominated the line of scrimmage all night on the defensive side.
"Offensively, we'll go back and look at this tape and know that we left probably 21 to 28 points out there. We just squandered too many good opportunities, and against a good football team like Austin Peay… they about made us hurt with it late in the game.
"Oatsvall is the real deal. He's hard to get down and he's a tough kid. We tried to not touch too much on the postgame handshakes, but I had to go tell him good game because he's a heck of a football player. He's a guy you can build a program around. He's impressive."
The Bears finished with 460 yards of total offense, including 298 of those in the second half. After throwing two interceptions in the first half, Smith went on to complete 26 of 49 passes for 283 yards. Winningham caught six passes for 80 yards and Hudson added five for 82. Crossley, a senior from Everman, Texas, had 110 yards rushing on just 12 carries for the Bears.
UCA has a quick turnaround, taking on UA-Birmingham at 7 p.m. Thursday night (Sept. 3), the first of three FBS opponents on the nine-game 2020 schedule.