12 Apr 2023

Bears blast Golden Lions 15-3 in run-rule win

CONWAY – The University of Central Arkansas Bears rode a nine-run inning to an easy 15-3 run-rule victory over the Arkansas-Pine Bluff Golden Lions in non-conference action on Tuesday afternoon at Bear Stadium.


The Bears grabbed an early 3-0 lead in the first inning, then exploded for nine runs in the third, and added three more in the sixth to earn the seven-inning victory. UCA finished with 17 hits, including a grand slam by junior designated hitter Mason King in the big third frame.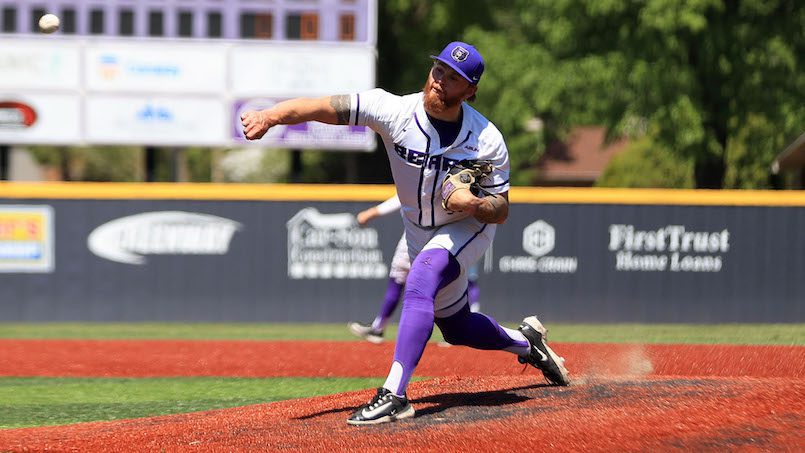 UCA (15-3) sent 12 batters to the plate in the inning and scored nine times with just five base hits. King's fourth home run of the season scored four, while catcher Connor Flagg, third baseman Avery Williams, second baseman Tanner Leonard, center fielder Drew Sturgeon and first baseman A.J. Mendolia added RBIs.

Sturgeon, a junior from Farmington, Ark., led off the first for the Bears with a triple to left center and scored on freshman Kade Seldomridge's sacrifice fly. Senior right fielder Kolby Johnson walked and eventually scored on King's base hit. Flagg then brought in Johnson with an infield single off the UAPB pitcher.

After going up 12-0 after three innings, the Bears picked up three more runs in the fifth off three singles by Flagg, shortstop Reid Bowman and Leonard.

The Golden Lions (10-21) put up two unearned runs in the sixth before junior Taylo Derouin came on for the seventh and struck out two in his first career appearance on the mound. 

King finished 2 for 4 with 5 RBI and had his sixth multi-RBI game. Flagg was 3 for 4 with 3 RBI and 2 runs scored and had his third multi-RBI game. Johnson, Sturgeon, Williams and Leonard all added two hits. Williams, in his first career start, went 2 for 3 with and RBI and 2 runs scored.

UCA starter Cade Fenton, a senior from Prairie Grove, Ark., went 3.1 innings to earn the victory in a bullpen game for the Bears. He struck out four and allowed just three hits and on earned runs. Brady Walker and Tate Busey picked the middle innings before Derouin handled the seventh.

UAPB had seven hits, two by designated hitter Simon Brandon.

UCA returns to ASUN Conference play this weekend on the road at North Florida in Jacksonville, Fla. Game times are 5 p.m. (CT) on Friday, 1 p.m. on Saturday and noon on Sunday.