27 Apr 2022

Bears battle in tough loss

NORTH LITTLE ROCK — This time it took the fifth-ranked Arkansas Razorbacks 10 innings to knock off the University of Central Arkansas Bears 2-1 on Tuesday night in front of a crowd of 10,333 at Dickey-Stephens Park.


The Razorbacks scored the go-ahead run in the bottom of the 10th on a wild pitch to improve to 32-9. That comes after two victories over the Bears, earlier this year and last season, by a combined score of 42-17. Tuesday night, the Bears held the Razorbacks to just seven hits and two runs, five below their season average, and held them off the board in eight of the 10 innings.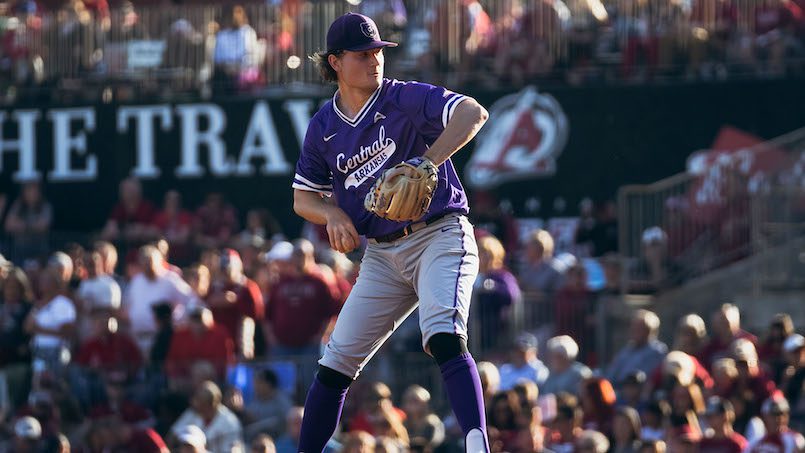 UCA sophomore right hander Oliver Laufman held the Razorbacks in check for seven innings in just his seventh appearance of the season, with the previous six totaling a combined 9.2 innings of work. The Kirkland, Wash., native and transfer from Edmonds College, allowed just one run on six hits and threw a career-high 93 pitches, nearly double his previous high, set just a week ago against Memphis.

"I'm extremely proud," said first-year head coach Nick Harlan, who was previously UCA's pitching coach. "They played with a lot of heart, a lot of toughness, they represented the university extremely well. They represented our program very well.

"They came ready to play. They were aggressive. they played smart, they weren't intimidated. So I'm extremely proud. And I have been. I've really enjoyed this team. They have a lot of character, they fight, and it doesn't matter who we play. They are very confident in their abilities.

"So we walk away from here — yes, we got the loss on the scoreboard — but I told them, you guys walk away with your heads held high, and very proud, because you represented us extremely well."

The Bears battled the Razorbacks in a pitcher's duel through four scoreless innings before the Hogs finally broke the deadlock in the bottom of the fifth when Braydon Webb led off the inning with a base hit and advanced to second on a ground out. A single by Dylan Leach scored Webb before UCA turned a double play to get out of the inning.

The Bears quickly answered when right fielder Kolby Johnson led off the top of the next inning with a double to left and advanced to third on Connor Emmet's ground out. Hunter Hicks then grounded to shortstop to bring in Johnson with the tying run.

It would stay that way for four more innings as junior right hander Andrew Shoultz relieved Laufman in the seventh and tossed three more scoreless innings before the Razorbacks got the game-winner in the bottom of the 10th. A one-out single by Robert Moore was followed by a walk to Cayden Wallace. Moore went to third on a fielder's choice on a great game-saving play by UCA second baseman Tanner Leonard.

Brady Slavens then drew a walk on a pitch in the dirt that allowed Moore to score from third with the winning run.

The Bears had a chance to take the lead in the eighth but stranded two runners on base. Shoultz struck out Jaylen Battles to end Arkansas' threat in the bottom of the eighth, then struck out two in the ninth, and got help when catcher Noah Argenta threw out Drake Varnado trying to steal second.

"I've been to Omaha to the (College) World Series as a fan, and it felt like Omaha, it felt like the College World Series," said Harlan. "And there are a lot of games in Omaha that don't have the energy that we had tonight. That energy tonight was second to none in college baseball.

"And Laufman was exceptional. I thought he handled the magnitude of the moment really well. It was loud, it was intimidating, and he has not pitched in this type of environment. But I thought he was in control of himself, confident in his stuff, he was aggressive and it showed."

The Bears, who are tied for first place in the West Division of the ASUN Conference, return to league play this weekend in Nashville, Tenn., taking on the Lipscomb Bisons. UCA will be trying to win its seventh straight ASUN series, beginning at 6 p.m. Friday at Dugan Field.