08 Feb 2023

Bears back home for two ASUN matchups

The University of Central Arkansas Bears will play four of their final six ASUN Conference games at home at the Farris Center, beginning tonight when they host the Lipscomb Bisons.


Tip-off is set for 8 p.m. on Scottie Pippen Court, following the UCA women's game against Liberty (5:30 p.m.).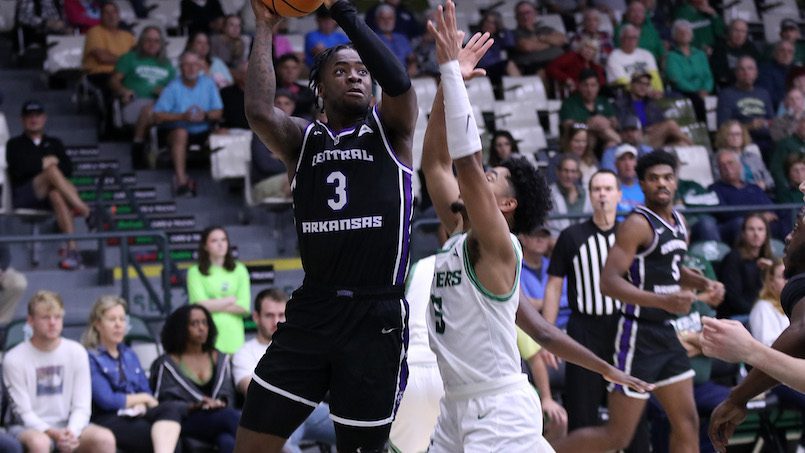 UCA split a pair of road games last week, beating Florida Gulf Coast 91-87 on Thursday in Fort Myers, Fla., then dropping a 99-80 decision at Stetson on Saturday in DeLand, Fla.

The Bears and Bisons will be meeting for the fourth time, and third as ASUN members. The teams split two meetings a year ago, with the home team winning both. UCA beat Lipscomb 93-88 at the Farris Center in January, with six players scoring in double figures. Camren Hunter and Eddy Kayouloud had 18 points each as UCA shot 55.1 percent from the field and connected on 11 three-pointers.

In the rematch in Nashville in February, the Bisons won 81-66, holding the Bears to 39.7 percent shooting and winning the rebound battle 44-35. Kayouloud had 22 points and Darious Hall 11 for the Bears.

The Bisons are 15-10 overall and 7-5 in conference play this season. They are coming off a 69-64 upset of league-leader Liberty last Saturday on their home court in Nashville. Lipscomb is 12-1 at home and 3-9 on the road, losing four of their past five road games.

The Bears (8-17, 3-9) are 5-5 at home this season, including a conference victory over North Florida on Jan. 26. 

Kayouloud, UCA's only senior, averaged 28 points and 7.5 rebounds in the two road games last week, shooting 64.7 percent overall (22 of 34) and 50 percent from three-point range (6 of 12). For the season, Hunter leads the Bears with a 17-point average (17.9 in ASUN play). Redshirt freshman V.J. Reeves has been UCA's most consistent perimeter shooting in conference play with 23 three-pointers and 40.4-percent shooting from beyond the arc. 

Jacob Ognacevic, a 6-foot-7 sophomore, leads the Bisons in scoring (16.0 per game), field-goal percentage (60.1 percent) and free-throw percentage (85.7 percent). Ahsan Asadullah, a 6-10, 270-pound center, had 32 points and 11 rebounds against UCA in the first meeting last season, and 15 and 10 in the second game. This season, Asadullah is averaging 6.7 points and 6.0 rebounds.

The Bears will also be at home Saturday afternoon, hosting Austin Peay at 3:30.