25 Oct

Battling cancer: Hope is stronger than fear

by Taryn Brown

Support — a concept everyone grasps, and something every person needs. Support keeps you going in times of despair and difficulty. During her fight with breast cancer, Stacy Rice knew the importance of having support from family, friends, hospital staff and God. 

Rice was diagnosed with stage two breast cancer in April 2016. She remembers first being scared and fearful of the unknown future that was ahead for her and her family. Her mind automatically feared for the worst. 

"Cancer steals a lot from you," she said. "I'm always scared it will come back, and it's always in the back of my mind."

She found herself becoming exhausted performing simple tasks like brushing her daughters' hair and running into town. There was constant fear of getting sick and catching germs from another person, but the biggest fear was the possibility of no longer being with the ones she loved.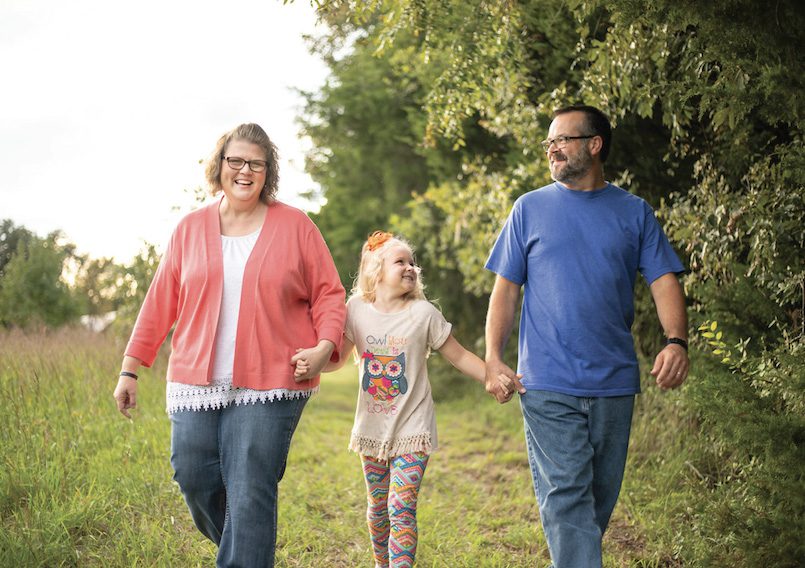 "The scariest part of being diagnosed was knowing I had a 3-year-old and worrying I wouldn't get to see her grow up," Rice said. "My husband and I had only been married for 10 years, and the thought of not being with them was scary."
After learning of her diagnosis, Rice and her husband, Keith, initially did not plan to stay in Searcy for treatment. A friend eventually talked her into it, and she said she would not change a thing. The care and support she received from the staff at the Pyeatt Family Cancer Center was above and beyond what she could have expected. 
"Dr. Koch and his staff were wonderful, and I cannot express how well they treated me and cared about me," Rice said. "Even the workers in the unit were a blessing to us, and I'm so glad God put them in my life. We have a great group here in Searcy." 
Rice's family and friends also surrounded her with an overwhelming amount of love and support throughout her battle. She said she does not know what she would have done without her family and her faith in God. Her parents live in town, so they were able to help take care of her daughter, Blakeley. This allowed her husband to go to work and spend time with her when he needed to. Even members of the community reached out to make meals and send positive cards and thoughts her way.
Rice and her family love to travel and spend time outdoors. They go on camping trips throughout the year, and she had to miss trips after she was diagnosed. Rice has been in remission for two years and has been living life to the fullest. Because they love spending time together in the outdoors, the family decided to take a trip at the end of her treatment. It was something she kept looking forward to on the tough days, and they made it to that end goal. 
"You don't realize how depressed you can get sitting at home in the same four walls, so we set a goal to go to Florida for a week," she said. "That trip meant a lot to me because it made me feel like I was back in the real world." 
Her diagnosis caused her to pause and appreciate the simple things more. For Rice, it woke something up inside her, and she stopped worrying about things she could not change. A bracelet with the phrase "hope is stronger than fear" stays on her wrist and serves as a constant reminder of the support she received from family and doctors, and the strength God gave her to overcome her fears. 
Cancer has made Rice a stronger woman, it has made her bolder in her life and she says she would not be the person she is today without the experience. She hopes she will be an encouragement to other women who are going through this same battle.
"I would encourage women to ask for help, and that it's OK to do so," Rice said. "Ask for support because you can't go through this or life by yourself. Remember you are not alone. You have your family, friends, an oncologist, radiologist and God. I just want to be there for the next person because I had great support."