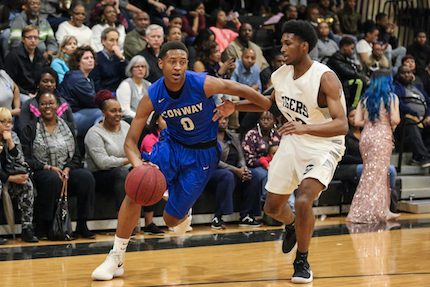 01 Mar 2018

Basketball state tournaments under way

Arkansas high school basketball state tournaments began this week across all classifications. Four of the state tournaments (1A, 2A, 5A and 7A) are being hosted in the 501.


7A state tournament (at North Little Rock)


The 7A state tournament is shaping up to be intense as the host school has both teams looking to make a deep run.


In the boys' bracket, Cabot fell to Bentonville 46-37 on Wednesday. Conway and Rogers Heritage will complete the last first-round matchup at 2:30 today.


"Our team is really strong in transition, and we like pushing the pace of play," said Scott Ashby, a senior point guard for Conway. "We like to disrupt our opponents on defense and turn it into opportunities on offense. I feel like all of our players have been fitting into their individual roles in the last couple of weeks. Our depth gives us a real advantage in the tournament."


The Conway Wampus Cats are the No. 3 seed out of the 7A Central.

"They are playing some of their best basketball right now, and the seeding works in their favor with Rogers Heritage," said Jeff Matthews, play-by-play announcer for Conway Corporation's Channel 5 Sports. "The War Eagles have had a rough last half of the conference season, and it's a good matchup for the Cats. They need to find offense consistently. Too many single-digit quarters have doomed this team at times. They have scorers – just have to get them going consistently."


The Conway Lady Cats earned a first-round bye as the No. 1 seed and play in the second round at 4 p.m. Friday. They take on Van Buren, who defeated Bryant 61-32 in the first round.


"We are shooting well and have had to fight through adversity this season," said Asiyah Smith, a junior point guard for Conway. "We've been down a couple games and needed big shots and have knocked down many. Reagan Roetzel is playing really good. She is one of the best shooters in the state, if not the best."


The Lady Cats are looking to get back to the championship in Hot Springs for the fourth time in the last five seasons.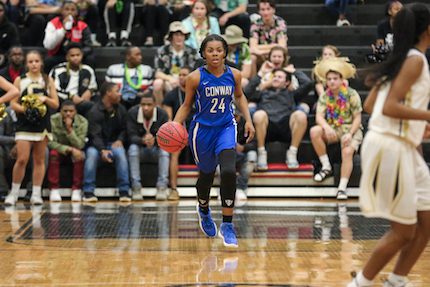 "There are four dominant teams in the 7A – Conway, North Little Rock, Fort Smith Northside and Fayetteville," Matthews said. "All are pretty evenly matched. The wildcard could very well be the venue, North Little Rock High School. So whoever had the chance to avoid Daryl Fimple's team until the finals is a good thing in my opinion.

"The Lady Cats are playing their best basketball heading into March. I think they are focused. They all know their roles, and every role in this team is vital to their success. They have tasted success, and I really believe they have a run in them again."

6A state tournament (at West Memphis)

A few teams from the 501 are still alive in the 6A state tournament. On the boys' side, Benton plays Pine Bluff at 8:30 tonight, and Lake Hamilton takes on Hall at 5:30 p.m. Friday. On the girls' side, Lake Hamilton and Jacksonville tip at 1 p.m. today.

5A state tournament (at Maumelle)

Tanner Tilley and the Greenbrier Panthers fell to Hot Springs 61-49 on Tuesday. The Morrilton Devil Dogs play Magnolia at 5:30 today. In the girls' bracket, Vilonia takes on Hot Springs Lakeside at 1 p.m. today.

4A state tournament (at Brookland)

Both Riverview teams earned berths to the 4A state tournament. The Riverview girls play 7 p.m. Friday (the winner of Gravette/Ashdown) after earning a first-round bye.

The Riverview boys are headed to the second round Friday for a matchup with Pottsville, after defeating Warren 64-61 on Wednesday.

"The pace we play speeds people up and forces them to play uncomfortably," said Ja'Mon Tyrese (J.T.) Smith, a senior guard for Riverview. "We are a small team, but the speed makes up for it. We want to wear our opponents down so that by the fourth quarter they don't have their legs."

3A state tournament (at Monticello)

The Harding Academy boys fell to Junction City 61-53 in the first round Tuesday. The Perryville Mustangs defeated Valley Springs 46-36 and play the winner of Barton/Centerpoint in the second round at 8:30 p.m. Friday.

The Harding Academy Lady Wildcats take on Charleston at 7 tonight in the second round after beating Prescott 65-47 earlier this week.

"We are incredibly good at 3-point range, but if that shot isn't working, we can just as easily get it into the post for some easy points," said Elaine Helpenstill, a senior forward for Harding Academy. "Layne Pace has had an amazing past few games at the 3-point line. Having her consistency will be super helpful for the team for when we get further into the state tournament."

2A state tournament (at Judsonia)

Both Quitman teams are in the state tournament. The boys open tournament action at 2:30 p.m. today against Marked Tree.

"We trust in one another as a team," said Quitman's Hunter McClung. "We play as a unit. We always have each others' backs on and off the court. Everyone on the team is rolling right now. Everyone is playing their roles and are completely bought in."

The Quitman Lady Bulldogs, the defending state champions, have a first-round bye and play Carlisle at 4 p.m. Friday.

1A state tournament (at Morrilton)

On the girls' bracket, two 501 Basketball Team members are still vying for a state championship. After a first-round bye, Mount Vernon-Enola defeated Acorn, 79-43, in the second round and will take on Jasper at 7 tonight.

"We have to keep our nerves down and energy high," said Kenzie Woodruff, a senior guard for Mount Vernon-Enola. "Our biggest strength as we enter the state tournament is team work. As individuals we are okay, but as a team we are great. If we keep the game in a half court setting and play well, we should come out on top."

Wonderview started tournament play with a dominant win in the first round over Mount Ida, 73-33. Wonderview faces the winner of Bay/Kingston in the second round 7 p.m. Friday.

"We all know what is at stake, and we're all willing to do what it takes to reach our final goal," said Shelby Reynolds, a senior post for Wonderview. "We have been in state tournament situations before, and we've been able to remain calm enough and smart enough to be successful. We should be able to continue on with those qualities."

The Wonderview boys fell in the first round in a 58-57 heartbreaker to County Line. After a first-round bye, Guy-Perkins defeated Dermott, 88-77. The Thunderbirds play the winner of Armorel/Deer at 8:30 p.m. Friday. Mount Vernon-Enola earned a first-round bye and defeated Acorn 76-59 in the second round Wednesday. Mount Vernon-Enola takes on Woodlawn in the quarterfinals at 8:30 tonight.