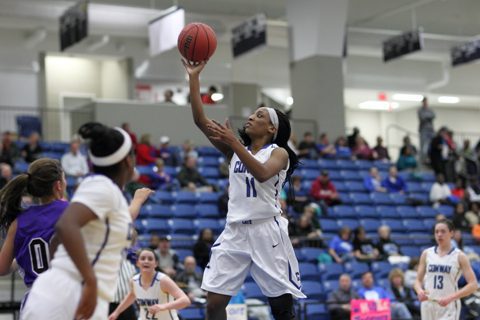 05 Mar 2014

Basketball state tournaments begin Thursday after delays

by Levi Gilbert


Winter weather has been a nemesis of state tournaments this school year.

It reared its ugly head in the fall to push state football championship games back a week, and now old Mother Nature has done it again. The Arkansas Activities Association has postponed the opening round of all state tournament games with the official starting day now set for Thursday.


Several teams from the 501 are still in the running in their respective classifications.


Conway High Coach Ashley Nance and the Lady Cats are excited to be in the state tournament and to be at home.


"We are looking forward to competing in the playoffs this week as well as hosting it," Nance said. "We are coming off a 7-0 record in the second half of the conference season, finishing 23-5 overall and 11-3 in conference play. Anytime you can finish the regular season with momentum, it makes you feel good going into postseason play. Our team is energetic and playing together as a team at a very good time.


"This week our focus is one game at a time. We [open play] against Rogers, and we are focusing on that game and that game only. It should be a fun week for high school basketball at the highest level in Arkansas."


Nance's counterpart on the boys' team is optimistic for some of the same reasons, including the fact that his team is clicking at the right time.


"Having gotten off to a bad start in conference play (0-4), our team rallied to win seven of their last 10 and finish with the third best record in the 7A Central standings," Coach James Bates said. "We wind up with the four seed in the power rankings. We feel like we are playing our best basketball going into the tournament."


The Wampus Cats open with Fayetteville.


"To get by the first round, we need to limit our turnovers and continue to play tough on the defensive end of the floor," Bates said. "This has been the key numbers for our team during the second half of conference play."


Wonderview's Jerod Squires is focusing on defense as his boys prepare to take on Western Grove.


"I believe we are playing our best basketball right now," Squires said. "We had tough games against very good teams in our district and regional tournaments that have prepared us for this coming week.


"For us to advance past the first round, we are going to have to play very sound defense, rebound as a team and continue to attack and be aggressive on offense. If we can do that, I believe we will have a great opportunity to win any game."

The Mayflower Eagles open their 3A state tournament play Saturday against Drew Central.


"With the regular season coming to a close, I feel our team is set to perform well in the post season," Stallings said. "We are healthy and playing well. To make it past our first round opponent, we will have to continue to play as a team both offensively and deffensively.


"Shot selection, cutting down on turnovers and freethrows are always important offensively. Defensively we need to challenge all shots, transition and rebound. If we do those things we can be successful."

Nemo Vista's girls' coach Kyle Payne, his players and the entire community has a heavy heart as they enter the state tournament.


"Our team has really come together as one this past couple of weeks for multiple reasons," Payne said. "First off, we added seven girls to the senior high team after the junior high season ended, which added depth and a dimension to our already very successful senior high team. Secondly, our school and community lost a beloved student athlete suddenly during the week of the district tournament, and everyone has joined together to make us even stronger.


"We are feeling very confident in our play as of late as we enter the state tournament on a 10-game winning streak with huge wins over conference rivals Mount Vernon and Wonderview. To get past the first round of the state playoffs, I feel that we just have to play our game of basketball. We are a very young team with no seniors and only one junior. As long as we come out relaxed and just play the game, I feel that we have a good chance of advancing."
Class 7A and 4A will play tournament games on Thursday, Friday, Saturday and Monday. Tournament play for Class 6A, 5A, 3A, 2A and 1A will be on Thursday, Friday, Saturday, Monday and Tuesday.

State finals games are still on track for Thursday, March 13, through Saturday, March 15.

To download the brackets with the new time changes and dates, go to the AAA w
ebsite at ahsaa.org.

Tournament sites:
Class 7A – Conway High School
Class 6A – Jonesboro High School
Class 5A – Alma High School
Class 4A – Lonoke High School
Class 3A – Charleston High School
Class 2A – Hampton High School
Class 1A – North Arkansas College, Harrison