02 Sep 2016

Bash on the Boulevard festival planned Sept. 10 in Maumelle

Posted at 11:24 AMh

in

News

Maumelle Boulevard – now becomes the destination!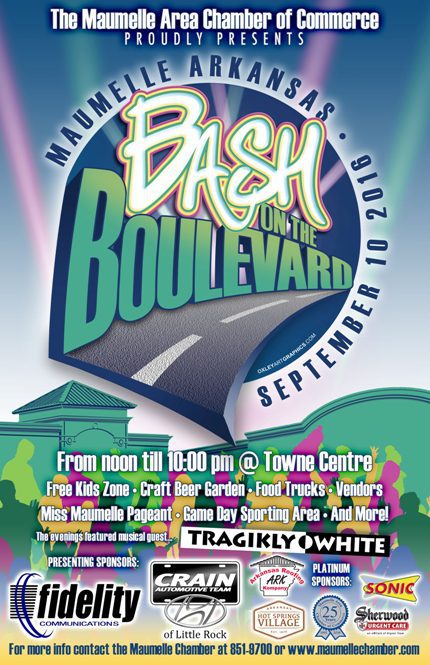 On Saturday, Sept. 10, the Maumelle Area Chamber of Commerce will present its very first festival, Maumelle's Bash on the Boulevard.

Located at the Town Centre Shopping Center parking lot at 115 Audubon Drive, the festival will begin at noon and continue until 10 p.m. This free family-friendly festival that connects local businesses and residents in a fun and energetic atmosphere is sponsored by Fidelity Communications and the Crain Automotive Team.

Situated directly on the boulevard, in the heart of Maumelle, the festival will offer something for everyone, including local vendors, arts and crafts, an area for kids, a beer garden, game day TV sporting area, Miss Maumelle Pageant, food trucks, local and regional entertainment, games and so much more.

Positioned in middle of the festival, the Sonic of Maumelle Kid Zone will offer a free and engaging environment for young people. Hot Springs Village will offer a putting green experience and Jump Zone of Maumelle will provide an inflatable obstacle course to keep children active. In addition, there will be a rock climbing wall, carnival games, coloring activities, story time, a magician, prizes and fun.

The Arkansas Roofing Kompany Beer Garden will be set up on the east side of the parking lot and will feature local food trucks and adult beverages. An acoustic stage will provide a relaxing background to the overall atmosphere. North Little Rock singer/songwriter Dan Morgan will begin the entertainment at 2 p.m. He will be followed by local Maumelle residents Charlotte Copeland and Jim Munns of Arkansaw Folk and Maumelle High School alum Will Anderson. Rounding out the acoustic acts is Chris Long, lead singer of the People Republic of Casiotones.

Beginning at 6 p.m., attention will turn toward the Sherwood Urgent Care Game Day Area, which will feature a 24-foot game day trailer provided by River City RV. This interactive RV boasts three big screen TVs, expandable viewing doors, a bar seating area and a satellite feed to view the Razorback vs. TCU game.

There will be a perimeter fence around the entire "Bash on the Boulevard" for security purposes and will allow visitors to enjoy a festival beverage at all of the activities.

Performances will begin on the Crain Automotive Team Main Stage beginning at noon and include local dance studios, cheer programs and fitness routines. Starting at 2 p.m., the Miss Maumelle Natural Beauty Pageant will take the stage and showcase contestants from newborn to 19 years old. Live Music will fill the festival at 5:30 p.m., featuring local artist TJ Ashley. Opening for the main act will be People Republic of Casiotones starting at 6:30 p.m. As night falls, the event lights up with the featured musical artist and local favorite Tragikly White.

The festival is run almost exclusively by volunteers from the Maumelle area, including the services from the City of Maumelle Parks and Recreation, City of Maumelle Police Department and City of Maumelle Fire Department. Proceeds of the Bash on the Boulevard festival help to raise funds to support economic progress and promote entrepreneurship opportunities in the area. This is great event to get out and meet neighbors, visitors to the area, local businesses and the community!

For more information about the festival or how to become a vendor, visit maumellechamber.com, call 501.851.9700 or email Maumelle Area Chamber of Commerce Executive Director Alicia Gillen at email [email protected].