27 Sep 2023

Barcenas named GAC Defender of the Week

RUSSELLVILLE, Ark. – The Great American Conference announced the women's soccer players of the week for the fourth week of the 2023 season. Southern Nazarene's Natalie Montanez and Gianna Bonnett collected the Offensive and Goalkeeper accolades while Harding's Kim Barcenas earned the Defender honor.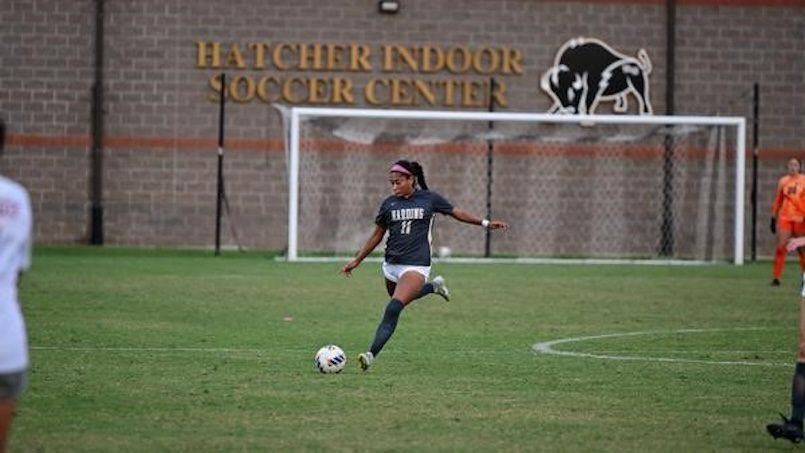 #theGAC WOMEN'S SOCCER OFFENSIVE PLAYER OF THE WEEK – Natalie Montanez, MF, Southern Nazarene, Jr., Plano, Texas
Montanez scored twice in the Crimson Storm's 2-2 tie against Northwestern Oklahoma State on Saturday. She netted the first goal of the contest when she scored in the 20th minute. She again Southern Nazarene a lead when she scored in the 47th minute for her first brace of the season
#theGAC WOMEN'S SOCCER DEFENDER OF THE WEEK – Kim Barcenas, D, Harding, Jr., Carrolton, Texas
Barcenas extended her streak of matches playing the full 90 minutes to eight as Harding drew 1-1 with Ouachita Baptist and played East Central to a scoreless tie. The Lady Bisons defense held Ouachita to only four shots on goal. The Lady Bisons have surrendered only one goal in their last 300 minutes of play.
#theGAC WOMEN'S SOCCER GOALKEEPER OF THE WEEK – Gianna Bonnett, GK, Southern Nazarene, So., Eastvale, California
Bonnett picked up a win and a tie in the Crimson Storm's opening two GAC games. She made 10 saves in a 2-0 win against Oklahoma Baptist as the Crimson Storm claimed their first win against the Bison since October 20, 2015. She made 10 more saves in a 2-2 draw with Northwestern Oklahoma State
OTHERS NOMINATED
Carlie Massingale, F (Northwestern Oklahoma State), Fernanda Valencia, F (Ouachita Baptist), Hali White, MF (Oklahoma Baptist)
Kaitlyn Morphy, D (Northwestern Oklahoma State), Avery Pyle, D (Southern Nazarene), Amerie Thomas, D (Ouachita Baptist)
Michele Snow, GK (Ouachita Baptist), Maysa Willis, GK (Harding)