19 Aug

BALD KNOB: Bulldogs following lead of strong senior class

Conference: 2-4A
Coach: Randy Johnston
'17 Record: 5-6

Bald Knob continued its string of playoff appearances with another playoff berth in 2017.

This fall, the Bulldogs will face new challengers as they move up to the 2-4A.
Junior Johnson Capps is back at quarterback. Newcomer sophomores Josh Clark and Bradyn Cline look to make an impact at running back. Seniors Blaine Willard and Elias Mean bring back valuable experience at receiver. Seniors Conner Vanoven and Austin Fisher (4.02 GPA) lead a young offensive line.
Vanoven and Fisher also start on the defensive line. Seniors Jeremy Tharp and Nick Harrell return at linebacker, alongside sophomores Michael Wingo and Cline. Willard leads the secondary.
"Moving up to 4A this year will be tough," Coach Randy Johnston said. "We have a strong senior class, and if they lead the way they should, we could be very competitive this year."
5 Players to Watch: 
Jeremy Tharp (Sr. RB/LB)
Blaine Willard (Sr. WR/DB)
Conner Vanoven (Sr. OL/DL)
Austin Fisher (Sr. OL/DL)
Josh Clark (Soph. RB/LB)
1 Must-see Game:
"Previous conference foe Harding Academy in Week 2." — 501 staff
2018 Schedule:
Aug. 31at Valley View
Sept. 7 Harding Academy
Sept. 14 at Haskell Harmony Grove
Sept. 21 at Mills
Sept. 28 Lonoke
Oct. 5 at Stuttgart
Oct. 12 at Heber Springs
Oct. 19 Riverview
Oct. 26 Central Ark. Christian
Nov. 2 at Southside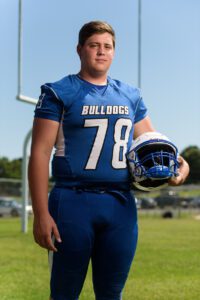 501 Football Team '18
Austin Fisher
Classification: Sr.
Position: OL/DL
On the field: Austin is a three-year starter on both the offensive and defensive lines. His experience and leadership are big assets for us on the field.
Off the field: Austin has a 4.02 GPA. He has that because he works hard in class and cares about his work. He is a great example to everyone around him.