19 Jul 2015

'Back to school' hints and happenings

by Don Bingham

It is hard to believe that summer has quickly passed and the time to hit the books is here again.


School returning is a challenge for any age and there are things that make the transition easier to manage, with just a little amount of thought and planning. As much pre-planning as possible will divert "emergencies" and stresses from happening on the way out of the door.

Change


Not an altercation of location or a mental change in attitude, but in actual "change." Be prepared for quarters, dispensing machine monies or even the "need-of-another-pencil" money. Last minute purse-rummaging and the pulling off the seat cushions from the couch hunting for spilled coins does not have to be a last-minute catastrophe!


Laying out of school clothes


This takes such little time, but is oh so valuable! Closet grazing and piles of tried-on clothes that don't fit right takes far too much time and frustration when put off until the last minute before walking out the door. Do this preparation the night before!


Invariably, something is missing, something has a spot on it, the clothes did not get dried and are "soured" in the washer, the exact piece you wanted is still at the cleaners, or a sibling got to the outfit first! The same procedure is helpful to adults, as well.


Vary the menu


What has worked for a leisure awakening time during the summer weeks may have to be altered for a new time schedule – one that works best for everyone. Planning for the backpack, lunchbox or sack lunch should not include a quick trip to a convenience store for those highly nutritional and healthy clear bags of sugar and neon colored carbs! Healthy does not have to be boring and tasteless!


Consider what healthy-oriented snacks you prefer, stock up on them over the weekend with the approaching week in mind. Variety, truly, can be the spice of life. You might also do yourself well NOT to wait until the masses are at the local grocery stores on Sunday afternoon to restock your supplies. On the other hand, should you wish this to be a "social outing," a time to meet and greet the community citizen doing the same thing you are trying to accomplish, and use this as a time to politic for your personal initiatives, then, by all means, go to the stores on Sunday afternoon!


The Container Store


No one likes to keep up with unnecessary baggage! Buy or recycle usable sacks and containers for the user to dispose of after dining! It makes life so much easier than washing the Tupperware that has molded when left in lockers for days upon end! How wonderful it is to have a shelf reserved for these quick go-to carry items for the school lunches.


Back to school lunches can be a headache. Here are some fun ideas for menu items, portable treats and snacks for both children and adults – mini boxes of cereal, Gummy Bears and S'mores.


Now that "reading and writing and 'rithmetic" is in vogue – we can make each day a "culinary treat to behold" with a little preparation and ingenuity. Pinterest has additional ideas for making the back-to-school-lunch-challenge a fun experience! Here are so tasty recipes to pack in a lunch or for an afterschool treat.


Grannie's Cookies

2 sticks butter, softened
1 cup sugar
1 cup brown sugar, packed
1 egg
1 cup oil
1 cup oats
2 cups cornflakes or rice crispies crushed to make 1 cup
1/2 cup coconut
3 1/2 cups flour
1 teaspoon soda
1 teaspoon salt
1 teaspoon vanilla
1 teaspoon orange peel
1/2 cup pecan pieces (optional)

Preheat oven to 350 degrees. Cream the butter and sugar. Add egg and mix well. Add the remaining ingredients, beating well after each addition. Drop by the spoonful onto a cookie sheet and press with a fork or thumb.

Bake for 12 minutes or until lightly golden. Remove from cookie sheet. These cookies freeze well.


No-Roll Sugar Cookies

2 1/4 cups all-purpose flour
1/2 teaspoon baking soda
1/2 teaspoon cream of tartar
1/2 teaspoon salt
I stick (1/4 pound) unsalted butter, at room temperature
1/2 cup granulated sugar
1/2 cup confectioners' sugar
1 egg
1/2 cup flavorless vegetable oil
1/2 teaspoon vanilla
Granulated sugar for dipping

In large bowl, sift flour, soda, cream of tartar and salt. In another bowl, cream butter and sugars; beat until pale and fluffy. Beat in eggs and oil, blend; add vanilla. Mix ingredients in both bowls together.

Preheat oven to 375 degrees. Place I -inch balls 2 inches apart on ungreased cookie sheets. Moisten bottom of a glass, dip in sugar and flatten each ball. Dip glass in sugar before flattening each cookie. Bake 8 minutes. Makes seven dozen.

Giant Oatmeal
Cookies

1 1/2 cups all-purpose flour
1 teaspoon baking soda
1/2 teaspoon salt
1 cup butter or margarine
3/4 cup granulated sugar
3/4 cup brown sugar, packed
2 eggs
1 teaspoon vanilla
2 cups quick-cooking rolled oats
1 (14 1/2-ounce) package candy-coated milk chocolate pieces

Stir together flour, baking soda and salt. In mixer bowl, beat butter or margarine for 30 seconds; add sugars and beat until fluffy.

Add eggs and vanilla; beat well. Add dry ingredients to mixture, beating until well blended. Stir in oats and candy-coated milk chocolate pieces.

For cookie, spoon 1/4 cup cookie dough onto a greased cookie sheet; pat to 4-inch circle. Bake at 350 degrees for 8-9 minutes or until done. Cool 1 to 2 minutes. Makes 21 cookies.

Chocolate-Peanut Butter-Oatmeal Bars

I cup all-purpose flour
1/2 teaspoon baking soda
1/2 teaspoon salt
1 cup (2 sticks) unsalted butter, softened
2/3 cup packed dark brown sugar
1 large egg, at room temperature
1/2 cup creamy peanut butter
2 teaspoons vanilla extract
1/4 cup milk, at room temperature
1 1/2 cups old-fashioned rolled oats
12 ounces (about 2 cups) semisweet chocolate chips


Position a rack in the center of the oven and preheat to 350 degrees. Line a 13 x 9-inch baking pan with aluminum foil so that the foil extends 2 inches beyond the long sides of the pan, Lightly butter the bottom and sides of the foil-Iined pan.


In a medium bowl, stir together the flour, baking soda and salt.

In a large bowl, using a hand-held electric mixer set at medium-high speed, beat the butter and brown sugar for 1 to 1 1/2 minutes, or until well combined. Add the egg and beat well. Beat in the peanut butter and vanilla until thoroughly mixed.

On low speed, in two additions each, alternately beat in the flour mixture and milk, beginning with the flour mixture. Using a wooden spoon, stir in the oats and chocolate chips.

Using wet hands, press the batter evenly into the prepared pan. Bake the bars for 20 to 25 minutes, or until golden brown. Cool the bars in the pan on a wire rack for 30 minutes. Using the two ends of the foil as handles, lift the bars out of the pan. Set the bars with the foil on the wire rack, to cool completely.

Invert the bars onto a large plate and gently peel off the foil. Invert again onto a smooth cutting surface and cut into 15 bars. Store the bars in an airtight container overnight to increase moistness.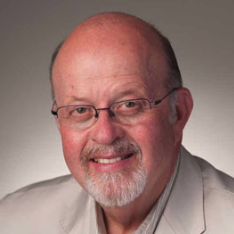 Latest posts by Don Bingham
(see all)