06 Mar 2021

Back on their feet: Conway orthopedist offers relief from painful bunions

By John Patton

With more than 3 million cases reported nationwide each year, bunions are a medical condition affecting people of all ages.

"A bunion is much more complex than just a bump on the inside of your big toe," explained James Head, M.D., an orthopedic surgeon with Conway Orthopedics and Sports Medicine Center. "It's a three-dimensional condition that involves the bone and soft tissue."

A fellowship trained foot and ankle specialist, Dr. Head offers multiple treatment options for bunions and is one of the only surgeons in Central Arkansas to use two new innovative technologies that improve quality of life for his patients.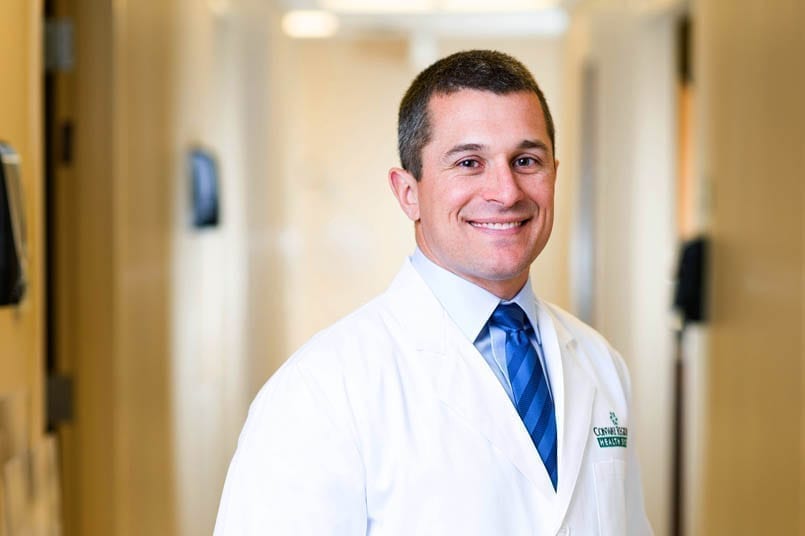 Bunions are bony projections on the joint at the base of the big toe that cause the toe to be displaced and press against the second toe. This displacement results in pain and discomfort that can limit walking, standing, and other activities.
Bunions can often be a source of embarrassment. For many individuals, bunions create social insecurity, causing people to be reluctant to show their feet or wear sandals in public
Dr. Head's patients have also heard stories of surgeries that have gone wrong. "I've talked with a number of people who have been reluctant to see a physician because they had a poor experience or someone they know had complications," he said.
"You don't have to live in pain. If it hurts to wear a shoe because you have a bump on your toe, we can correct it," he said. "We can get you back to wearing a narrow style of shoes. After most surgeries, you can walk right away, which minimizes activity restrictions and time away from work."
Conway Regional is proud to invest in advanced technology and specialists who offer innovative services to meet the needs of the community.
Minimally Invasive Bunion Surgery
For patients with less severe bunions, Dr. Head uses the PROstep™ MICA™, a minimally invasive surgery developed by Wright Medical of Memphis, Tenn., that is performed with small 3- to 5-millimeter incisions-compared to 3- to 5-inch incisions used in traditional bunion surgery. The smaller incisions result in less pain, less soft tissue damage, and smaller scars.
The PROstep technology uses micro-sized equipment to remove the bunion and realign the foot to a normal, stabilized position. The technology is also designed to enable surgeons to avoid arteries, tendons, and nerves during the procedure.
For patients with more severe bunions and unstable joints, Dr. Head turns to Lapiplasty.
This surgical option has patients back on their feet and in a walking boot in two weeks—with some patients driving in from out of the state for this innovative procedure. Traditional surgical options can often require many months of recovery.
"When I use Lapiplasty, I can offer my patients a positive outcome and a quicker return to regular activities," said Dr. Head.
Historically, when correcting bunions with surgery, there is a risk of over-correcting the toe spacing. "Lapiplasty gives us an additional tool," he said, "utilizing a guide that allows the surgeon to correct the bony projections and toe spacing with consistent and precise results."
He added, "There have been numerous studies conducted with a high number of patients who have had this procedure with remarkable results and quick healing."
Lapiplasty is manufactured by Treace Medical Concepts, Inc. of Ponte Vedra, Fla.
Using the latest technology, treatment techniques, and advanced equipment helps specialists like Dr. Head offer services that enable patients to recover quickly and return to their day-to-day lives without pain.
Dr. Head advises anyone who believes they may have bunions or other orthopedics issues to visit their family doctor for an examination.
For more information about Dr. Head and Conway Orthopedics and Sports Medicine Center, visit www.conwayortho.com.
Causes
The exact cause of bunions is unknown. However, several factors that can cause them include:
• Pressing of the big toe against the second toe 
• Wearing narrow or tight shoes
• Wearing high-heeled footwear
• Structural abnormality at birth
• Inherited foot deformities
• Arthritis, rheumatoid arthritis
• Stress on the foot
• Injury to the foot
About Dr. Head
James L. Head, M.D., is a native of Arkansas, born and raised in Heber Springs. He attended the University of Central Arkansas for his undergraduate education and the University of Arkansas for his medical degree. Dr. Head is a board-certified orthopedic surgeon, fellowship trained in foot and ankle care, including minimally invasive bunion and Achilles surgery. He practices at Conway Orthopedics and Sports Medicine Center.