04 May 2022

AYERS MAKES HISTORY TO HELP CBC STAY ALIVE IN AMC TOURNAMENT

COLUMBIA, Mo. — Averie Ayers tossed a no-hitter for Central Baptist College softball tonight to help the Mustangs stave off elimination from the American Midwest Conference tournament at Battle High School. CBC (25-19) got put into the loser's bracket by William Woods (21-21), losing 7-1 in the first game before Ayers' no-hitter sent CBC on in the tournament and eliminated Williams Baptist (20-28).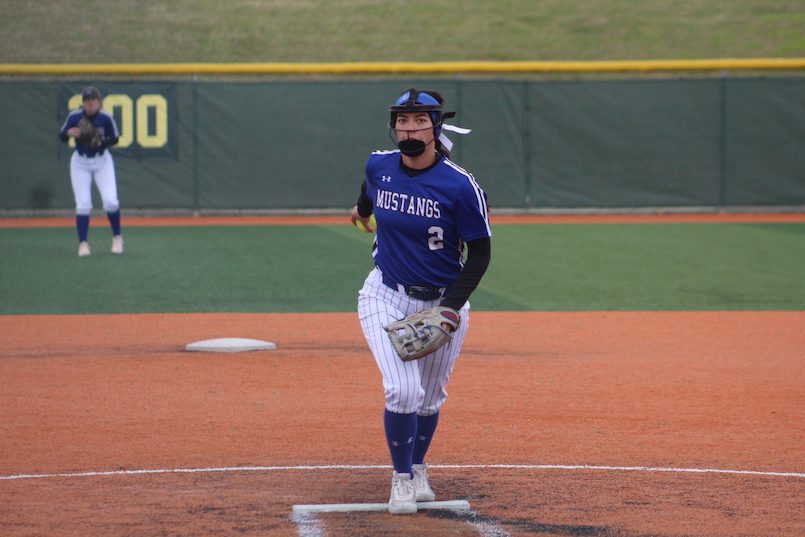 Ayer's no-hitter was the 26th in program history and the first solo no-hitter in six years. It was also the first no-hitter by a Mustang in the AMC tournament. The last Mustang to throw a solo no-no was Cali Lankford on March 25, 2016 against the University of Health Sciences and Pharmacy. The most recent no-hitter prior to tonight was on March 7, 2020 when Allie Burroughs and Kalyne Powell combined to no-hit Ecclesia in what ended up being the final game of that season.
GAME ONE – WILLIAM WOODS 7, CBC 1
The Mustangs jumped out to a 1-0 lead in the second thanks to an RBI single by Katie Smith. WWU would then score seven unanswered, one in the third and six in the sixth, to put the contest out of reach. CBC had only seven hits in the contest and only got a runner to third base of further twice, and didn't after the second inning.
GAME TWO – CBC 7, WILLIAMS BAPTIST 0
Neither team scored in the first, but CBC gave Ayers all the run support she needed in the second when Madi Spears drove in her first run of the night to make it 1-0. A groundout from Savannah Sanford and another single from Spears made it 3-0 in the third and two more runs in the fourth, courtesy of a single by Ysabella Esquivel and a double from Kirstie Blackwood made it 5-0. Spears would give herself four RBIs on the night with an RBI groundout in the fifth to make it 6-0 and another single in the six to bring the score to its final margin. In Ayers' 11th win of the season, she walked two and K'd four. She retired 16 in a row to end the game, with the final WBU batter reaching on a walk in the second inning. Ayers only allowed three baserunners the entire contest on the walks and a first inning error.