22 Mar

Author's ideas 'swim in his head'

by Susan Peterson

Dusty Higgins, this month's featured author, leads a life that would be enviable to many.

This author/illustrator states that book ideas "swim in his head." But unlike most of us, when he gets an idea for a book, he is able to put it to paper using both words and detailed drawings, which he has always had a talent for creating.

Once a project is complete, he gets to promote his products at comic conventions in locations like Atlantic City, New York, Charlotte and San Diego. He is often invited to speak at libraries and art groups throughout the state.

When Dusty made the decision to write a comic book, he was a recent graduate of the University of Arkansas art program. He chose to write about Pinocchio, giving a dark but modern twist to the tale. In Dusty's version, Pinocchio avenges his father's death by using his magical powers to save mankind from vampires. As a Publisher's Weekly reviewer summed it up, "This is one tough little puppet."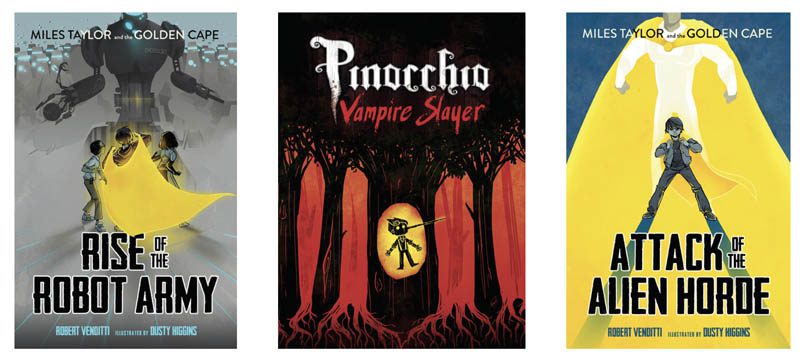 When Dusty got stuck on writing the narrative, he enlisted the help of Van Jensen, a friend who was also interested in the genre. Once they started on the project, they realized they had more ideas for plot twists than would fit into one book, and thus the partnership and the series took off!
They have received significant recognition for their four-part comic book series.  "Pinocchio, Vampire Slayer" (2009) was followed by "Great Puppet Theater" in 2010; "Of Wood and Blood Parts 1 & 2" (July/September 2012); and the final, "Pinocchio Vampire Slayer" and the "Vampire Zoo" (2015).
Reviewers of the series especially enjoy the jokes, both visual and verbal, that develop throughout the series.
Although aspects of Dusty's life may be enviable, few would put forth the time and effort it takes to achieve a final product. In addition to his current day job – that of digital arts instructor at University of Arkansas at Little Rock – he is writing his thesis for his MFA degree from the prestigious Savannah College of Arts and Design. 
He and his wife, Kristin Netterstrom Higgins, have two small children, ages 3 and 8. With all his responsibilities, Dusty finds himself working late into the night, often until 1 or 2 a.m., in order to meet deadlines.
Pinocchio is not Dusty's only accomplishment. He worked with Ron Wolfe in 2012 to publish "Knights of the Living Dead," a fantasy/horror take on the tale of King Arthur.
More recently, Dusty collaborated with Robert Venditti, a noted comic book writer, on a new series – "Miles Taylor and the Golden Cape." Miles is a middle school student and a reluctant super hero who uses a magic cape to accomplish good deeds in "Attack of the Alien Horde" (2015) and "Rise of the Robot Army" (2016). This series is highly recommended for reluctant readers since it alternates between prose and comic book panels.
Books are available at most major book retailers, from online vendors and at local comic shops. Pinocchio is published by Top Shelf Publishing. Knights is SLG Publishing, and the Miles Taylor series is put out by Simon & Schuster. Samples of Dusty's illustrative work can be viewed at Dustyhiggins.com.
Latest posts by Susan Peterson
(see all)