02 Jun 2023

Author of the Month: Phyllis Welch Dacus

By Susan L. Peterson

Phyllis Dacus' grandchildren often beg her to tell them stories about growing up in Conway. One day, she wondered who would tell her stories when she's gone.

While cleaning out drawers during COVID, she found old journals and notebooks that she had kept throughout the years, and she realized she had enough material to write a book, something she often thought about. Not only would it give her something to do, but it would be a keepsake for her family.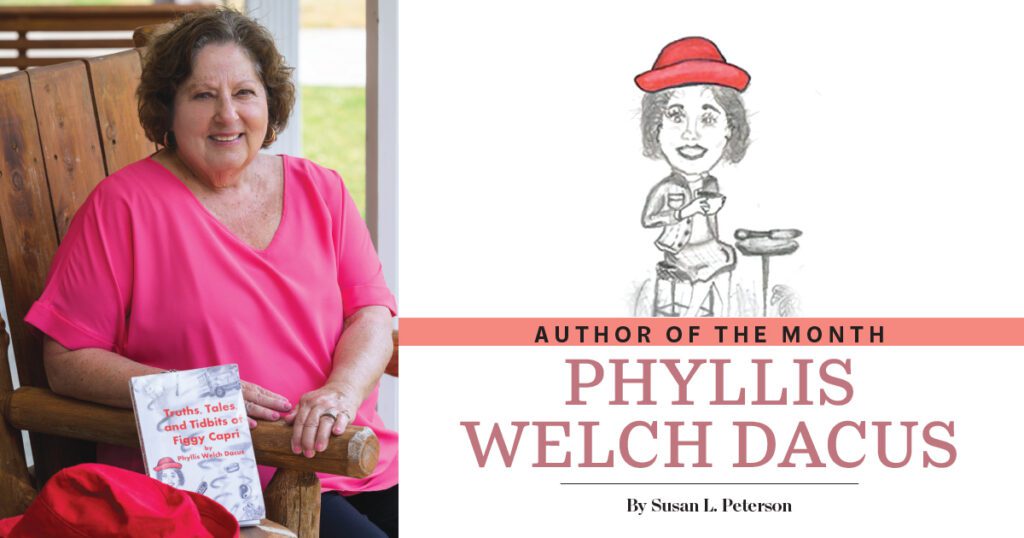 Phyllis' dream of publishing a book came true in December 2022 with the publication of "Truths, Tales, and Tidbits of Figgy Capri."
Phyllis is a longtime resident of the 501 area. She attended the University of Central Arkansas and taught elementary, English and social studies for 38 years, mostly in the Conway School District. Her parents and great-grandparents hail from the Conway area and owned CT King Hardware. Her two daughters, Natalie Holley and Julie Turner, were born and raised here.
Phyllis knew publishing a book would be hard work, but it was something she wanted to do for her family. First, she wrote it out in long hand. She then enlisted the paid help of a grandson to type the material on the computer. The book cover was designed by Paula Sue McGee, a dear friend. On the cover are original illustrations of a rabbit, a school bus and other items that are referenced in the stories. Paula also helped prepare and upload the material using Amazon's self-publishing program. From start to finish, the entire process took about two years.
Longtime residents of the area will recognize many of the people, places and things that are referenced in her book, including the AmTran bus factory and the time in 1965 when an F4 tornado hit Conway. The tales relate "sweet, funny and even bizarre events in the lives of family and dear friends." Also included are accounts from her years of teaching, personal poems, letters and recipes from beloved family members.
Buses played an important role in Phyllis' life. She drove a school bus during the school year, and during the summers, she delivered AmTran buses, driving them as far as Boston and Seattle. Both experiences provided lots of fodder for her tales.
Most of the stories are family friendly, she said. After all, she did write the book with only her family and friends in mind. A couple of stories describe occurrences that put Figgy in some very comical situations. The book also explains how she got her nickname, Figgy Capri.
She said the book is a combination of fact and fiction, as she did change some names and outcomes to avoid any embarrassment.
Phyllis' two daughters, Natalie and Julie, both followed in their mother's footsteps and became teachers. Phyllis is excited about an upcoming speaking appearance this spring to Natalie's English classes in Sikeston, Mo.
Today, she and her husband, Richard, are retired and are fully enjoying playing the role of grandparents by attending ballgames, birthday parties, helping with four grandchildren, and participating in activities at OneChurch.
"Truths, Tales, and Tidbits of Figgy Capri" will ensure that Phyllis' storytelling will live on for others to enjoy. It is available on Amazon.com. Phyllis may be reached at [email protected].
Latest posts by Susan Peterson
(see all)