24 Aug 2023

Author of the Month: Jacqueline Lee

By Susan L. Peterson

Jacqueline Lee describes herself as a nurturer who loves to help people. Even when growing up in tiny New Edinburg (Cleveland County), she knew she wanted to be a nurse, and in 2009 she received her BSN in nursing from the University of Central Arkansas and has worked as an RN since.

She never thought she would be a published author, but several years ago when her son Trelin came home from school in tears from being bullied, she found a unique way to help him — by writing about it. She knew it was a teachable moment, and in telling his story, she hoped to help others.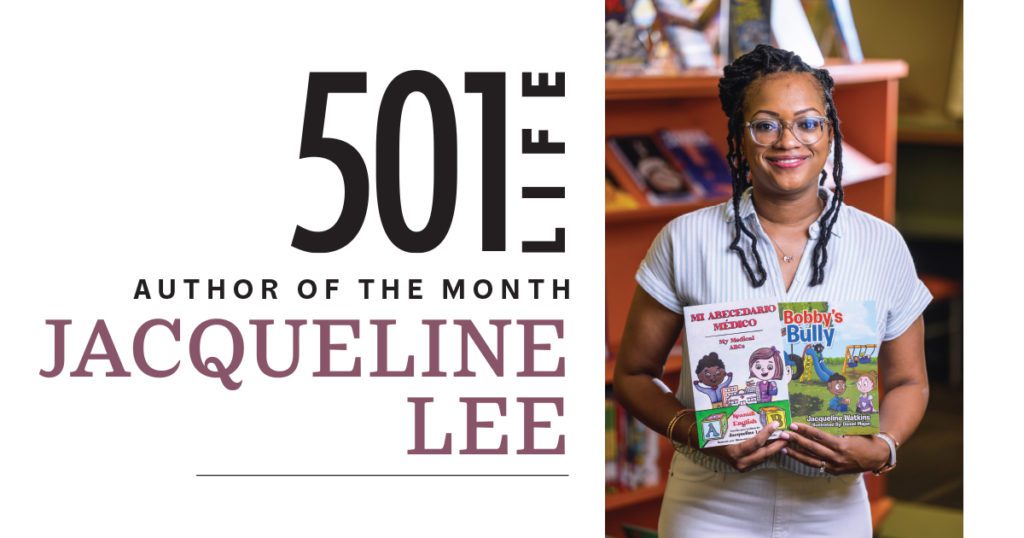 In addition to addressing the problem through more typical channels at school, she and Trelin sat down and wrote about what happened. He gave valuable input on his thoughts and feelings. The book not only relates messages of how to deal with bullies but also explores why some children become bullies.
Once they completed writing the book, Lee looked online for a publisher and found Xlibris Publishing. It was costly, but she was determined to see it in print. "Bobby's Bully," published under the name Jacqueline Watkins, came out in May 2016.
Local radio stations and TV news broadcasts highlighted the mother/son duo, and she said that they apparently "touched more people than I ever would have imagined." Lee also happily reported that her son's tormentor did receive help and changed his behavior.
At work, Lee saw another problem to address — assisting the local Hispanic population with communication when they needed medical help. Although translators are provided, there were often time constraints. She knew that communicating directly would be a better way to help this vulnerable population, so she made it her mission to learn Spanish.
Lee began her bilingual journey by using online apps. Eventually she earned her medical workplace Spanish certificate and spent three weeks in an immersion program in Costa Rica.
Just this April, Lee published a second children's book, "My Medical ABC's," or "Mi Abecedario Medico," designed to introduce Spanish-speaking children to basic essential items they might find in a health care setting. Pictures and words such as antibiotic, stethoscope and Band-aid are given in English and Spanish, along with a handy pronunciation guide. The book can also help English speakers learn Spanish.
To save money, Lee decided to self-publish this book using Amazon. She even hired her own illustrator, Walter Blythe, a local artist whom she found online on Facebook. "He nailed my vision," she said.
In her spare time, Lee loves to read, travel, cook and spend time with her family. She is working on her next children's book, which will be about various medical occupations.
Lee has not yet had a chance to do much marketing of her latest work, but both books are available on Amazon and at happileebooks.com, which also includes additional information and resources for children.
Latest posts by Susan Peterson
(see all)