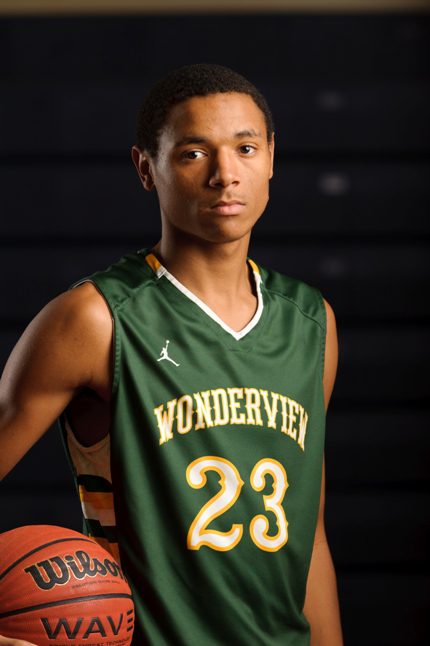 20 Jan 2016

Athletic Griffin leads Daredevils

by Mark Oliver


For many high school athletes, basketball can be a hobby — something to do with friends to pass the time or a way to unwind from the stresses of the classroom.


For Wonderview senior guard MJ Griffin, however, basketball is more than just a game — it's the perfect vessel to overcoming some of his life's biggest hurdles.


"Basketball is a huge part of who I am today," Griffin said. "When I was young, my mom and dad left me. I grew up with my grandmother until seventh grade, when I began living with my aunt and uncle. They're pretty much my parents now. I love living with them and they treat me like their son. It's been hard, but it's also been good for me. I wouldn't say that I have lived a bad life, but without basketball, I may have gone down the wrong road."


Griffin was selected to this year's 501 Basketball Team — 35 players representing the best the 501 has to offer both on and off the court. He was nominated by his head coach, Jerod Squires.


"MJ is a very athletic guard with very good basketball skills," Squires wrote in his nomination. "He shoots the ball well and can play any of the five positions on the floor for our team on offense and defense. He is a very respectful and humble young man, who is not only a leader for our team on the court, but also for our school and his peers off the court."


With just seven games remaining on their schedule, the Daredevils (7-16, 4-5) are hungrily eyeing the upcoming Class A state tournament. According to Griffin, while there still may be a few obstacles in the team's way, he's confident that they can reach their finish line in time.


"Our record can be deceiving," Griffin said. "We've lost a lot of close games this year. Typically, we come out strong during the first half and play intense defense, but we fizzle out offensively in the second half. However, I think that we're beginning to turn the page. We're playing well and we're communicating. If we continue playing this way, it will be hard for us to lose. We all want to make it to the state tournament. Coach Squires says that we can do anything that we put our minds to as long as we practice hard and play hard."


Earlier this season, Griffin experienced a moment that not only would define his team's identity on the court, but also his proficiency as a leader, too.


"In December, we played a very physical game against Lonoke," Griffin said. "I was being fouled hard all game and some of their players were pretty mouthy with me. One of them tried to dunk on me. After I fouled him, he waved his finger in my face to taunt me. Everyone was looking at me to see how I would respond. Instead of reacting, I decided to be the bigger person and walk away. After that game, Coach Squires told me that he would never forget that moment because he says it takes a lot of guts to walk away from that type of adversity. I think it also made a lasting impact on my teammates as well. If my teammates see me frustrated, they get frustrated, too. I need to be a good team captain to keep the team from falling apart."


"MJ is a great teammate because he brings out the best in those around him," Squires wrote. "He's quick to encourage and give guidance to his teammates. He's always leading by example and setting the bar high in practice each day. His work ethic is second to none."


Griffin gains inspiration on the court from one of his biggest role models, his uncle, Michael Cantaloupe.


"I was fortunate to watch my uncle play basketball throughout the years," Griffin said. "He's helped me develop my game and I've always looked up to him. He got me a basketball goal for my birthday once, and he's always motivated me to play better. He's one of my biggest inspirations."


Off the court, Griffin plays center field for Daredevils baseball and has enjoyed major success as a member of Wonderview's track and field team.


"In 10th grade, I won the state championship in the long jump and placed second in the triple jump," Griffin said. "Last year, I won the state championship in both events. Winning state once was amazing — the greatest feeling. Winning two more times is indescribable. This year, I have a shot to go for the three-peat. It's really exciting."


After high school, the senior hopes to continue playing basketball on the collegiate level, while also pursuing a career in physical therapy.


"I want to stay active and help others when they get hurt," Griffin said. "I've done a lot of research on careers and I know that this is the right fit for me."


"MJ is drawing attention from colleges to continue his playing career but is currently undecided," Squires wrote.


As he eyes his future with excitement, Griffin says he wouldn't change a thing about the personal challenges he's had to overcome.


"I'm happy with the way I have turned out," Griffin said. "I have good grades. I have college scholarships and I'm looking forward to having a great future and a family one day. I'm not embarrassed by my upbringing and am very fortunate to have the family I have."


Wonderview plays host to Guy-Perkins at 6 p.m. Friday.