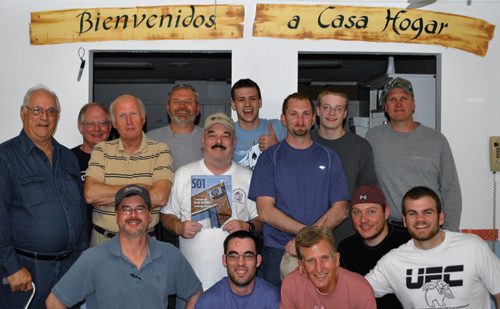 20 Jun 2010

At Mexico mission: Seeds sown both ways

Posted at 9:03 PM

in

Faith

MCH is home to more than 200 orphaned and neglected children. Its director, Dr. Saul Camacho, and his wife, Maria, have been with MCH for 24 years. The Camachos actually grew up at MCH, and after spending several years away, Dr. Camacho says, "the Lord brought us back to serve Him."

The second Four Winds men's spring mission trip occurred in March and included Adam Barron; Buddy Blair; Bruce, Rob and Zac Hendricks; Michael and Steve Lanue; Randy Lewis; Tony Newman; Don Potter; Lyle Roop; Royce and Scott Shipman and David Stobaugh. The trip's purpose was to completely remodel a 40-year-old sewing center.

Don Potter kept track of the group's progress and shared some of their experiences through his journal.

Saturday, March 20
The border crossing, which always breeds apprehension, created even more anxiety than normal this time due to recent news of violence at the border. We were met very professionally on the U.S. side and received the green light.
Several soldiers, carrying flashlights and big guns and wearing black masks – apparently to disguise their identity from gangs – were stopping vehicles and immediately opening the doors in search of unlawful cargo. We seemed to have a guardian angel who waved us through without confrontation.
We arrived at MCH around 11:30 p.m. and welcomed our cots at Casa Hogar, the lodging center for mission efforts.

Sunday, March 21
Around 10 a.m. we went to the wonderful MCH cafeteria for worship service. It was a spiritual feast. Even though we did not understand the words, we could feel the praise as it ascended up to Him. The voices of the children left deep impressions of His great love for everyone. He is definitely alive everywhere.
Even though unbelievable progress was made today, it never is enough to 14 men who are focused on the assigned task.

Monday, March 22
Approximately 130 man-hours were exerted today. Bruce had us hanging cabinets, finishing Sheetrock, painting, caulking, cleaning, sweeping, framing windows, moving looms, adding Formica to the cabinets and patching concrete. Some workers became uncharacteristically quiet after almost all day on their feet.
Our evening meal was a real treat. We got to feed 203 children who live at MCH and approximately 25-30 adult house parents and maintenance employees. All received charcoal-grilled hot dogs.
There are basically no TVs or electronic games here. All of the children play outside, which includes basketball, a trampoline, chase, soccer, biking, roller-blading, etc.

The famous campus dinner bell, an old propane bottle hanging from a chain, dongs loudly at 6 a.m. as a call to assembly in the cafeteria for a devotional and breakfast, followed by chores. Next is lunch, and finally the kids are off to school. They return around 6 or 7 p.m., have dinner, play, study and finally go to bed with smiles on their faces. There are no withdrawn, sad, depressed-looking children at MCH.

Tuesday, March 23
The morning activity involved lots of touch-up jobs, including the final coat of off-white paint. Wow, the walls look great! We got through as much as we could, and at 1 a.m. passed out from exhaustion.

Wednesday, March 24
We all miss our families but are appreciative of the blessings we receive and that MCH receives by letting us do this project. The morning went really fast even though some of us had to have coffee to stay awake. We continued to do smaller jobs like hanging new light fixtures, painting, sanding, adjusting cabinet drawers and doors, moving sewing machines, etc.
We finally completed our task at 6:30 p.m., or at least all we had time to do. We cleaned up, moved sewing machines to their places, completed the painting, put up pegboards and packed tools for the trip back home.
There is probably another half-day of loose ends to tie up – if we had another half-day. But the rest can wait until we return in June for the family mission trip. The ladies at MCH were so excited to see all that went into their sewing center to make their work and training of others easier and faster.

Thursday, March 25
Some were up between 4 and 5 a.m., ready to go and impatiently waiting on the coffeepot to perk. All of our tools and kitchen items have been packed and loaded onto a trailer that Royce, Steve, Adam and Lyle will pull back to Conway. Most of us are sleep-deprived and happily body-tired from the experience, but all would do it over again.
Our mission at MCH next year will be the library, which used to be the cafeteria. It needs shelves, cabinets, lighting and paint.
To learn more about MCH, visit www.matamoroschildrenshome.org.