By Sonja J. Keith

Haley and Daren Bell are happy and at home in their upscale, Downtown Conway apartment – a place that friends compare to a place you would find in New York City. Even better, Haley only has to walk downstairs to go to work at Adonis Complex, an exclusive private personal training studio she owns. In a living/working arrangement that was commonplace in Conway and other cities many years ago, today it is referred to as "new urbanism." By Sonja J. Keith
Haley and Daren Bell are happy and at home in their upscale, Downtown Conway apartment – a place that friends compare to a place you would find in New York City. Even better, Haley only has to walk downstairs to go to work at Adonis Complex, an exclusive private personal training studio she owns. In a living/working arrangement that was commonplace in Conway and other cities many years ago, today it is referred to as "new urbanism."
"It's a good location for my business and Downtown is definitely seeing some growth," Haley said. "It's brand new and we live right above my business, you just can't beat that."
Originally from Sheridan, the Bells moved to Conway to attend the University of Central Arkansas. Haley is a personal trainer and Daren is a software developer for Acxiom Corp. The Bells – along with their 3 ½-year-old son Declan – moved into their new 1,250-square-foot apartment at 1318 Oak St. about 10 months ago. The living space features two bedrooms, two bathrooms, an open living/dining and kitchen area as well as plenty of storage space.
Haley praises property owners Brian and Francie Bolter who built the two-story structure following a fire that destroyed the previous building. The Bolters outfitted the upstairs space as a luxury apartment with beautiful window treatments, impressive stainless steel appliances and countertops in the kitchen, and incredible flooring. The kitchen cabinetry is unique with a special finish that gives the appearance of metal. The bathrooms feature upscale bowl sinks.
"They went all out," Haley said. "They have just been amazing." The Bells have added their personal touches with their own furnishings to create a relaxed and simplistic setting. The Bells have enjoyed entertaining clients from Adonis in their apartment. According to Haley, the training studio, which is a full gym, has about 50 clients representing men and women from ages 13 to 72. "In the gym, we give our clients personal attention and they don't have to worry about someone staring at them or being in their space."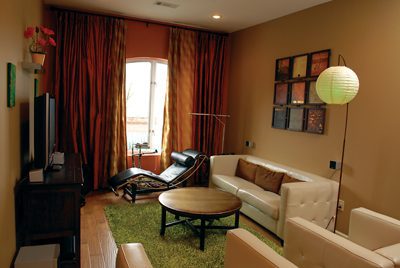 Even the gym has a sleek and modern feel. Upstairs, the large windows overlooking Oak Street provide an excellent vantage point for enjoying local parades and other events held in Downtown. "It will be interesting to see how Toad Suck Daze goes," Haley said.
Living Downtown, the family does not have a yard which means no maintenance but also no grass for Declan to play on. However, there are parks nearby and the apartment has a nice, large deck that is perfect for playing and enjoying the unique views that the area has to offer.
"It's nice to go outside to sit and relax," Haley said. Plus, according to Daren, there are no mosquitoes.
The Bells are at home in their apartment and enjoy the convenience that living in Downtown offers. "We can walk everywhere down here," Haley said.
Darren grew up in the country so the move to Downtown offers a different lifestyle that he enjoys. "It feels like city life."
"We're excited about the growth and development in Downtown," Haley said, "and we like to be in the middle of it."