24 Jan 2022

ASU-Beebe Privately Funded Scholarships application deadline

Posted at 7:11 PMh

in

News

BEEBE — The start of the new year is a great time for high school seniors to begin applying for available scholarships for the 2022-2023 academic year. The application deadline is 5 p.m., April 1.

Thanks to the generosity of many individuals and organizations, Arkansas State University-Beebe offers numerous private scholarships. Often, these scholarships or endowments are established to honor a family member, classmate, mentor, friend or faculty member.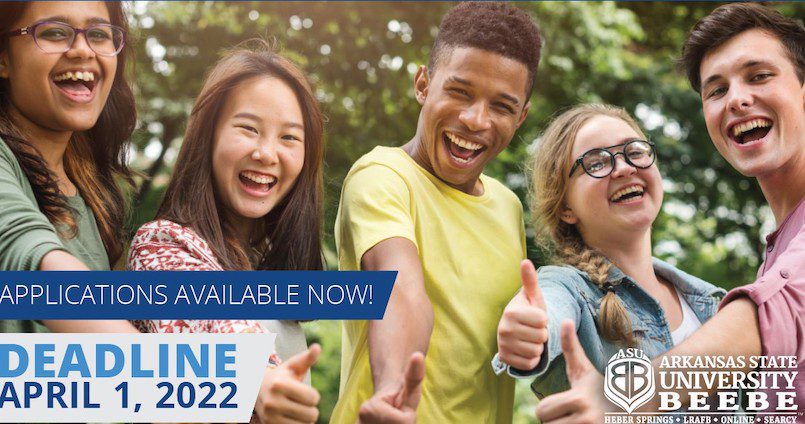 "We are excited that the number of scholarships continues to grow, as well as the number of students we can serve," said Andrea Cole, ASU-Beebe Development Officer/Major Gifts.
New and returning students are encouraged to apply for a variety of privately funded scholarships administered by the ASU-Beebe Office of Institutional Advancement.
Scholarships require evidence of scholastic achievement and/or outstanding ability in the area of the award. Scholarships vary in amounts and duration of award, with some being campus specific among the four ASU-Beebe campuses at Beebe, Heber Springs, Little Rock Air Force Base and Searcy.
In order to be considered for privately funded scholarships, students are encouraged to apply each year during the spring semester. Students will then be notified by email or mail if they are selected for one of the scholarships available.
Applicants for the privately funded scholarships may apply online at giveasub.com/scholarshipapplication. To request an application form, contact the Institutional Advancement Office at 501.882.8855.
The application and other supporting documents may be mailed to ASU-Beebe Institutional Advancement, Attn: Development Office, P.O. Box 1000, Beebe, AR 72012.
Applicants can view more information about Foundation scholarships at ASU-Beebe at giveasub.com/scholarship.
Founded in 1927, ASU-Beebe is an operationally separate, two-year institution of the Arkansas State University System. With campuses located at Beebe, Heber Springs, Searcy, Little Rock Air Force Base and online, the university offers associate degrees, certificates and non-credit training for business and industry.  
For information about available degrees or certificates, call 501.882.3600 or visit asub.edu.