11 Jul 2022

ASU-Beebe faculty, staff receive national awards

Posted at 5:00 PMh

in

News

BEEBE — Several faculty and staff from Arkansas State University-Beebe attended the National Institute for Staff and Organizational Development (NISOD) Conference held May 28-31 in Austin, Texas.

 "NISOD has long been committed to providing outstanding professional development to community college employees," said Dr. Jennifer Methvin, ASU-Beebe Chancellor. "As always, this year's conference featured insightful sessions and inspiring speakers.  It was an honor to celebrate our Excellence Award winners and to share ASU-Beebe's incredible global classroom initiatives with colleagues from around the country."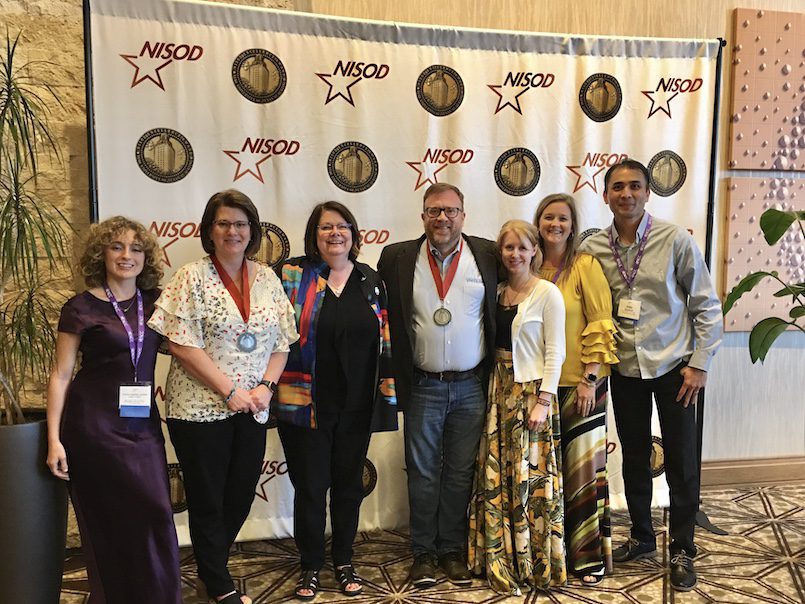 Those from ASU-Beebe who received the NISOD Excellence Awards were Ryan Gibbons, Assistant Professor of Communications and Theatre, and Kim Gullahorn, Executive Assistant to the Chancellor. Gibbons was ASU-Beebe's recipient of the Outstanding Faculty Award and Gullahorn was the Outstanding Staff Award recipient at the 2021 Arkansas Community Colleges Conference.
Several also presented on "Teaching in the Pandemic: Global Collaboration Projects Via Canvas" at the conference. Presenters were Eddie Supratman, Assistant Professor of World History and Comparative Religion; Stephanie Ungerank, Director of Instructional Design/Distance Learning; and Margaret Lowry, who is pursuing a degree toward a career in nursing and is a member of Phi Theta Kappa International Honor Society. The session highlighted how ASU-Beebe used educational technology during the pandemic to deliver a successful global experience to students through the Global Classroom Group Project, which included 67 students from ASU-Beebe and 67 students from El Salvador, as well as five instructors from ASU-Beebe, five instructors from UNICAES in Santa Ana, El Salvador, and one instructor from Colegio Lamatepec in Santa Tecla, El Salvador.
In addition, Dr. Jennifer Methvin, ASU-Beebe Chancellor, hosted and introduced the keynote speaker of the general session, Dr. Yolanda Watson Spiva, President of Complete College America. Dr. Watson Spiva addressed the special roles community and technical colleges play in the college completion movement. Also, in attendance was Dr. George Boggs, CEO Emeritus of the American Association of Community Colleges (AACC) and Superintendent/President Emeritus of Palomar College in San Marcos, California.
NISOD is a membership organization committed to promoting and celebrating excellence in teaching, learning, and leadership at community and technical colleges. The NISOD Excellence Awards were established in 1991 to provide NISOD member colleges with an opportunity to recognize individuals doing extraordinary work on their campuses. For more information, view their website at https://www.nisod.org.  
Arkansas State University-Beebe is an operationally separate, two-year institution of the Arkansas State University System. With campuses located in Beebe, Heber Springs, Searcy, Little Rock Air Force Base, and online, ASU-Beebe offers associate degrees, certificates, and non-credit training for business and industry.