06 Feb 2023

Ashton Ealy – Guy-Perkins (501 Basketball 2023)

Ashton Ealy watched the Harlem Globetrotters in pre-school and never looked back.

"I saw how they played and had fun playing the game, so that drew me to play the game," Ealy said. 

For Ealy, a senior guard for Guy-Perkins, there's one thing on the court that is quite like no other.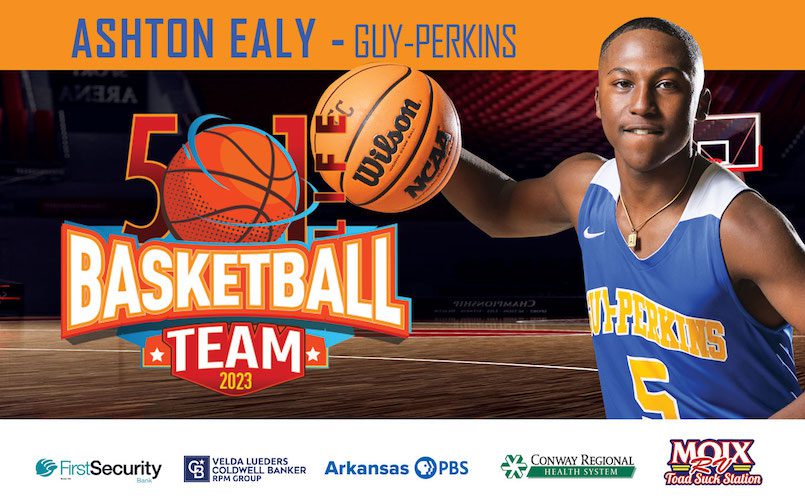 "Hitting the game winners," Ealy said. "That one little moment of uncertainty and adrenaline as you watch the ball go in is like no other feeling on planet earth. Then, once it goes in, it's the excitement and unbelief of what just happened." Ealy was named the Sixth Man of the Year for the Thunderbirds the last two seasons.
"His quickness, shooting and athleticism are strengths on the court," said Guy-Perkins Head Coach Keane Guiden. "He brought energy, quickness and scoring as our sixth man last year. I expect him to be among our leaders in scoring, assists, steals and rebounds this year."
As Ealy closes out his high school basketball days, he's thankful to his basketball and personal role model — his father.
"He has pushed me and my twin brother to our limits, and now it's paying off on the court," Ealy said. "He is still teaching us that life itself is just like basketball and makes sure we know that he is our biggest critic and biggest fan. From the time in the gym spent together, watching film together or watching college or NBA, he shows us ways we can make plays in games to help our team win."