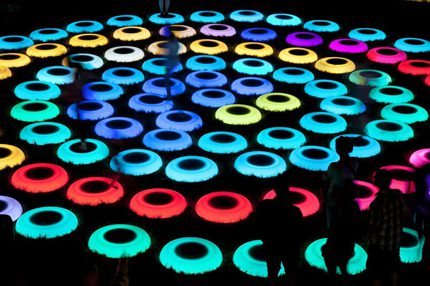 21 Sep 2013

ArtsFest unveils its 2013 schedule

Posted at 7:57 PMh

in

News

The Conway Alliance for the Arts (CAFTA) will host the seventh annual Conway ArtsFest, a weeklong festival of music, art, theatre, dance, creative writing and film, beginning Friday, Sept. 27, and ending Saturday, Oct. 5.

The general theme flowing through many of the ArtsFest events and activities this year is Light, inspired by two monumental works of public art by Colorado sculptor Jen Lewin, sponsored by the University of Central Arkansas Baum Gallery.

During ArtsFest, local arts organizations, including departments from each of Conway's three colleges, will host events throughout the city. This year's festival will have a little bit of everything, from gallery events, music, dance, theater, activities for both kids and adults and interactive works of visual art.

The festival will reach its apex during the first weekend of October with "Light up the Night" activities on Friday, Oct. 4, and "Art in the Park" activities on Saturday, Oct. 5. Both events will be held at Simon Park. For a full schedule, visit artsfestconway.com.

"The seventh annual ArtsFest is shaping up to be another spectacular week for the arts in Conway," said Dr. Gayle Seymour, associate dean of the University of Central Arkansas College of Fine Arts and Communication and a member of the ArtsFest planning committee. "The planning committee has been working weekly throughout the spring and summer to bring free arts events to the Conway community. We hope festival-goers will walk away thinking, 'Conway is a great place to live.'"

ArtsFest will kick off at 7 p.m. Friday, Sept. 27, in Simon Park with the unveiling of a yarn bombing piece by artist Julie Isom, in which Conway's iconic red caboose will be transformed into a knitted work of art.

Following the unveiling of the caboose, the Conway Symphony Orchestra will hold a free concert at Kris Allen Stage at 7:30 p.m. Participants are encouraged to bring lawn chairs for the outdoor concert.

Also opening Sept. 27, Conway Community Arts will present "Amateurs" by Tom Griffin at 7:30 p.m. at the Lantern Theater. "Amateurs" will continue at 7:30 p.m. Saturday, Sept. 28, and 2:30 p.m. Sunday, Sept. 29. Tickets are $12 and can be reserved at [email protected]. The Lantern Theatre is located at 1021 Van Ronkle St.

ArtsFest 2013 continues at 7:30 p.m. Tuesday, Oct. 1, as the Lantern Theater hosts the Arkansas Saxophone Quartet. This multi-media concert will include "The Modern Art Suite" by Rusty Dedrick, "Line Drawings after Mark Tobey" by Samuel Adler and "Heartbreakers" by Jacob Ter Veldius. Projections of corresponding works of art and video will accompany the music.

In celebration of the art of writing, Central Baptist College will host author Leigh McLeroy on at 7 p.m. Tuesday, Oct. 1, at the Burgess Auditorium on campus. A book signing will follow the reading.

On Wednesday, Oct. 2, the Oxford American, Toad Suck Review and the Hendrix Aonian will present an evening of literature on the rooftop venue of Table Mesa Bistro (formerly Michelangelo's). Award-winning students from Hendrix College's creative writing program will read at 8 p.m., and Toad Suck editors/MFA students at UCA will read at 8:30 p.m. Electric poet Nickole Brown will read at 9 p.m., followed by renowned Arkansas writer Jay Jennings reading from the new paperback incarnation of his Charles Portis Miscellany with a signing to follow. This event is free and open to the public and appropriate for all ages.

UCA's Reynolds Performance Hall will be the venue for a free concert performed by the Manhattan-based Cassatt String Quartet at 7:30 p.m. Thursday, Oct. 3. The concert will feature the world premiere of an original composition by American composer Bruce Adolphe, who will be present for the concert and will introduce the music. Commissioned by the UCA College of Fine Arts and Communication, the composition, titled "Mary Cassatt: Scenes from Her Life," is inspired by works of art at Crystal Bridges Museum of American Art in Bentonville. This concert is funded by the UCA arts fee with generous support from Crystal Bridges.

The first of ArtFest's light-related programming will premiere at 5 p.m. Thursday, Oct. 3, with the opening of two sculptures by light and sound artist Jen Lewin, presented by the UCA Baum Gallery of Fine Art. "The Pool," an interactive light installation made up of 106 circular platforms, will be located at the UCA Alumni Circle. Visitors are encouraged to interact with "The Pool." As they do, light will change according to their movements, creating a unique experience for each visitor.

At Chandelier Harps in Simon Park, festivalgoers can make their own music by "plucking" beams of light. By moving through and playing with each installation, visitors will have the exciting experience of becoming part of a work of art.

Lewin will be on hand to give a public lecture about her work at
1:30 p.m. Thursday, Oct. 3, at the Art Lecture Hall in UCA's McCastlain Hall. Lewin's residency is funded by the UCA arts fee with generous support from the Conway Advertising and Promotion Commission and the Conway Area Chamber of Commerce.

In conjunction with Lewin's light and sound sculptures, visitors are encouraged to attend free dance performances on Thursday, Oct. 3, that will take place at the sculpture sites at UCA and downtown. At 6 and 6:30 p.m., the CORE Performance Company, a professional dance organization dual-based in Houston and Atlanta, will perform site-specific choreography within Lewin's "The Pool." They will be joined by dance students from Hendrix College and Blackbird Academy, as well as clients from Independent Living Services in Conway and Arkansas Enterprises for the Developmentally Disabled of Little Rock.

CORE will perform site-specific choreography at 8 and 8:30 p.m. at Chandelier Harps in Simon Park on Oct. 3. CORE's residency is funded in part by an award from Mid-America Arts Alliance, the National Endowment for the Arts, the Arkansas Arts Council and foundations, corporations and individuals throughout Arkansas, Kansas, Missouri, Nebraska, Oklahoma and Texas. Additional support is provided by Summit Bank, UCA Student Affairs, the UCA Occupational Therapy Department, the UCA Student Dietetics Association, Blackbird Academy, UCA Sponsored Programs and the Conway Alliance for the Arts.

ArtsFest's Friday night event in Simon Park, "Light up the Night," will highlight activities for the college crowd. Kris Allen Stage will be host to four live bands, including one touring act. The park will be full of many exciting activities. Festivalgoers can try their hand at gesture drawing and maybe even win a prize in the Graphite Guerrillas contest, or paint with light at the Light Bomber booth and share the creation on Twitter, Facebook or Instagram (#conwayartsfest). The Little Photo Booth will be back this year by popular demand. Armed with props and a friend, guests can pose for photos and, seconds later, receive a photo strip to take home.

Friday, Oct. 4, and Saturday, Oct. 5, the Lantern Theater will host the Conway Film Festival, now in its fourth year. This juried festival features films directed or produced by Faulkner County filmmakers and includes narrative shorts, documentaries and music videos. Screening hours include 7 to 9 p.m. Friday and 1 to 3 p.m. Saturday.

At 10 a.m. Saturday, Oct. 5, UCA Public Appearances will present Lightwire Theater's "The Ugly Duckling & The Tortoise and the Hare" in the Reynolds Performance Hall. Seen on the 2012 season of America's Got Talent, Lightwire Theatre uses LED technology to create electroluminescent puppetry that is fun for the whole family. Tickets, $10 for adults and $5 for children, are available at the Reynolds box office at 501.450.3265 or uca.edu/reynolds.

There will be many events for the whole family to enjoy at the "Art in the Park" activities in Simon Park 11 a.m. to 3 p.m. Saturday, Oct. 5, including plenty of hands-on art activities for the kids such as sidewalk chalk, book making, clay crafts and a puppet theater. The kids can also visit the Instrument Petting Zoo, hosted by Preston Palmer Studios.

Art in the Park will hold its second annual ArtsFest Marketplace, in which local artists are invited to show and sell their goods. A full schedule, information about Marketplace booth rentals and volunteer opportunities can be found at artsfestconway.com.

ArtsFest will conclude with a JazzFest in Simon Park from 7 to 10 p.m. Saturday, Oct. 5. Scheduled performers include the UCA Dixieland Band, coached by Dr. Jackie Lamar, UCA professor of saxophone. The evening will conclude with a community jam session. Jazz artists and enthusiasts are invited to bring their own instruments and join the fun.

ArtsFest is planned and presented by the Conway Alliance for the Arts (CAFTA), its board of directors and community volunteers. Updates and other information will also be posted on ArtsFest's Facebook at facebook.com/ConwayArtsFest, as well as on Twitter and Instagram @conwayartsfest.