11 Sep 2023

Artists of the Month: Mike and Teresa Sherer

By Rita Halter Thomas

The Rustic Jewel in The Village at Pickles Gap is a soapery, a day spa, an art gallery and a treatment and therapy center that is crafty, creative and nostalgic. It is faith-based, natural, pure and organic, rustic yet elegant, and quite something to experience. It's like heaven on earth.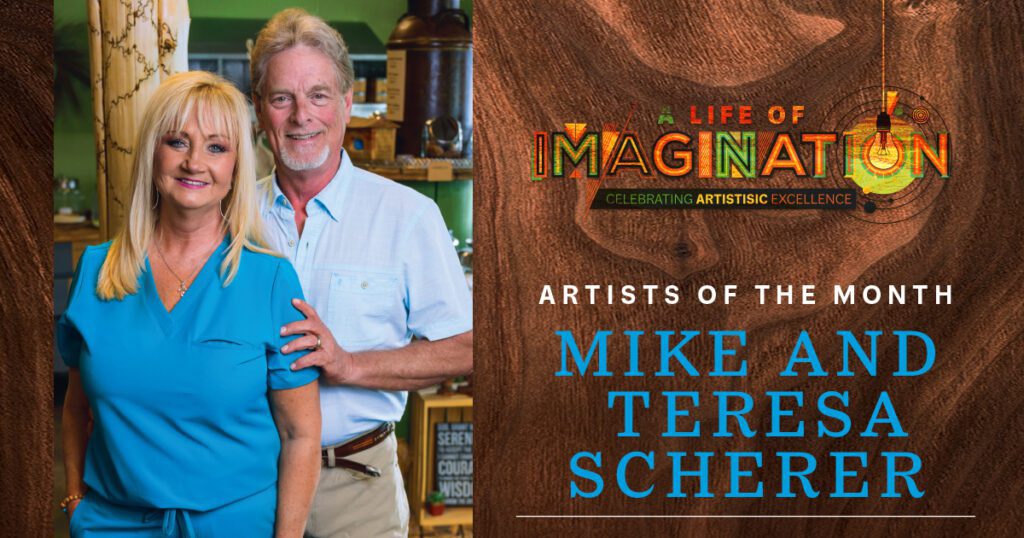 Owners Mike and Teresa Scherer don't consider themselves artists, but one step inside the doors of this soapery and spa contradicts their humble position on the matter.
Guests are greeted by the tantalizing aroma of handmade soaps, crafted on site in a sink made from a pair of metal wash tubs that once belonged to Teresa's grandmother. A variety of handmade products, including soaps and bath bombs, sit creatively displayed on rustic wood slab countertops, shabby chic cabinets and handcrafted shelves. A host of repurposed items from each of their grandparents' farms, including reclaimed barn wood and sheet tin used on the walls, can be found throughout the business. "We say it's our way of bringing a little of our family with us," Mike said.
Teresa, a licensed esthetician, takes great care in providing natural, pure and organic products. "We have a lot of people who are looking for vegan products, so we use ingredients like oat milk, almond milk and coconut milk, but all of ours are plant-based." The business carries soaps made only with natural ingredients, as well as soaps made with pure essential oils and some with added fragrance.
Carrying the rustic theme throughout, the business gives guests the elegance and pampering of a luxury spa, with the ambience of a mountain chalet. Charred wood doors, dressing rooms made of white pine, a large painting of a waterfall, a chainsaw-carved mantel supported by log pillars and the flickering flames of a fireplace all beckon the soul to relax. And nothing whispers "relax" like a facial, foot soak, body scrub, massage, salt spray or even a full body soak in a wooden tub in a private bathhouse. Low lights and soft music set the tone for a real escape for self-care and pampering.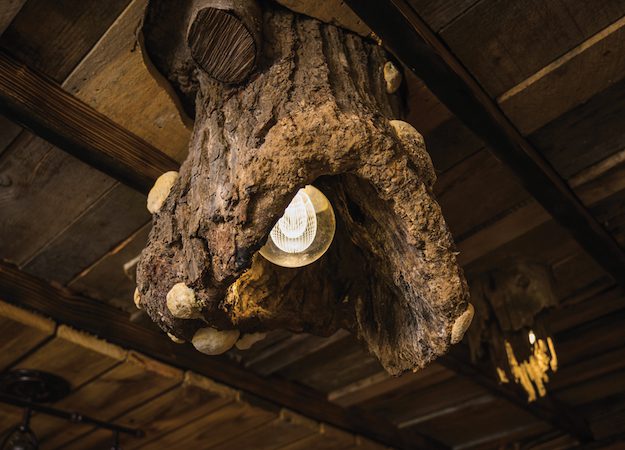 Even the waiting area provides an opportunity to escape the day-to-day life. Mike jokingly refers to it as the "knotty" room as one wall is crafted from tree knots creatively positioned to make perfect places to hide little treasures. Guests waiting for their appointment may enjoy a scavenger hunt while sipping on a hot cup of tea or coffee.
Mike, handy with construction tools, has done much of the woodwork himself, with the help of a few friends (Greg Janski Family). Floor-to-ceiling and wall-to-wall, Mike has created a nostalgic, relaxing atmosphere that fits Teresa's rustic vision for the business. Even some of the light fixtures are handcrafted from hollowed-out tree stumps. The Scherers want guests to receive the pampering of a luxury spa without the luxury cost, and they want the spa to feel welcoming to everyone, including men who might be a bit hesitant.
The Scherers are also big supporters of other local artists and businesses. Cedar Valley Carvings carved "The Rustic Jewel" sign hanging above the entrance, as well as the fireplace mantel. The halls are lined with paintings (available for purchase) by local artist Karen Samuhel. The waiting room includes paintings by their granddaughter Alana at age 12, and a fabric rendition of the business' logo, the Tree of Life, created by a worker in The Village.
Through The Rustic Jewel, the Scherers seek to minister to body, mind and soul. "We are faith-based. That's our No. 1 thing here. When people come in our doors, we want them to feel the love of Christ. When they walk out, we still want them to feel the love of Christ. Whether they've come for a treatment, or they've walked out without a product, we don't care. We just want them to feel Christ's love."
Scripture is found throughout the retail space and the spa. For example, "Be Still & Know" from Psalms 46:10 is carved into the mantle above the fireplace. A plaque in the waiting room reads, "Let not your heart be troubled" from John 14:1.
Even the name, The Rustic Jewel, carries a spiritual meaning as jewel is from the precious stones or gems used for the foundations of the New Jerusalem as mentioned in Revelation 21:19-20. It seems fitting as the vision of The Rustic Jewel came to Teresa in a dream some years ago, a dream she is sure was given to her by God. Teresa was quick to say she doesn't push her faith off on others, but said, "if you ask me a question, I'm going to answer it."
The Rustic Jewel brings a little bit of heaven, using the things God gave us on earth to minister to the mind, the body and the soul. Truly a little bit of heaven here on earth.