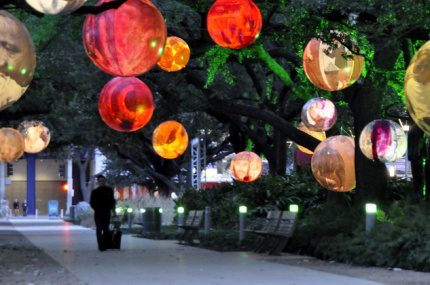 19 Sep 2016

Artist to install large lanterns during Conway's ArtsFest

Posted at 11:23 AMh

in

News

In conjunction with the 10th anniversary of Conway's ArtsFest, installation artist David Graeve will visit the University of Central Arkansas as artist in residence.


Houston-based Graeve will install "Pluralism, Social Lens #33, Direct Action," large-scale sculpted lanterns, at UCA's Alumni Circle as well as Downtown Conway locations at UCA Downtown (1105 Oak St.), Kings Live Music (1020 Front St.), Federal Plaza (1111 Main St.) and Independent Living Services (615 E. Robins).


"As an artist, he [Graeves] not only engages the space he's working, but the community and what surrounds him," said Brian Young, director of UCA's Baum Gallery.


This unique, community-oriented project will feature photographs of Conway residents and local community along with photographs from other cities.


Graeve's outdoor installations will be open to the public for viewing from Friday, Sept. 23, through Friday, Oct. 7.


As part of the residency, Graeve will host a Q&A with UCA students at 5:30 p.m. Thursday, Sept. 22, in the McCastlain Hall Fireplace Room, followed by a special unveiling of Graeve's installation at the Torreyson Library at 6:30 p.m.


Also as part of the residency, Graeve had a summer workshop with Independent Living Services consumers, and the resulting artwork, "Looking into the Lens: Portraits from ILS," will be on display at UCA Downtown through Saturday, Oct. 1, with a public reception at 4:30 p.m. Friday, Sept. 23.


Graeve's emphasis on community participation is also the catalyst for "Neighbors, An Art Show," presented by Salter Properties at The Brick Room, 1020 Front St., from 6 to 10 p.m. Friday, Sept. 23, and the Conway Schools Exhibit at the Conway Police Department headquarters, 1105 Prairie St., from 10 a.m. to 4 p.m. Saturday, Oct. 1.


Other support for Graeve's installation is provided by the Arkansas Arts Council, an agency of the Department of Arkansas Heritage and the National Endowment for the Arts, and the Conway Advertising and Promotion Commission.


For more information about the residency, call 501.450.5793 or email [email protected].