28 Feb 2023

Artist of the Month: Steve Hurd

By Tammy Keith

Conway architect Steve Hurd's eye for design, woodworking skills and faith come together to create special pieces used in worship at St. Peter's Episcopal Church.

"It's what I've been told is my ministry," Hurd said. "I've made quite a few things for the church." Those include the processional cross, an Advent wreath, candlesticks used during Lent and the bookstand for the altar. Before he joined the church, Hurd was asked to brainstorm how to extend the height of the balcony railing to make it safer, and he sketched a design and built it himself. "They loved it. I got to install it, and that was my first public installation of something," he said.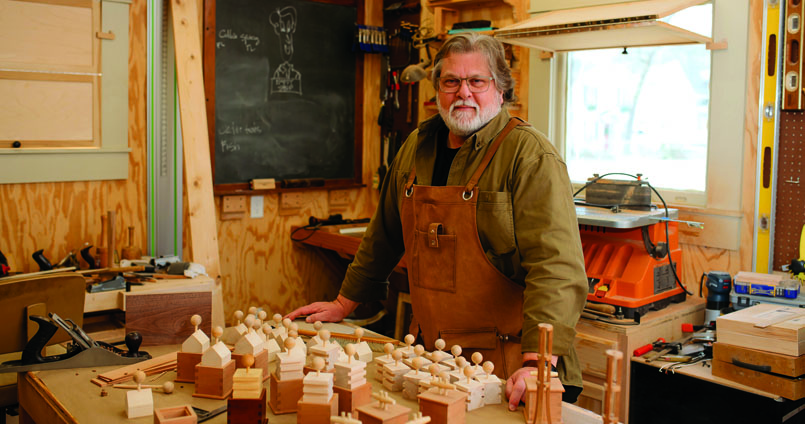 The Rev. Greg Warren, rector of the church, praised Hurd's contributions and unique design. "He used wood and steel for the railing, which are two of the media he uses, but he did something wonderful. In one section, a piece of wood sort of flows up a bit, almost like in music, you might hit a high note. It animates what could be just a railing in a really cool way. It brings it to life," Warren said.
He also pointed out Hurd's design of the Petrucelli Walkway that connects the church and Parish Hall. The covered brick walkway with its gothic arches was named for late members Fred and Lillian Petrucelli and paid for with a gift from their estate.
"What strikes me most, it's really the first time I appreciated what great design can do in a building, because if you stand in that walkway, there's always a breeze," Warren said. "It's a simple piece, but for some reason the way it's framed, the air flows."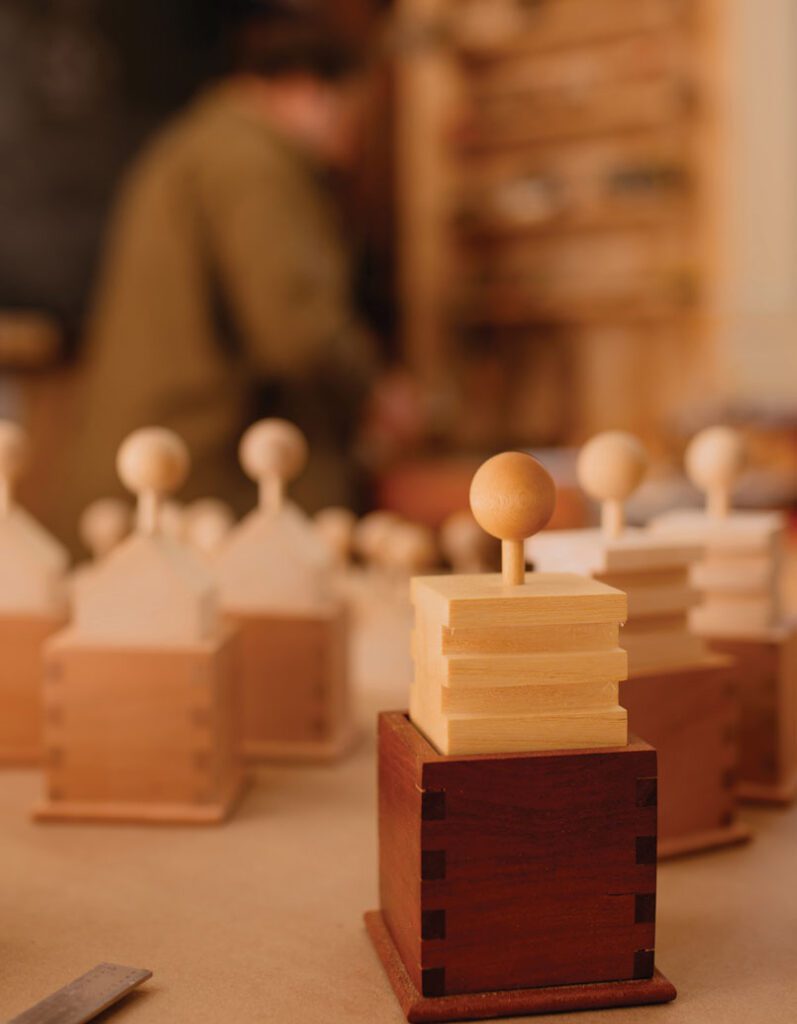 Hurd said he was honored to design the project. "It means as much to me as anything I've done … for Fred and Lillian, their memory, as a contribution to the church, and it was just a labor of love," he said.
Hurd's interest in church design goes back to his days as a student at the University of Arkansas School of Architecture when the first model he built for a class was of a French cathedral.
His interest resurfaced in 1989 when he designed a set of cathedral blocks and had a carpenter build them. Because they started as a one-of-a-kind set, his son, Christian, was allowed to play with the blocks only with supervision. "I couldn't lose one," Hurd said. After he found a manufacturer for his blocks, his son "played with them all the time."
So did children all over the world. Hurd sold them at toy shows internationally in the beginning. His cathedral blocks, as well as castle blocks he designed, are on display in the Learning Museum of the Castle de Saint Fargeau in France and Saint Canice's Cathedral in Kilkenny, Ireland.
"I played with my blocks in the castle in France and in Ireland, too," Hurd said. The employees of the visitor's center in Ireland, where his building blocks are sold, "treated me like a rock star. It was cool," he said, laughing.
"It tickles me inside. I'm like that 10-year-old. I love playing with them and getting feedback that someone's child or grandchild loves playing with them."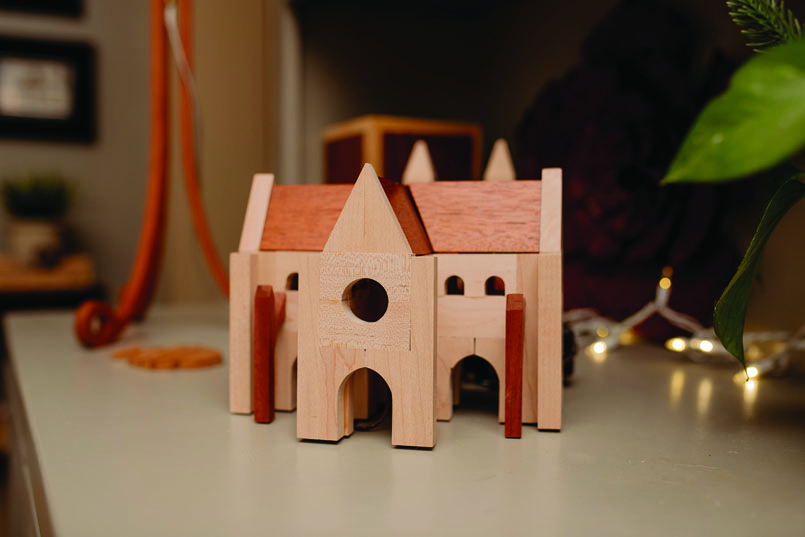 Hurd takes custom-block orders for buildings and churches and donated a set to St. Peter's children's department.
His inventory has expanded to include made-from-scratch items: wooden ornaments, spirit boxes, tea lights, petit four boxes and lamps made of cherry wood. Another of his more popular creations is Crossword Cubed for children, which is a set of nine wooden blocks with letters on all sides to spell three-letter words. His original Crossword Cubed is in the permanent collection of the Arkansas Museum of Fine Arts in Little Rock, formerly known as Arkansas Arts Center. That toy and other pieces will be sold in its museum store when the building reopens in April after being remodeled. Hurd said he took woodworking classes at the center when he was 10, "so it's special to me" to sell there. He also sold smaller pieces and blocks for four years at the world-renowned Crystal Bridges Museum of American Art in Bentonville, which rotates the artists represented.
Hurd said his satisfaction comes from making clients happy, not awards, but he was honored to receive the Conway Alliance for the Arts Gene Hatfield Outstanding Individual Artist Award in 2022. Hurd's work can be seen on his website, westworkdesigns.com, and his Instagram account, @westwork_designs.
"Cathedral blocks will always be my baby, but my connection with art and faith … is really St. Peter's," he said.
Warren said Hurd's skills have enhanced the atmosphere at St. Peter's for parishioners and guests. "We are so blessed; he is so talented. The church is a more beautiful place because of him," Warren said.