02 Jun 2023

Artist of the Month: Shane Light

By Dwain Hebda

The art world is full of creators with interesting, even contradictory backstories, and Shane Light's ranks right up there with the best of them. A self-taught product of Norfork (Baxter County), his college transcript reads more like someone headed for space than a gallery.

"I went to college for physics, and while in college, I dabbled a little bit in theater," he said. "I became obsessed with engineering and theater, respectively, and I really wanted to find a way to shove the two together."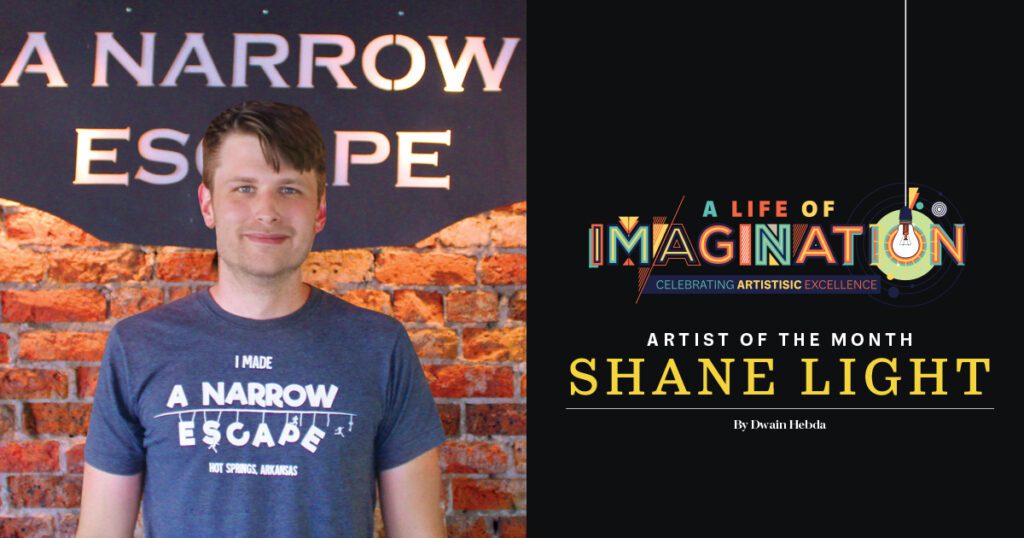 His first attempt at reconciling the two sides of his brain resulted in a series of lamps with personified lightbulbs that would move at random intervals.
"Probably the most popular one was Lenny, the Prisoner of Utility," he said. "It was this lightbulb dressed in a prisoner outfit in a cage, and he would bang against the cage or rattle the cage or even start to get out of the cage itself. Just when you start noticing it moving, you look at it and it stands still."
Light followed a pragmatic path after graduation, landing an office job with a plasma-cutting company, by which he paid the bills. But the urge to create continued to percolate just beneath the surface. At last, he found a venue that would allow him to employ all the tools in his creative toolbox – the escape room.
For the uninitiated, escape rooms confine players to a given room and give them a scenario with clues and puzzles they must solve in order to "escape." Players work together, generally against the clock, to complete the game.
"There's something with escape rooms that is really, really challenging," Light said. "How do you tell an engaging story customers care about in an hour, where 55 minutes of it isn't stressing over whether they complete a puzzle or not? I'd describe my art as immersive experiences. I want to try to put a story to everything. Everything has a purpose, everything has a reason, and it has a beginning and an end."
While the premise of an escape room is fairly straightforward, Light's creations are anything but. Unimpressed with the attractions he'd visited, he envisioned something more intricate, yet still family-friendly. He launched A Narrow Escape in Hot Springs seven years ago, applying his creativity to create various vignettes and experiences from the ground up.
"It's very multimedia," he said. "I do all the coding, the wiring, the construction, the planning, the writing. It's a very layered endeavor with the escape rooms and mini games and other forms of entertainment that we're pushing for.
"In the Bionic Dilemma experience, there's a full-body robot strapped to the wall and you don't know whether to trust her or not, but you have to be nice to her regardless, because she's how you get hints. And it's not a human puppeteering her. She's puppeteering herself, and she's got her own sad story and you have to decide her fate."
Light's slightly skewed take on the escape room experience lends a unique charm to A Narrow Escape, providing clients with a unique blend of intellectual and creative fun brought out by his creations.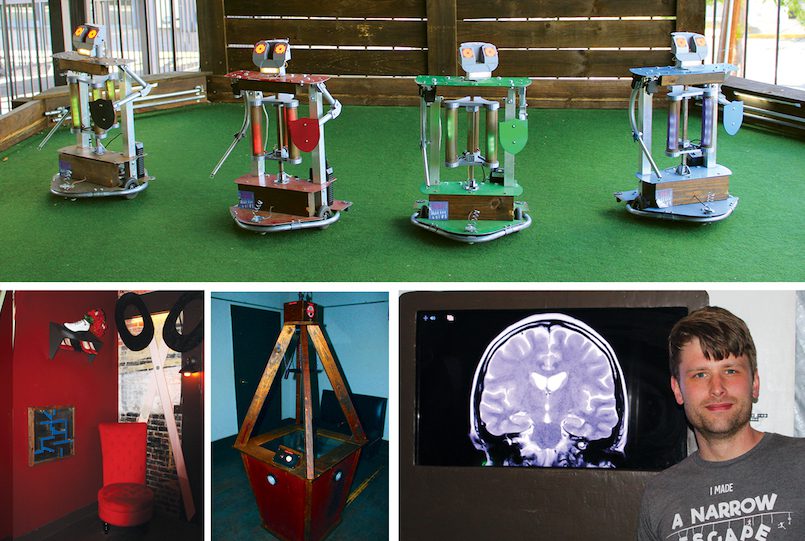 "A lot of escape rooms have a person that comes over an intercom and gives you hints and stuff. I feel like that's really cheap and immersion-breaking," he said. "I always try to have characters in the rooms talking to you. It's less about the individual puzzles and more about manipulating the characters in the puzzles.
"This is really challenging for a myriad of reasons. One, they're all programmed with speech dialogue. They remember what you say. You can pit them against each other. It's a very different structure, less about 'I finished a puzzle and something opens,' and more about large form planning and conniving and setting up all the dominoes and watching them fall."
Light's next venture, the soon-to-be-opened RoboWorld coffee shop, operates on much the same premise of science-as-art. Light brought the concept to life with the help of his wife, Kirsten, another artist whose background lies in the sciences.
"It's a store run by robots saving up money to take over the world," Light said. "There's 11 different robots, all different personalities, all different wants and needs and desires and secrets, and they're all arguing with each other. Some of them like humans, some of them hate humans, some of them don't like each other. It's a complete assault on the senses.
"I manufactured the robots and I plotted out their personalities and names. But my wife has really taken off and given the story a good feel. She hand-painted the floors and did all the digital posters and designed the curation of the goods and the menu, making it robot-themed."
Kirsten, a biology professor at Henderson State, said indulging her creative side through the RoboWorld venture is something that came naturally.
"Everything we do is completely handmade," she said. "I like to incorporate it under the umbrella of visual arts, but it's not just sculpture or just painting, it's everything. This is where I like the science aspect of it, because if you're studying a species in science, you're looking at them as a separate thing. Going through this as the robots looking at humans, it's not the same way as humans would look at humans.
"For me, the science is really my passion, but art is the outlet to communicate things I think are really important and engage with our community in a tactile way."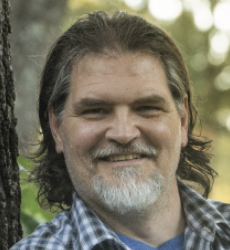 Latest posts by Dwain Hebda
(see all)