25 Jan

Art of living: Couple shared a unique love story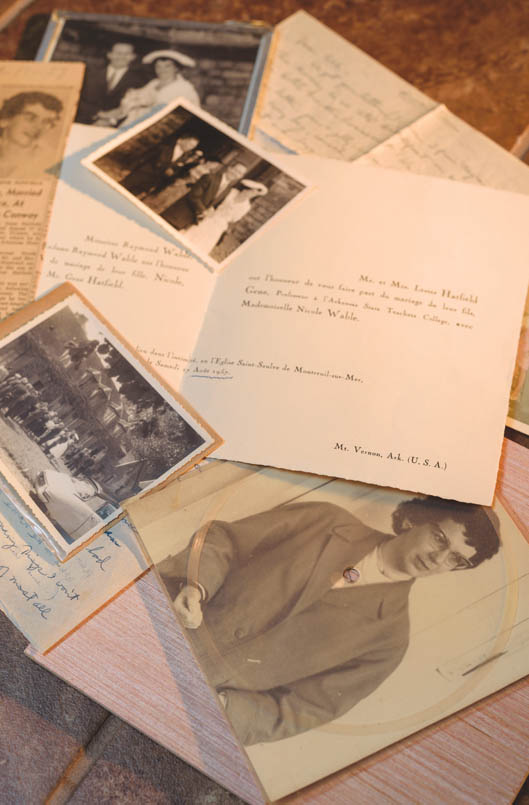 by Mathilda Hatfield
"Be patient, and be good; same as I am… I am longing for you…"
These endearing words, spoken with a charming French accent, were recorded to a picture disc, in 1957, then sent from Paris, France, to Conway. This record and numerous handwritten letters shared between my parents during their courtship are the tangible evidence of their unique love story. The abstract lives on through me, my brothers and all who knew Gene and Nicole Hatfield.
My parents grew up in different worlds, yet they shared common principles: commitment to family, education, appreciation for the arts and a keen sense of humor. They also shared a unique love story.
Yet, the story of how my parents met, and their courtship is not really a story at all. At least not one that has ever been told. Anytime my brothers and I would ask how they met, my parents would reply, "That's our romantic secret."
My father's first trip to France was in 1944. He was a U.S. Army infantryman, responsible for carrying the BAR. Gene, already a professed artist, described in letters he sent to his family the French countryside, and how, if able, he would like to return someday to paint the scenery. He did not meet Nicole then. In April 1945, Gene was wounded while in Germany. He recovered in England; and returned to Conway to finish his education on the GI Bill at Arkansas State Teachers College (now the University of Central Arkansas). In 1948, after earning his master's degree, Gene began teaching Art, Theater and Stagecraft at ASTC.
My mother, Nicole Wable, grew up in Montreuil-sur-mer, a small town in northern France. Her first trip to Arkansas was in August 1953, but she did not meet my father then. She was a Fulbright Scholar, studying English literature, and was placed at the University of Arkansas in Fayetteville. She returned to France in May 1954, having accepted a position with Greyhound Travel in Paris.
Mother's second trip to Arkansas was in October 1956. After leading a tour group around the United States for Greyhound Travel, she took a few days to visit friends in Fayetteville.
This is where the details get sketchy (pardon the pun). Supposedly, Gene and ASTC Art Department Chairman Marie Schichtl were in Fayetteville at that same time for an art educators' workshop. That October weekend, a mutual friend, Eugene Eddleman, introduced Gene and Nicole to each other. We think that it was at a party or group dinner. We don't know how long they visited during their first encounter, if they saw each other several times over the course of the weekend, or what was said upon departing. We do know that each made such an impression upon the other that, after each returned to their respective homes (Conway and Paris), their subsequent courtship developed through the art of letter-writing and a life-changing phone call. Or, so the story goes…
Nicole was with her family in Montreuil-sur-mer for the holidays of December 1956. In those days, she had to let her father know that she was expecting a phone call from the United States. Following just two months of exchanging letters across the Atlantic Ocean, Gene did call – to ask for her hand in marriage. Nicole accepted. Gene loved to tell that he sewed her engagement ring to the inside of a hat that he then mailed to her.
Several years ago, after my mother's passing, I found, and carefully preserved the letters Nicole had written to Gene following their engagement. These beautifully written letters shared events of her work day, time spent with friends and family, and captured her thoughts regarding the art exhibits she saw, her appreciation for music, and the latest movies.
While Nicole was planning their wedding, Gene was also planning and creating. My father and his father, Lester Hatfield, an architect and general contractor, designed and built a small house on family land in Mount Vernon. Gene hand-selected the stones for the fireplace, mantel and rock wall lining the drive. Gene named it Nicfield, in honor of his fiancée.
Gene and Nicole married Aug. 17, 1957, in her hometown of Montreuil-sur-mer only 10 months after meeting. Following their honeymoon, they made their home in Central Arkansas, dividing their time between Conway and Mount Vernon.
Gene's artistic creativity soared. He painted, sculpted, made wood and stone carvings and wrote poetry and novels. His teaching was enhanced by each trip he and mother took, each summer workshop, and every museum visit.
Mother put her heart in all her endeavors, sewing, cooking, baking, nurturing others and teaching French at ASTC. Together they created a French/American home, filled with art, music, books and lessons. As a family, we spent four to six weeks in France each summer, reconnecting with our French family, soaking up the history and culture, and traipsing through the country discovering beauty in the mundane and in the museums.
Back in Arkansas, Gene also made sure we appreciated Shakespeare as much as Lil' Abner, Picasso as much as Thomas Hart Benton, and the old – far and above the brand new. Through education, travel, reading, language, music and art, Gene and Nicole diligently molded our values.
Mother passed away in August 2004, just two days after celebrating their 47th wedding anniversary. She asked to be buried in her wedding dress. Gene passed away February 2017. He rests again by her side in Mount Vernon.
While we never did learn the details of their love story, what we did experience taught us that there is an art to loving someone so completely that it colors an entire lifetime. Similar to one of my father's paintings, their love was a collection of individual brush strokes, that, when viewed as a whole, reveals itself as an image of romance, shared passions and inspiration. My parents' story moves others to dream, and still inspires the hearts of future generations.
"Be patient, and be good, same as I am… I am longing for you…" One enchanted October evening, Gene found his muse, Nicole found her rock.