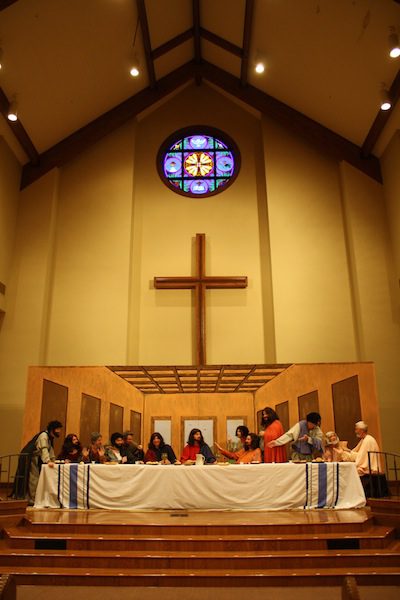 21 May 2011

Art comes alive: First Presbyterian presents 'Living Picture of the Last Supper'

Posted at 9:31 PM

in

Faith

First Presbyterian Church in Conway observed the Easter season in a unique way – with "A Living Picture of the Last Supper."

Church members dressed in costume to re-create Leondardo da Vinci's famous painting of the last meal that Jesus had with his disciples before his crucifixion.

Rev. Drew Travis, pastor at First Presbyterian, was the narrator. As he read the story, each disciple told his story of how he met Jesus.
Lyle Rupert and the chancel choir provided music.
The cast included Art Gillaspy (Bartholomew), Jim Lane (James the Lesser), Steven McConkie (Andrew), Daniel Williams (Judas), Jim Ford (Peter), Donn Vangsnes (John), the Rev. Michael Vinson (Jesus of Nazareth), Brad Crosson (Thomas), Bill Lacy (James), Terry Love (Philip), Jim Hays (Matthew), Richard Talley (Thaddaeus) and Joe Pruett (Simon).
Robert Kain, who has a background in amateur theater, directed the presentation. He has directed the last three productions, presented every other year, and previously had the role of Thaddeus. He has been involved since 1999.
Kain said cast members "just love to do it." Several have been involved with the production for a number of years.
"It's very moving," Kain said. "It's just a faith thing. I love it."