27 Feb 2023

Arnold honored as President Emeritus

Posted at 5:12 PMh

in

News

The Hendrix College Board of Trustees honored current President W. Ellis Arnold III, class of 1979, with the title of President Emeritus, effective upon his retirement in June. The honor was announced formally at the board's meeting on Feb. 10, and President Arnold was presented with a citation from the board expressing its appreciation for his service and numerous accomplishments.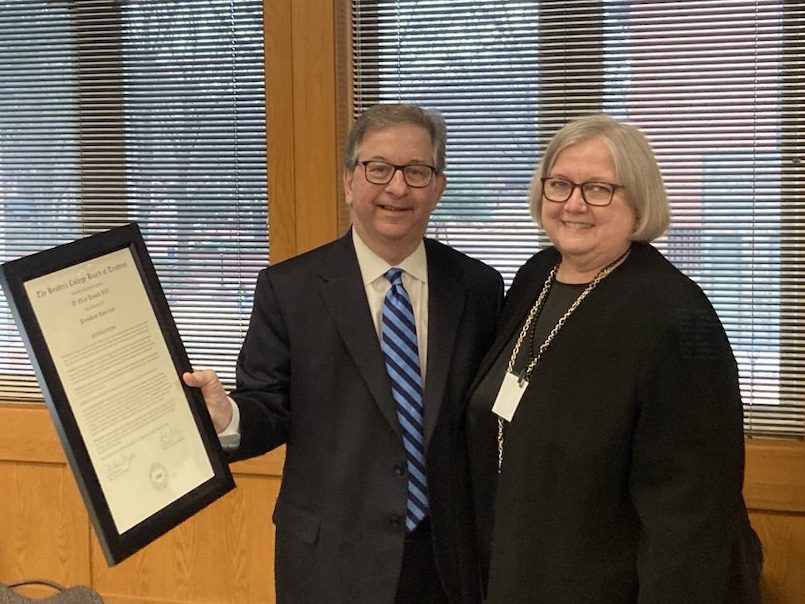 "The Board of Trustees is deeply grateful to Ellis for his commitment to the long-term prosperity of the college, his calm and steady focus on the institution's highest priorities through both challenging and rewarding times, his thoughtful analysis of strategic planning initiatives and decision making, and his deep love for the mission of Hendrix, which has served the college well through his tenure and resulted in the successful completion of historic campaign fundraising milestones, enrollment and endowment growth, and growing recognition of Hendrix as a leading national liberal arts college," said Jo Ann Biggs, class of 1980, chair of the Board of Trustees.
A private liberal arts college, Hendrix consistently earns recognition as one of the country's leading liberal arts institutions and is featured in "Colleges That Change Lives: 40 Schools That Will Change the Way You Think About Colleges." Founded in 1876, Hendrix has been affiliated with the United Methodist Church since 1884.
"I am humbled to be named President Emeritus and grateful to the Board of Trustees for this incredible honor," Arnold said. "It has been a privilege to serve my alma mater in various leadership roles over the years, especially leading the college as president."
"I am grateful to my Hendrix colleagues, board members, donors, faculty, staff, students and fellow alumni for their commitment to moving Hendrix forward," Arnold said. "We could not have accomplished the milestones in recent years without the strong sense of community that exists at Hendrix. I know that the college is strongly positioned to overcome the challenges facing higher education and to seize new opportunities uniquely suited to Hendrix and the academic and campus life experience we offer."
After earning his juris doctorate and practicing law in Little Rock, Arnold returned to his alma mater in 1990 as Vice President for Development and College Relations. He led Lambuth University in Jackson, Tenn., and Pulaski Academy in Little Rock before returning to Hendrix as Senior Executive Vice President, Dean of Advancement and General Counsel. Arnold served as acting president on two occasions and was elected the college's 12th president by the Board of Trustees in December 2019.
Following his retirement in June,  Dr. Karen K. Petersen will become the 13th president of Hendrix College.