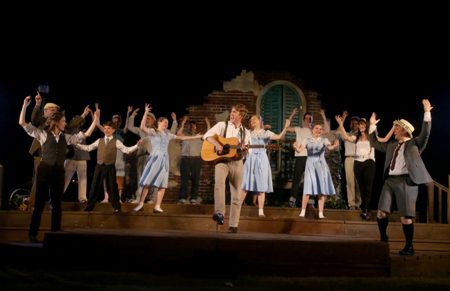 29 May

Arkansas Shakespeare Theatre to open ninth season June 4

Arkansas Shakespeare Theatre's ninth season of Shakespearean plays and other works that entertain, engage and enrich the community will run Thursday, June 4, through Sunday, June 28, at multiple venues: the Donald W. Reynolds Performance Hall at the University of Central Arkansas, outside at The Village at Hendrix, in the Argenta Arts District in North Little Rock and in new venues across the state.

The season will include "The Merry Wives of Windsor," "The Merchant of Venice," "Fiddler on the Roof" and a special one-hour family adaptation of "As You Like It."


The season will see the return of many favorite performers from seasons past as part of the acting company, including Dan Matisa, an eight-year veteran of AST; Paige Reynolds, Courtney Bennett, Chad Bradford, Garrett Whitehead and Jordy Neill, among others.


"We are thrilled to welcome back the many talented actors who have made this festival must-see summer entertainment in Arkansas, and we are also excited to have many new faces, actors from all over the country who are eager to produce lively, engaging productions everyone will enjoy," said Mary Ruth Marotte, AST's executive director.


The season will open Thursday, June 4, at The Village at Hendrix in Conway with "The Merry Wives of Windsor," Shakespeare's energetic and charming farce about Falstaff's antics and foibles in love. Presented outdoors under the stars, the production is "pay what you can" and is a perfect way to enjoy one of Shakespeare's less performed and more delightful comedies. Matisa, who has acted in the festival for eight years, will make his directing debut at AST with "Merry Wives," and the production will feature a blend of local and visiting talent. Utah-based actor Paul Kiernan will take on the iconic role of Falstaff, and returning favorites Reynolds and Bennett, both of Little Rock, are playing the title wives.


Matisa will also star as Shylock in "The Merchant of Venice," opening Friday, June 19, and directed by Rebekah Scallet, AST's producing artistic director. It will be presented in an intimate setting on the Reynolds Performance Hall stage, in which the audience will surround the actors on all four sides and audience and actors will be within mere feet of one another. The production is set in Venice of the 1930s, with Mussolini firmly in power and feeling pressure from Hitler to enact race laws on the Jews of Italy.


"This play is considered one of Shakespeare's problem plays," Scallet said. "Though it is called a comedy and ends with marriage, rather than death, the harsh and painful treatment of Shylock by the Venetians doesn't truly allow the ending to feel happy. I'm interested in exploring all of the complexities and contradictions provided in the text, and the 1930s setting is the perfect backdrop to explore issues of prejudice and greed."


Complementing "Merchant" is the timeless classic "Fiddler on the Roof," presented by the ERA Team of Conway. It will open in Reynolds Performance Hall beginning Wednesday, June 10, with Broadway veteran Peter Kevoian starring as Tevye, the famous family patriarch and dairy man who dreams of marrying his daughters well and becoming a rich man. Kevoian has a substantial musical theatre resume, including playing Monsieur Reyer in the original Broadway cast of "The Phantom of the Opera," appearing in the Broadway revival of the musical "Zorba," and portraying the wizard in the Chicago Company of the National Tour of "Wicked." Jeremy Williams, a North Little Rock native, is returning to direct after helming last season's "Pippin." "Fiddler" will also be performed on the Reynolds stage in the intimate "in-the-round" configuration, allowing the audience to be as close to the action as possible.


Rounding out the season is "As You Like It," AST's one-hour family-friendly adaptation of Shakespeare. It will open on stage in Reynolds on Tuesday, June 23, and will also tour the state, with productions at Crystal Bridges Museum in Bentonville on Wednesday, June 17, South Arkansas Arts Center in El Dorado on Friday, June 19, and The Winthrop Rockefeller Institute on Petit Jean Mountain on Saturday, June 20.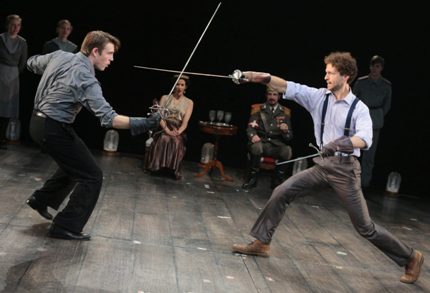 AST is still booking touring dates for "As You Like It" through Sunday, July 5. Contact Marotte at [email protected] for more information.

"The Merry Wives of Windsor" will be performed outdoors on the green at The Village at Hendrix in Conway at 7:30 p.m. June 4, 5, 6, 11 and 12, and at the Argenta Farmer's Market at 521 N. Main Street in North Little Rock at 7:30 p.m. June 25, 26 and 28. All tickets are "pay what you can" with a suggested donation of $15.

"Fiddler on the Roof" will be on stage at Reynolds Performance Hall at 7:30 p.m. June 10, 12, 21, 24 and 27, and at 2 p.m. June 14, 21 and 24.

"The Merchant of Venice" will be performed on stage at Reynolds at 7:30 p.m. June 19, 20, 23 and 27 and at 2 p.m. June 20, 27 and 28.

"As You Like It" is set for Reynolds at 2 p.m. June 23, 25 and 26 and at 10 a.m. June 27.

Tickets to the Reynolds Performance Hall productions of "Fiddler" and "Merchant" are $28 per person ($23 for seniors/active military/students); tickets for "As You Like It" are $10. All performances inside Reynolds are general admission. For more information about tickets or subscriptions, call the box office at 1.866.810.0012 or visit arkshakes.com.

Arkansas Shakespeare Theatre is proud to be a part of the University of Central Arkansas and is grateful for the continued support and sponsorship of the following UCA entities: Office of the President, College of Fine Arts and Communication and the UCA Theatre program. AST was founded in 2007 with a mission to entertain, engage and enrich the community throug
h productions of Shakespeare's work and other relevant theatrical works.