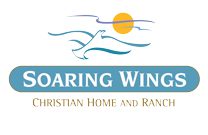 04 Apr

ARGives Day: Partners challenge $45K match for Soaring Wings Ranch

Local families and businesses have partnered with Soaring Wings Ranch (SWR) to match every dollar donated online to SWR up to $45,000 during the annual ArkansasGives event on Thursday, April 7.

"What better incentive is there than to know your donation will go twice as far to care for the children who live at the ranch?" said SWR Executive Director Andrew Watson.

Watson, who founded the Christ-centered home for children in 2007 to address the growing foster care crisis in Arkansas, began recruiting potential match partners shortly after deciding to participate in the second annual ArkansasGives event sponsored by the Arkansas Community Foundation (ACF).

"I have seen firsthand the way that children's lives are impacted through the love and support that is provided to them at the ranch," one anonymous partner said. "We can't all be foster parents or adoptive parents to these kids, but we can help provide a safe haven for them and do our part to show them that there is always hope and that they deserve to be loved, too."

During the 12-hour online giving event, all donations made to participating nonprofits through arkansasgives.org from 8 a.m. – 8 p.m. will be increased by a percentage of a pool of bonus dollars from the ACF.

Additional cash prizes will also be awarded to the top fundraising organizations in each category, but only donations made online through arkansasgives.org will count toward bonus dollars. Contributors can search for the nonprofit of their choice or use a direct link to the chosen organization's ArkansasGives profile.

Donations to Soaring Wings Ranch, a midsized nonprofit that is home to 24 children who have been abused, neglected, orphaned or are otherwise in need of a stable home environment, will now be doubled up to the match cap in addition to the bonus dollars it earns during the event. SWR's direct link will be available on its own website at swranch.org on April 7.

"The need for quality foster care is tremendous in our state, and every child deserves the opportunity to have a healthy and happy childhood. Soaring Wings is a place where total restoration is available with a multi-faceted approach that combines spiritual, family and educational pillars," another partner said. "The leadership is truly focused on helping these kids reach their maximum potential and on rebuilding a foundation on Christ."

A total of nine match partners, all of whom chose to remain anonymous, pooled their resources to reach the $45,000 match. One expressed excitement about knowing that her money would go further on April 7 to impact the lives of Arkansas' foster children in need.

"The ranch provides the children with a true home – not just shelter and provisions, but the kind of love and support from a mom, dad and support staff that comes from a God-centered, loving, family atmosphere," she said.

Donations to SWR on April 7 will provide the children who live at the ranch with all basic needs, a nurturing home environment in a custom single-family home, individualized educational services, family and individual therapy and a variety of activities appropriate for each child. One match partner called the ranch "an organization that rescues children, gets in the trenches with them in a real way and provides a future."

"They are 100 percent committed to changing children's lives one life at a time, providing a complete turnaround from a path that leads to destruction to one that offers hope," he said.

SWR is planning a watch party on from 4 to 8 p.m. Thursday, April 7, at the Centennial Bank Toad Suck Station Branch in Downtown Conway to complete the fundraising campaign. The public is invited to attend, and Centennial Bank will provide hamburgers and hot dogs free of charge. Though online giving stations will be available on site, donations are not required for participation in the festivities.

Soaring Wings Christian Home and Ranch (SWR) is a faith-based nonprofit organization providing Christ-centered, long-term foster care for children who have been abused, neglected, orphaned or are otherwise in need of a chance to soar. Grounded in the promises set forth in Isaiah 40:31, SWR's mission is to provide children with a nurturing, loving family and home for as long as the children need them.

For more information, visit swranch.org.