11 Jul 2012

Area golfers tee off for health system

Two hundred and sixteen golfers broke out their putters and drivers on June 11 for a four-player scramble to help raise funds for Conway Regional Health System.

It was a fine morning for golf with an overcast sky and a cool breeze as the first 24 teams zipped through the 18-hole course at Centennial Valley Country Club during the 16th annual Conway Regional Golf Classic.


Finishing the course was more of a challenge in the afternoon but most players stayed around to finish the round after a 30-minute delay for a thunderstorm. The hail and rain subsided and they played on.


A Centennial Valley team placed first in the morning round, followed by a team from Centennial Bank. Accretive Health set the pace in the second round, followed by a team representing AmerisourceBergen.


The tournament has become a tradition for the Conway business community.


Bill Hannah, CEO of Nabholz Construction Inc., considers the company's support of the tournament an investment in the community.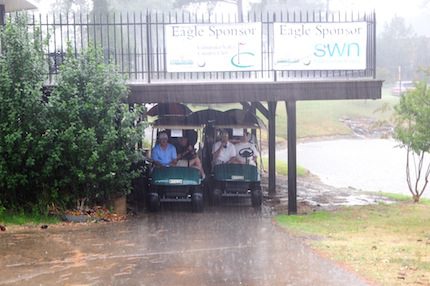 "First of all, it s a great event," said Hannah. "The golf tournament is a lot of fun, and it's well conducted by the Foundation folks. Our motivation for wanting to be a participant is that it is a benefit to our company to have good health care; it helps us attract good employees."

Nabholz Construction has been the presenting sponsor for the Conway Regional Golf Classic for a number of years. Eagle sponsors were Southwestern Energy, Therapy and Rehab Solutions, Arkansas Blue Cross & Blue Shield and Centennial Valley Country Club.

This year the tournament is expected to net more than $35,000 for the Conway Regional Health Foundation, which is in the middle of a capital campaign to help pay for a 95,000-square-foot surgery department and obstetrics area.