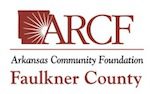 10 May 2011

ARCF announces $24K in Giving Tree Grants in Faulkner Count

Posted at 7:06 PMh

in

News

CONWAY, Ark. – The Faulkner County office of the Arkansas Community Foundation (ARCF) announced that it will award $24,000 in Giving Tree Grants for nonprofits in Faulkner County.

"Each of Arkansas's communities is unique and has its own local needs," said Heather Larkin, President and CEO of Arkansas Community Foundation. "To help respond to those diverse needs, Arkansas Community Foundation partners with local people in our affiliate communities to establish Giving Tree Endowments that provide an ongoing source of funding to meet the changing needs of each community."

Grant recipients this year include the 20th Judicial District 5th Division Circuit/Faulkner County Juvenile Court; Back-to-School Backpack Program/Pine Street; Big Brothers Big Sisters of North Central Arkansas; Christ Church, Inc.; City of Conway EcoFest; City of Greenbrier Kidzcamp; Community Action Program for Central Arkansas (CAPCA); Conway Cradle Care; Conway Interfaith Clinic; Faulkner County Council on Developmental Disabilities (FCC/DD); Faulkner County Day School; Make a Child Smile of Central Arkansas; and the Salvation Army/Faulkner County.

"Our Giving Tree Grants help a variety of nonprofit organizations in our county," said Julie LaRue, Executive Director for ARCF/Faulkner County. "It is powerful to realize the scope of the work accomplished by these groups, and gratifying to know that it makes our community a better place to live. We are excited to support that work through these annual grants."

A reception and grant presentation will be held Wednesday, May 11, from 10:30-11:30 a.m. at the Faulkner County Library. The community is welcome to attend and hear each grant recipient share how its grant will be used.

ARCF/Faulkner County makes grants through the Giving Tree program annually. The next grant cycle will begin in January 2012. More information about Foundation grants is available at www.arcf.org.

Arkansas Community Foundation makes grants to improve the quality of life in Arkansas and collaborates with individuals, families and organizations to build local communities through philanthropy. ARCF has more than $130 million in assets and has provided more than $80 million in grants since it began operation in 1976. Contributions to ARCF, its funds or any of its 27 local affiliate offices are fully tax deductible.