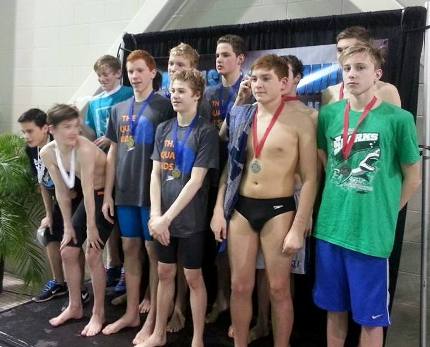 18 Mar 2015

Aquakids place in state championships

The Aquakids Swim Team recently finished fifth in the girls rankings while the boys finished third in the Short Course State Championships in Little Rock.

In the combined team scores, Aquakids placed fifth.


"I am very proud of all the Aquakids swimmers, parents, and coaches for all the help and efforts that you have put into this season. The great performance that our kids delivered this past weekend was the result of the hard work and commitment of a seven-month long journey," said Tony Marleneanu, Aquakids head swim coach.


AJ Mainord, Aaron Rieth, Jackson Wiedower and Ty Wingfield set new state and LSC (Local Swimming Committee) records in the 200 Free and 200 Medley relays. They now have every single relay state record for the 13-14 age group.
Top three finishers on the Aquakids team:

First place
AJ Mainord: 100 Breast, 200 Breast, 100 Fly and 200 Fly
Ethan Marotte: 100 Free, 100 Fly and 200 Fly
13-14 Boys 200 Free Relay and 200 Medley Relay (Rieth, Mainord, Wiedower and Wingfield)

Second place
Ethan Marotte: 100 Back and 100 Breast
Aaron Rieth: 100 Free, 500 Free, 200 Back and 200 Fly

Third place
AJ Mainord: 200 Back and 400 IM
Ethan Marotte: 200 Breast
Aaron Rieth: 200 IM
10&U Boys 200 Medley Relay (Marotte, Meek, Harrell, Wilson)

There were 43 Aquakid swimmers who participated at the 2015 State Championships, with 87 personal bests delivered.

Aquakids will host tryouts 6 to 6:45 p.m. Monday, April 6, through Friday, April10, at the Hendrix College pool.

For more information on the program, visit aquakidsswimteam.com.