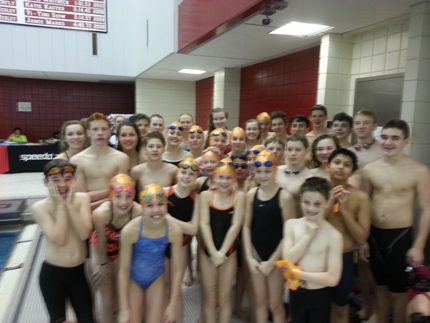 18 Mar

Aquakids compete in state championships

The Aquakids Swim Team participated this past weekend at the Short Course State Championships in Fayetteville.

"We had 35 kids qualified for this meet," said Tony Marleneanu, head coach of the Aquakids swim team in Conway. "I am proud of the way everybody raced and represented our club. The great performance that our kids delivered this past weekend was the result of the hard work and commitment of a seven-month long journey.


"We are looking forward to the summer season!"


Top three winners at state:

First place: Ty Wingfield – 200 Back.

Second place:

AJ Mainord – 100 Breast, 100 and 200 Fly
Aaron Rieth – 100 Free, 100 and 200 Back
Ty Wingfield – 50, 100 and 500 Free and 100 Back.
11-12 year-old Boys 200 Free Relay: Adrien Brite, Ethan Marotte, Neel Patel and Ty Wingfield

Third place:

AJ Mainord – 200 Back
Aaron Rieth – 200 and 500 Free
Ty Wingfield – 200 Free
15-18-year-old Girls 200 Free Relay – Sydney Wingfield, Amanda Crnic, Elam Fulton and Casey Ragsdale
11-12-year-old Boys 200 Medley Relay – Ty Wingfield, Adrien Brite, Neel Patel and Ethan Marotte


In the overall classification, the Aquakids Swim Team finished fourth for the boys and eighth for the girls.


This was the last time representing Aquakids at the state championships for seniors William Bryden and Isaac Powers. "They both had a fantastic meet with best times in all the events they swam."


With the season coming to an end this week for the Aquakids, the team will be taking a short break and be back in the water on Monday, March 31. If you are interested in joining the Aquakids, tryouts are planned at the Hendrix College pool from 6 to 6:45 p.m. Monday, April 21, through Friday, April 25.