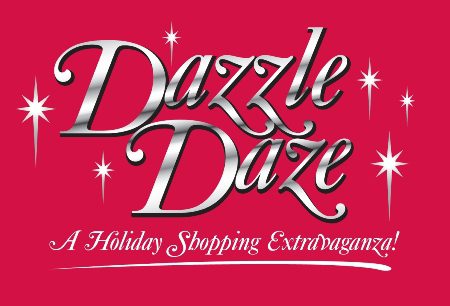 14 Nov

Annual shopping event benefits Conway Regional Health System

The 15th Annual Dazzle Daze – a three-day shopping extravaganza featuring specialty shopping in one location – will be held Thursday, Nov. 17, through Saturday, Nov. 19, at the Conway Expo Center and Fairgrounds.


Proceeds are used to purchase equipment and help provide programs through Conway Regional Health System.


Merchants from around the country will offer gourmet food, holiday items, jewelry, children's items, women's clothing and accessories, art, men's items, home decor and much more. Chicks Who Click photos, door prizes and photos with Santa and Mrs. Clause add to the fun at Dazzle Daze.


RAFFLE


A 2016 Ford Mustang Convertible from Smith Ford is the grand prize in this year's Dazzle Daze Raffle. Other prizes are a two-day guided duck hunt for four ($4,200 value) donated by Cypress Crossing Duck Club in Stuttgart; a Polaris Outlaw 110 ATV ($3,100 value) donated in part by C2 Powersports; and a $1,000 furniture gift certificate donated by Cajun Brothers Furniture.


Tickets are $100 each and only 500 will be sold. Tickets can be purchased at the 501 LIFE office at 701 Chestnut St. in Downtown Conway. (Visit dazzledaze.com for a complete list of ticket locations.)


PROCEEDS
Dazzle Daze is an annual fundraiser for the Conway Regional Women's Council with proceeds going toward medical scholarships and equipment, and supporting patient and community programs.


A portion of proceeds this year will help improve the detection of breast cancer in Faulkner County. Sometimes called 3D mammography, digital breast tomosynthesis or tomo will be available, for the first time in Faulkner County, in the Conway Regional Mammography Department within a few months. Part of the funding will be provided by Dazzle Daze.


The annual holiday shopping extravaganza will also fund additional services and technologically advanced equipment to support Conway Regional in providing high-quality compassionate health care to the community, as it has for nearly a century.


Since 2001, Dazzle Daze has provided more than $580,000 to help fund such projects as a new surgery and obstetrics addition, mammograms for underserved women, the Fabulous You Boutique that supports women going through cancer, academic scholarships for health care students and medically necessary scholarships to the Conway Regional Health & Fitness Center, along with equipment for the Emergency Department, Intensive Care Nursery and the Critical Care Unit.


"What we are doing is vitally important for the health system by providing more than $500,000 in services and equipment over the past 14 years," said Pam Sims, who is co-chairing Dazzle Daze with Wendy Nelson.


"Several thousand shoppers attend Dazzle Daze each year and that is a pretty big indicator of how the community feels about the event as well as the many volunteers who help put the event on each year. Because we have a strong, committed group of women we are able to do this year after year."


For more information, visit dazzledaze.com or follow the Conway Regional Women's Council on Facebook. Information is also available by emailing [email protected] or calling 1.800.245.3314 or 501.329.3831.


Schedule of events


Thursday, Nov. 17


Girls' Nite Out – 6 – 9 p.m.


Free goody bags for the first 500 shoppers to arrive. Some will include special gifts!


Dinner from TGI Fridays and sweets from Julie's Sweet Shop


"Chicks Who Click" Girlfriend Photos


Variety of tastings from Patticakes and others


Special prize drawing at 9 p.m. for gifts from Fletcher Smith's Jewelers and Conway Women's Med Spa


Friday, Nov. 18


General Shopping – 10 a.m. – 9 p.m.


Healthy Holiday Cooking Demonstrations: 10 – 11:30 a.m.


Photos with Santa and Mrs. Claus: 10 a.m. to noon and 4 to 8 p.m.


Dazzle Deli Open: 10 a.m. to 9 p.m.


Saturday, November 19


Pajama Party with Santa & Mrs. Claus – 9 a.m.


Kids are invited to wear their pajamas and listen to stories from Santa and Mrs. Claus, visit with the elves and have a special photo taken. Advanced tickets required.


General Shopping – 10 a.m. to 4 p.m.


Free Teddy Bear Clinic: 10 am – noon – Kids can bring their favorite stuffed friend for a checkup with our Teddy Bear Technicians.


Photos with Santa and Mrs. Claus: 10 a.m. – 3 p.m.


Dazzle Deli Open: 10 a.m. – 4 p.m.


Raffle drawing for 2016 Ford Mustang and other prizes: 4 p.m.