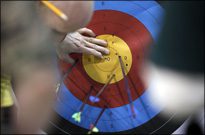 27 Feb 2013

ANASP regionals attract more than 2,700 students

The popular Arkansas National Archery in the Schools Program recently held its regional tournaments.

The number of competitors is up more than 30 percent from the previous year, with 2,710 archers competing at six regional sites.


The tournaments took place at Clarksville High School, Bergman High School in Harrison, Eagle Mountain Magnet in Batesville, Joe T. Robinson High School in Little Rock, Monticello Schools and Glen Rose Schools in Malvern.


"We had 600 more students signed up for the tournaments than any previous competition we've held," said Curtis Gray, the Arkansas Game and Fish Commission's ANASP Coordinator.


Winners from each regional will compete in the state tournament Friday, March 15, and Saturday, March 16, at the Hot Springs Convention Center.


In the elementary division, the top five teams from each region advance as well as the next top five overall scoring teams. The top four middle and senior teams from each region advance as well as the next three highest scoring teams.


The winners included:


In Region 1 – Perryville had teams qualify in each division. The elementary school won first with 2,749. The middle school was second with 2,940 and the high school was second with 3,005.


In Region 5, Glen Rose had teams qualify in all three divisions – elementary school (third with 2,748 points), middle school (first with 3,145 points) and high school (third with 3,051 points).


Also qualifying from Region 1:


Greenbrier Elementary School, which placed fifth with 2,450 points.
Harding Academy Middle School, third place with 2,837 points.
Greenbrier Middle School, fifth place with 2,580 points.
Harding Academy High School, sixth place with 2,702 points.


In Region 2, Quitman Middle School placed seventh with 1,037 points. The Quitman High School team was 11th with 866 points.


The Arkansas National Archery in the Schools Program, part of the National Archery in the Schools Program, targets students as young as fourth grade and as old as high school seniors. They learn archery skills, as well as an outdoor hobby they may enjoy for the rest of their lives.


For more information on the program, visit agfc.com/education/Pages/EducationProgramsANASP.aspx#3.