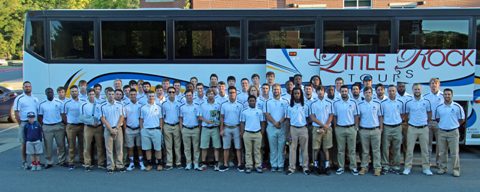 05 Oct 2016

An exciting time for CBC Mustangs

by Sonja J. Keith


Central Baptist College athletes recently had an experience that most players only dream of – playing baseball in a Major League stadium.


The CBC Mustang Baseball Team played the St. Louis Community College Archers on Oct. 1 in Busch Stadium in St. Louis, immediately following the Cardinals game with the Pittsburgh Pirates.


The CBC Mustangs became the first Arkansas team to play a game in Busch Stadium.


CBC junior Sean Baskin said the opportunity to play at Busch Stadium was exciting for the team. "It's a huge milestone for our program," he said, adding that getting to play in a national baseball park was a dream come true for him. "It's an opportunity to play in a big stadium, a big stage, and glorify Christ on the field."


Baskin added that his grandparents flew in to St. Louis from Idaho to watch the game. "They've never been able to see me play, so this was a first."


CBC Coach Dr. Aaron Brister described the opportunity to play at Busch Stadium as "unbelievable."


"We are so excited to be a part of something like this," said Brister. "My guys work so hard. My coaches work so hard. We're just proud to bring this to the Mustang family. I'm a huge St. Louis Cardinals fan, my whole life, so for me it's a dream come true."


About 1,200 tickets were sold to CBC fans and St. Louis Community College sold about 800 tickets.


The Mustangs beat the Archers in the exhibition game, 5-2, which is part of the St Louis Cardinals Amateur Game Program.


"The St. Louis Cardinals Amateur Game Program has been an ongoing experience for more than 30 years here in St. Louis," said Cardinals Account Executive Jesse Blackstock. "Hopefully, the participation of CBC this season will serve as a blueprint for others in the state to follow in the future."


"It's a wonderful opportunity for our student-athletes, and we appreciate the Cardinals allowing us to participate in this unbelievable experience," said CBC President Terry Kimbrow.


"I'm just really proud," Brister said, adding that he is thankful "to the Lord for what He has done and what he's done for my family, bringing me here to CBC. I couldn't work for a better administration or better athletic department. I love these men and I'm just thankful."


Brister said the baseball team's slogan is "Building a tradition, leaving a legacy." He said the team's legacy has included several broken records over the last few years. "God is really doing some awesome things with our program and leaving that legacy and building that tradition."


The Mustangs were runner-up finishers in the National Christian College Athletic Association's (NCCA) Central Region Tournament in 2015. The Mustangs received an invitation to play in their first ever NCCAA World Series and finished the season with a school record of 31 wins.


"I believe the event was a total success!" Brister said. "The Mustangs' fans got an exciting ballgame and a win. Our players were able to display the talents that God has given them on a big time stage. As coaches, we had the opportunity to show family, friends and those that stayed around after the Cardinal game exactly what we are trying to do with this program.


"We give God the glory as He continues to bless this program and our college. None of us deserve the blessings but Christ continues to show us favor."