14 Mar 2012

American Cancer Society plans Relay For Life events in the 501

The American Cancer Society hosts Relays For Life each year to raise awareness about cancer in a unique way.


Rather than holding an event during the daylight hours, Relay For Life takes place over night – because cancer never sleeps. For one night a year, neither do volunteers, survivors and caregivers.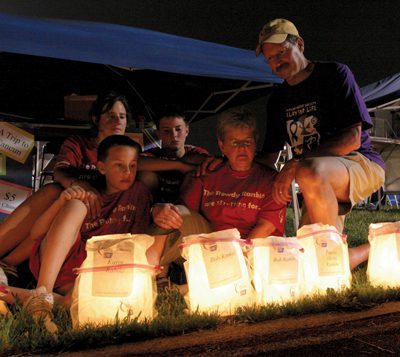 Relay For Life brings together friends, families, businesses, hospitals, schools, churches with the goal of eliminating cancer.

Relays For Life in the 501 area include:
• Cabot (May 18)
• Cleburne County (June 1)
• Conway County (April 27)
• Faulkner County (April 27)
• Garland County (June 1)
• Hot Spring County (May 4)
• Jacksonville (May 11)
• Lonoke (May 4)
• Maumelle (May 18)
• North Little Rock (June 1)
• Pulaski-Little Rock (April 27)
• Saline County (May 11)
• Van Buren County (June 15)
• White County-Beebe (April 27)
• White County-Searcy (June 1)
Relay For Life opens as cancer survivors take the first lap and emotionally set the stage for the importance of each participant's contribution. A festive atmosphere always develops as participants make new friends and spend time with old ones.

Then highlighting the evening is a Luminaria Ceremony of Hope held after dark to honor cancer survivors and to remember loved ones lost to cancer. The luminaria candles line the track and are left burning throughout the night to remind participants of the incredible importance of their contributions.
Relay For Life is also the signature fundraiser for the American Cancer Society. Through the donations and contributions made, the organization works toward creating a world with less cancer and more birthdays. This is accomplished by helping people stay well, helping people get well, by finding cures and by fighting back.

Helping people stay well is through education of ACS cancer screening guidelines to catch cancer at its earliest, most treatable stage, as well as how to make lifestyle changes to live healthier and hopefully prevent cancer in the first place. Helping people get well is through the programs and services to offer moral support to cancer patients and provide solutions to problems cancer patients may face, as well as information at anytime to help patients and their caregivers make informed health decisions with their doctors.

As the largest private organization which funds cancer research grants in the U.S., the American Cancer Society is involved in finding cures through research, including some currently being done in Arkansas, to find new ways to detect, prevent, treat and cure cancer. And through work with federal, state and local lawmakers, ACS advocates for those battling cancer and their loved ones.

For more information or to learn how to form a team or volunteer, call 1.800.227.2345 or visit relayforlife.org or cancer.org.