07 Jul 2018

Alumni chapter honors new students

Posted at 5:02 PMh

in

News

The University of Arkansas Alumni Association Conway Area Chapter held its annual PIGnic event on June 30.

As part of the event, the chapter awarded scholarships to Demi March and Aryn Blumenberg. Both are recent graduates of Conway High School, and will be attending the University of Arkansas this fall. Demi is a daughter of Jeff and Sharla March of Conway. Aryn is a daughter of Paul and Teresa Blumenberg of Conway.

A PIGnic is the alumni association's unique way of welcoming new students to the Razorback family and celebrating students' decisions to further their education in Fayetteville. Fifty-five graduates from Conway alone will be attending U of A this fall. High school graduates from across Faulkner County who will be attending the U of A this fall were invited to the event.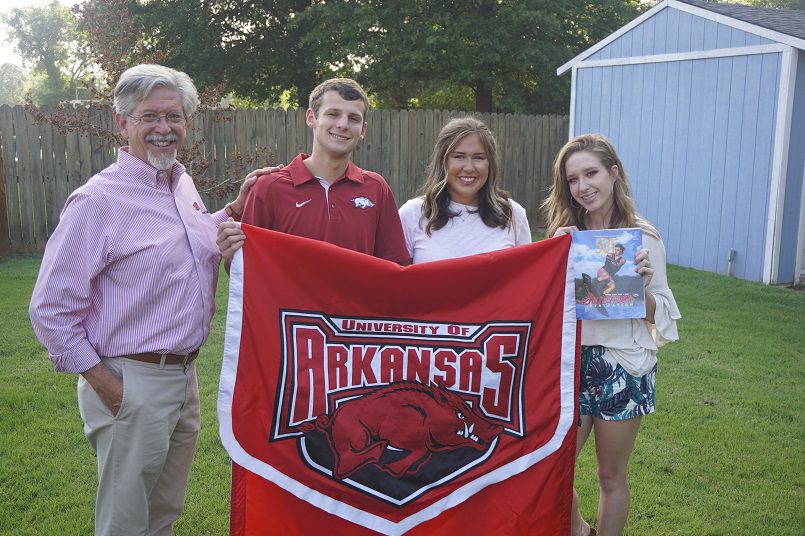 The picnic is a valuable opportunity for incoming freshmen to meet students from other Faulkner County high schools that will be joining them on the Hill, as well as to meet other local University of Arkansas alumni from Faulkner County.
Dr. Curt Rom, associate dean for international education, spoke to the incoming freshmen, their families and alumni about ongoing events at the University.
This included new construction projects, including a new dormitory, new sorority/fraternity housing and the upcoming completion of the north end zone expansion of Donald W. Reynolds Razorback Stadium. He also spoke about the opportunity for students to study abroad, with as many as 1,200 students this year alone taking University courses internationally.
The Arkansas Alumni Association Conway Area Chapter consists of U of A alumni that live within Faulkner County. The chapter's primary mission is to raise scholarship funds for Faulkner County high school seniors attending school in Fayetteville, along with organizing social events for area alumni such as football and basketball watch parties.