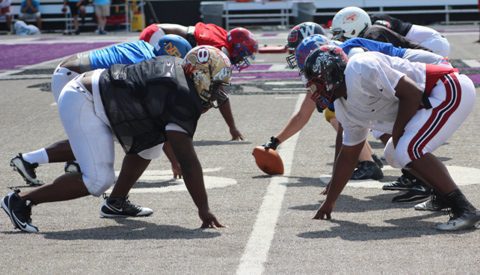 19 Jun 2013

All-Star games cap magical year

by Donna Lampkin Stephens


A magical sports year for Magnet Cove concludes this week with the Arkansas High School Coaches Association All-Star Week activities at the University of Central Arkansas.

Four athletes and two coaches from the Class 2A school in Hot Spring County were chosen to be a part of the festivities.


It's a testament to the success the Panthers and Lady Panthers achieved in 2012-13.


"I'll tell you what, it's been a great all-around year for Magnet Cove athletics," said Ronnie Efird, athletic director and football coach who was selected as an assistant coach for the West football All-Star squad. "Four kids playing in the All-Star games — for a small school, that says a lot about our program."
All-Star contests already finished this week include baseball and softball doubleheaders Tuesday and soccer and volleyball Wednesday. Basketball will go today (Thursday, June 20); and football will conclude the festivities Friday, June 21.

Efird's football Panthers went 11-2 last fall. They were undefeated 5-2A conference champions and reached the quarterfinals of the Class 2A State Playoffs, where they fell to Bearden.

The Lady Panther basketball team won conference, district and regional titles before falling in the quarterfinals of the state tournament to Spring Hill.

The girls track team finished runner-up in the state meet, falling to Murfreesboro by four points.

And Brian Nivens' softball squad won conference, district and regional titles en route to the first girls state championship in any sport in school history, knocking off Bigelow in the title game at the University of Arkansas's Bogle Park, 3-0.

Nivens was named head coach for the West softball team, which played its doubleheader against the East on Tuesday.

"We're blessed with a great school and great kids and a great community," he said prior to reporting for All-Star camp.

Two Panthers will play for Efird one more time this week: Hunter Linam, a quarterback/defensive back who will play outside linebacker in the All-Star game, and Zack Garrett, who will go at defensive end.

Two of Nivens' players — shortstop Laney Gibson and pitcher Erin Pankey — were named to the All-Star softball squad. Abby Stevens also participated as manager for the West.

"We had a really good year," understated Laney, who participated in all three sports. Besides shortstop, she was point guard in basketball and competed in the triple jump, 200, 400, 4×100 and 4×400 relays in track and field.

Nivens, who just finished his sixth season with the Lady Panthers, was an All-Star assistant in softball two years ago. He has a simple goal for his summer assignment.

"I want those kids who made All-Stars to have the best week of their lives," he said. "I hope they make new friends, maybe meet some they'll go to college with and become lifelong friends.

"It's a big opportunity and honor to be selected, and I want them to have fun. All those kids can play; we're just going to let them."

Efird just finished his ninth year at the school, his sixth as head football coach. He is coaching receivers and the kickoff return team this week.

He is making his Arkansas All-Star debut after coaching 13 years in Texas.

"I'm pretty excited to be nominated by my peers," he said. "It's an honor that they thought that much of me."

He said although everyone was happy to have been chosen, there does remain a game to be played.

"We still have that coaching instinct, and we want to win," he said.

For more information about All-Star Week activities, visit ahsaa.org.