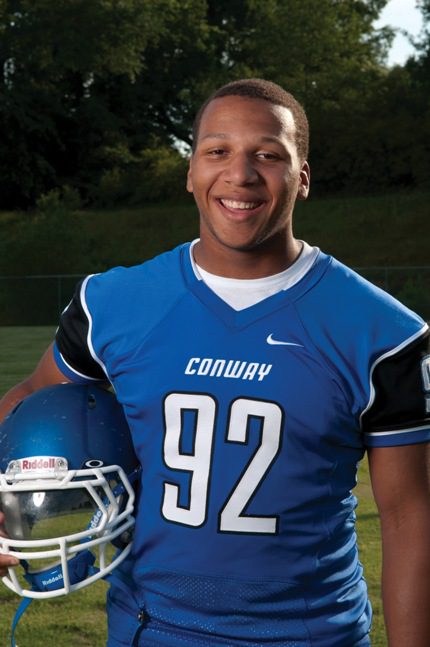 11 Sep 2013

Akins, Wampus Cats off to a great start

by Levi Gilbert


The Conway Wampus Cats kicked off the season with an impressive win over rival Bryant, 24-7. Senior defensive end Cortez Akins and the Wampus Cat defense played a huge role in the Week 1 victory.

"Cortez plays hard from start to finish and tries to do everything exactly how he is asked to do it," said Coach Clint Ashcraft in his 501 Football Team nomination. Akins was one of 16 players selected to this year's 501 Football Team.


Akins recorded seven sacks as a starter for the Wampus Cats in 2012, and the senior is looking for even more in his last campaign in high school football.


"A goal I have this year is to get 10 sacks," Akins said. "I'm faster and stronger this year. I want to be better than last year; I've got to be an animal this year. You have to fight senioritis a little bit. You can't get any better standing still. You have to keep working and go harder. It's my last year — my last chance to get better."


Akins provides a consistent presence on the defensive line that cannot be overrated for Conway.


"In the three years we have had Cortez, we have never had one problem with him in the classroom," Ashcraft said. "We have an academic watch list every nine weeks, and he has never came close to being on it.


"He keeps his mouth closed and plays hard. That's what every coach wants. He puts the team first and he's always "coaching" our younger players that play his position."


Akins moved to Conway from Kansas City, Mo., as a fourth-grader. His family moved during the fall, so it was too late for him to sign up for football. A year later, the youngster got on the field.
"I've been playing football since fifth grade," Akins said. "I wasn't really into it until about the sixth grade to be honest, but I just tried it because everyone else was doing it. It just became something I did to stay in shape. I moved here and was always active. Then I kind of got addicted to it.

"I had a big hit in practice one day. It just changed my mindset. Football is a passion now. I crave football. I think about it all the time. It's exciting. I get sad when the season ends."

Akins has chosen to be a one-sport athlete during his senior season, but he has played multiple sports in the past, including wrestling, which he almost gave up mid-season. His grandmother kept him on the right track.

"I was wrestling for Conway and there was a time when I really didn't want to do it," Akins said. "I talked to my grandmother about it, and she said, 'You're doing this for football. It's going to help you get better. If you quit, then you've wasted your time and everyone's time. You might as well stick with it and do your best.' I stuck with it, and it helped.

"My grandma was in a nursing home and just recently came back home. We are close. She's like my best friend. She's always giving me advice about what to do in certain situations. It's a blessing that I can go to her personally about what's going on in my life."

Conway travels to Jonesboro this week, and it will be another tough non-conference test for the Wampus Cats. With seniors like Akins leading the way, it could be another great week for Conway.

"He always has a smile on his face, has a great attitude and helps his younger teammates," Ashcraft said. "[He will] be an all-conference and all-state player for us and a leader on our defense."