05 Nov 2023

After family tragedies, Gina Harrison found her smile again through travel

By Rita Halter Thomas

We're told when life hands us lemons, make lemonade. For some, the sweeter, the better. Gina Harrison of Beebe has had her share of lemons, but in recent years her travels and new friendships have made her life a lot sweeter.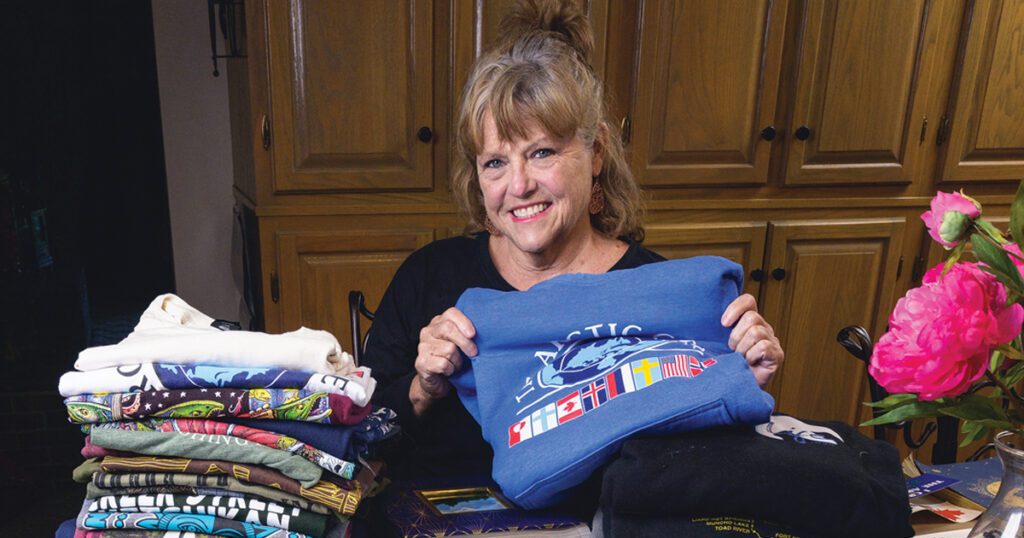 When Gina lost her husband in 2017 shortly after he retired, their dreams and plans of traveling together came crashing down. Three months later, she nearly died in a car accident. When her grandmother passed away, she sold the family's land and both their homes in Cabot. She bought a home in Beebe for herself, her mom and her daughter, putting three generations back under one roof. "I always wanted to travel, but I never thought I would get to," she said. "I'm not rich at all and live on a widow's pension."
Widowed with so much life left to live, Gina tried dating sites on social media. "I've not had much luck finding love, but I've made a lot of friends," she laughed. One such acquaintance led to a recent and remarkable three-week road trip with her friend David Howell from Missouri. "People thought I was crazy for taking a trip with someone I didn't know very well, but we had been talking for over a year. I felt completely safe. We drove 11,800 miles, entered six territories in Canada, and 11 different states," she said.
One leg of the trip included a 500-mile drive on a bumpy, gravel road through some of the most rugged wilderness in Alaska and Canada. More than 400 miles of that road is known as the Dalton Highway, a stretch that begins north of Fairbanks and ends near the Arctic Ocean and Prudhoe Bay. "That's the furthest you can drive unless you work in oil or fly in by plane," she said. One can't travel that far and not check the bucket list. Of course, they entered the icy waters of the Arctic Ocean. She laughed. "I didn't go all the way under because it was cold, but I got a certificate for the plunge!"
The plunge wasn't the only excitement on their journey. The pair drove first through Canada all the way up toward Yellowknife, the only city in the Northwest Territories of Canada. "We got stopped 60 miles outside of town because of forest fires, and there were nights we couldn't find a room because we were up so far in the middle of nowhere, so we slept in the truck. But we were prepared for that." Not only did the pair pack specifically for long stretches with no restaurants or hotels, but the truck was specifically equipped for the trip.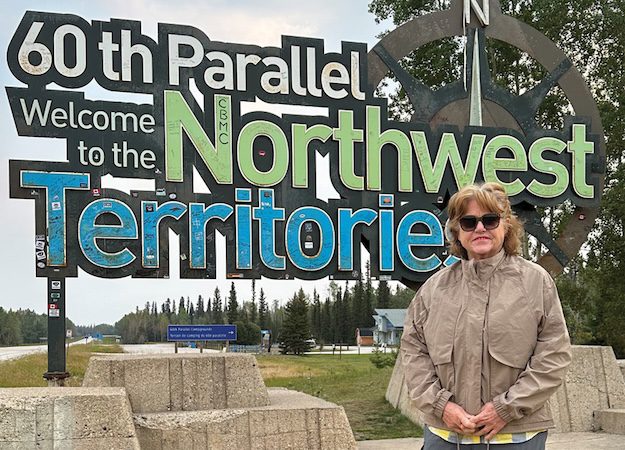 "One night we slept on the McKenzie River (in Canada) with the bison walking around nearby. The bison own the roads up there," she said. Throughout the trip, the pair enjoyed the wildlife they saw, including grizzly bears, eagles, elk, caribou, pronghorns and prairie dogs. They even caught a glimpse of a whale in the Arctic Ocean — and a jellyfish, too.
They traveled through the Alberta Rocky Mountains, stopped in Banff (north of Calgary), and visited Twin Falls Gorge on the Hay River. "There are two falls, the Alexandra Falls and Louise Falls. It is the most beautiful thing I've ever seen in my life. It took my breath away." Beaming, she said, "We walked right down to the falls and touched the water.
"We saw the Canadian Rockies and even traveled some by ferry. The water is just so blue and beautiful with the snow-capped mountains all around it. It's just gorgeous." Gina said the photos she took didn't require editing at all. The pair made their way through various towns, forts, creeks and rivers. They saw the McKinley Summit, the highest mountain peak in North America. They saw the Matanuska Glacier, Oregon's Gold Coast, the redwoods of California, Napa Valley, the Golden Gate Bridge, rock formations in Utah and so much more.
"We had some scary moments, but to have that kind of adventure, you have to know how to rough it out there," she said. Gina said her companion is a very disciplined traveler and makes these types of trips every year. "I honestly think he spends all year planning his next trip," she laughed. Every part of the trip was calculated pretty much to the minute and the mile.
Gina journaled daily on the trip. "This was a trip of a lifetime, and I wanted to record as much as possible." She feels taking the road less traveled returns a much greater reward. "I think we miss so much flying and going on cruises." Of course, that doesn't keep her from enjoying the other trips she's taken. She's stayed a week in a condo on a Florida beach with a friend from high school, recently returned from a week in Mexico and has been to Puerto Rico, Jamaica and the Caribbean. Someday, she plans to make it to Europe.
Gina is quick to say she isn't rich but is blessed with great friendships. "Life is short. None of us are guaranteed tomorrow. You don't have to be rich, just determined not to let things stand in the way," she said. "Make friends and maintain those relationships."
Those are the things that make life the sweetest.