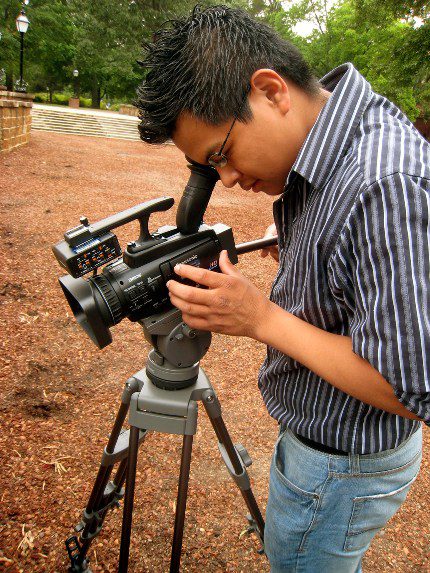 19 Aug 2013

AETN's 'Student Selects 2013' premieres Sept. 26

Posted at 3:00 PMh

in

News

The work of Arkansas's next generation of filmmakers will be showcased in "Student Selects: A Young Filmmakers Showcase 2013" airing on the Arkansas Educational Television Network (AETN) at 8 p.m. Thursday, Sept. 26.

The films will repeat as part of AETN Arts Fridays in four, 30-minute segments on Fridays, at 6:30 p.m. beginning Sept. 27.


"Student Selects" is an annual event that highlights the creativity and talent of the state's kindergarten through 12th grade students. Young filmmakers submit their film and video handiwork for possible broadcast on AETN and streaming on aetn.org, and graduating seniors may compete for THEA Foundation scholarships in screenwriting, directing, cinematography and editing. Nearly 100 entries were submitted in 2012-13.


"'Student Selects' promotes an appreciation for art, improves literacy and computer fluency, and encourages teambuilding and community involvement by fostering the thriving youth film scene in Arkansas," AETN Producer Casey Sanders said. "Filmmaking is not only a fun way to get students more involved in the learning process, but it is also a way for students to find and realize their own voices and visions for the future."


This "Student Selects" broadcast will include:

"How We Never Met," Rogers High School – Two teenagers share an instant connection, but forces conspire to drive them apart.
"The Illusion," Har-Ber High School, Springdale – When the realm of dreams meets that of waking nightmares, where does reality fit in? Anna Thompson was awarded the directing scholarship.
"Killing Crime: The Most Wonderful Crime of the Year," Cabot High School – The sequel to the "Student Selects 2013" featured film, "Killing Crime" follows the rugged duo, Jeff and Alan, in a new adventure. The murderous pair is rejoined by a ghost from their sordid past, forcing them to save their friends – and Christmas – once and for all.
"Life of a Giant," Springdale High School – Life isn't easy as a giant, but that doesn't mean one must face it alone.
"Smoking Dead," Springdale District TV – Smoking – a habit so bad, even the undead won't touch it. (Public Service Announcement)
"Up in the Business," Springdale High School – A young girl moves resolutely through life, refusing to be tied down by relentless drama. (Music video)
"Cups," Springdale District TV – Just because chewing tobacco is smokeless, doesn't mean it's not dangerous. (Public Service Announcement)
"Little Lonely Girl," Jefferson Elementary – A girl ostracized by her peers finds a new friend in a kind little boy.
"Bryan Gosling: A Life in Shadows," Har-Ber High School – The touching story of the other Gosling brother – the one who no one's heard of (before).
"Vasudeva," Fayetteville High School – After a young woman on a camping trip wakes to find her companion has vanished, she is rescued by a kind family. But is everything as it seems? Joseph Largent was awarded the screenwriting scholarship.
"Mr. Right," Conway High School – A story about letting go. And cake balls.
"Fatty in Wonderland," Gravette High School – When his wife leaves him, overweight Grant begins the journey down the rabbit hole to change his life. Zack Heald was awarded the cinematography scholarship.
A second "Student Selects 2013" special, featuring documentary films, will be aired at a later date, following the conclusion of the Hot Springs Documentary Film Festival in October.

September also marks the new 2013-2014 "Student Selects: A Young Filmmakers Showcase" and Young Filmmakers Scholarship eligibility period. Entry categories include, but are not limited to, documentary, narrative, animation and music videos. A complete list of film credits and information about submission guidelines is available at aetn.org/studentselects. Entries for 2014 must be submitted by March 1 to be considered for scholarships.

AETN supports, highlights and distributes young filmmakers' handiwork in cooperation with the Thea Foundation, the Little Rock Film Festival, the Hot Springs Documentary Film Festival, the Arkansas Film Commission and the Arkansas Motion Picture Institute.

The Arkansas Educational Television Network (AETN) is Arkansas's statewide public television network that enhances lives by providing lifelong learning opportunities for people from all walks of life. AETN delivers local, award-winning productions and classic, trusted PBS programs aimed at sharing Arkansas and the world with viewers. AETN depends on the generosity of Arkansans and the State of Arkansas to continue offering quality programming. For more information, visit aetn.org, or follow the AETN blog at aetn.org/engage. AETN is broadcast on KETS (Little Rock), KEMV (Mountain View), KETG (Arkadelphia), KAFT (Fayetteville), KTEJ (Jonesboro), and KETZ (El Dorado).