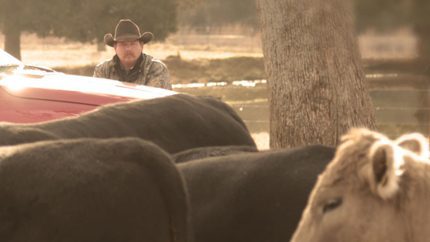 07 Jul 2014

AETN to premiere 'Agri Arkansas'

Posted at 10:34 AMh

in

News

The Arkansas Educational Television Network (AETN) will premiere a new monthly series dedicated to Arkansas's agricultural heritage at 1 p.m. Sunday, July 27. "Agri Arkansas" is a celebration of agriculture in Arkansas, featuring experts, innovators and challenges all present in the state's largest industry.

According to the University of Arkansas Division of Agriculture Research & Extension, agriculture accounted for $17 billion of value added to the Arkansas economy in 2011 and provides approximately one in every six jobs in the state.


"'Agri Arkansas' is not your granddad's farm report," said AETN producer Kevin Clark. "Our segments will reintroduce our audience to the source of their food.


"We will illustrate how Arkansas is in the top 25 states in the production of 24 agricultural commodities. Arkansas is the top producer in the U.S. for rice and baitfish, second in broilers and third in catfish and turkey. 'Agri Arkansas' will celebrate Arkansas's successes and illuminate issues important to both farmers and consumers."


Each episode will feature segments from around Arkansas and discussions with experts. Former news anchor and veteran reporter Tony Brooks will host the series.


"I'm looking forward to sharing stories about the No. 1 industry in Arkansas," Brooks said. "The series will bring our viewers into the daily lives of the men and women who make our farms and ranches some of the most productive in the nation and the world.


"We'll learn about the tremendous diversity of Arkansas agriculture and how important this industry is to our state's economy. I encourage everyone to tune in and come to know more about their neighbors who help feed the world."
Future topics for the series include: Farm Family of the Year, the poultry and rice industries, alternative fuel, technology and innovation, the local movement and urban farming, prison farms, minorities in agriculture, corporate agriculture, the independent farmer, aquaculture and future farmers, among many others.

"Agri Arkansas" will air at 1 p.m. the last Sunday of each month. Additional information is available at aetn.org/agriarkansas.

The series is funded, in part, by the Arkansas Department of Agriculture and the Moving Image Trust Fund.

The Arkansas Educational Television Network (AETN) is Arkansas's statewide public television network that enhances lives by providing lifelong learning opportunities for people from all walks of life. AETN delivers local, award-winning productions and classic, trusted PBS programs aimed at sharing Arkansas and the world with viewers. AETN depends on the generosity of Arkansans and the State of Arkansas to continue offering quality programming.

For more information, visit aetn.org, or follow the AETN blog at aetn.org/engage. AETN is broadcast on KETS (Little Rock), KEMV (Mountain View), KETG (Arkadelphia), KAFT (Fayetteville), KTEJ (Jonesboro), and KETZ (El Dorado).