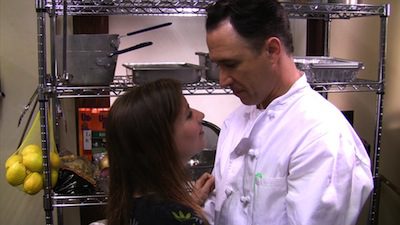 15 Nov 2011

AETN to air 'Table at Luigi's' on Monday

Posted at 7:33 PMh

in

News

AETN is scheduled to air "Table at Luigi's" – a feature length film produced by the digital filmmaking department at the University of Central Arkansas – at 9:30 p.m. Monday.


"Table at Luigi's" is a modern day fairy tale about David, a chef who creates living dreams for people through his cooking. When David falls in love with Emily, a young woman who is not affected by his cooking, she forces him to realize that the dreams he's been creating for others have only held him in his own dream world.

Under the direction of assistant professor Joe Dull, a team of UCA faculty and students spent the summer of 2009 shooting the feature length film which premiered in April 2010. Since the premiere, Table at Luigi's, has screened across the country at film festivals and has won awards for Best in Show, Indie Fest; Best Romance Film, Bare Bones Film Festival; Love is in the Air Award, Film Festival of Colorado; and Official Finalist Award, Las Vegas Film Festival.


Table at Luigi's was shot entirely in Conway and features local actors and actresses in almost every role. Local cast members include Rebecca Jones, Little Rock; Chris Fritzges, UCA Theatre assistant professor; F.E. Mosby, UCA alum; Rachel Small, UCA alum; Jordy Neil, UCA student; Alana Newton, Little Rock; Len Schlientz, Conway; Darren White, UCA alum; Rachel Favori, Little Rock; and Bob May, UCA Theatre faculty.


The driving force behind the production was to give students an opportunity to really learn the craft of film making. "Our film program currently includes plenty of opportunities for students to work on short films with other students, but a feature film shooting for 24 days was an entirely different experience," said Dull. "Most student films shoot for a single weekend, and students only get a chance to wet their feet, barely getting comfortable in their positions before the shoot is finished. With a feature film, the students had to truly learn their craft, and got the opportunity to work side‐by‐side with their professors while doing so."

Critical to the success of the production was the support the team received from the Conway community. Local businesses helped by providing meals for the cast and crew during production along with building materials, paint and access to locations. "It is only with the support we received from the community that we could make the film on such a small budget. This is truly something unique about Conway, Arkansas."


When asked if he would do it again, Dull replied, "We are already starting pre-production to begin shooting in July 2012. This was such a great learning opportunity for the students, the digital film program and the university. We are planning to make it a regular part of the University of Central Arkansas digital filmmaking experience."


To learn more about "Table at Luigi's," please visit tableatluigis.com. For updates on the next feature film please visit daringlydull.com or joedullblog.wordpress.com.