09 Mar 2020

Advertorial: 501der woman – Angela Foster

As Angela Foster walks the halls of Conway Regional Medical Center, nearly everyone who passes by stops to say hello. There are words of, "good to see you!" "How's the family?" and most commonly: "Thank you for your service."

In light of all she has accomplished, it's no surprise that Angela has earned the moniker of Wonder Woman. But to Angela herself, it is an intimidating title.

"It's a little daunting that people view me that way," she says with a laugh. "I guess it means that I have expectations to meet."

But in the eyes of her peers and community, Angela rises above all expectations.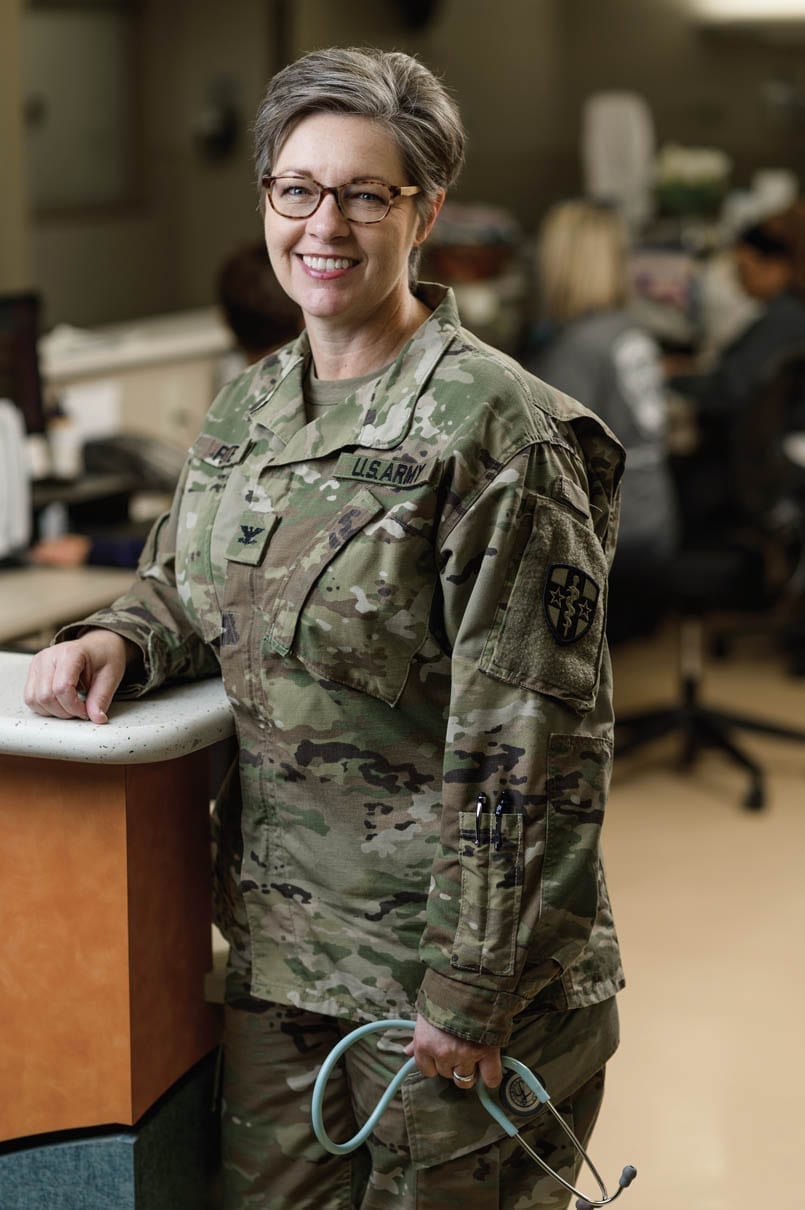 Regularly praised for her exceptional patient care, Angela has been an APRN with Conway Regional's Mayflower Medical Clinic for 10 years. She is joined in the clinic by Dr. Blair Greenwood and Dr. Brian Blair. The team is regarded as three of Faulkner County's most trusted primary care providers.
Angela herself has garnered a reputation as a compassionate, caring, and dedicated nurse practitioner. APRN, however, is not her only title.
When her country calls, Angela replaces her white coat with a uniform.
A Colonel in the United States Army, Angela serves as the Chief Observer Controller/Trainer in the 7307th Medical Training Support Battalion. Operating at Fort McCoy in Wisconsin, she and her unit prepare combat hospitals for a war environment.
"Combat support hospitals and field hospitals who take care of our injured soldiers have to meet a certain level of training before they can be deployed. Our unit creates war time/conflict scenarios and observes how each unit performs," she says. "Scenarios range from an injured military service dog to a psychiatric incident, and everything in between. We build out a war environment, and we evaluate and train the hospital units."
The role comes after 30 years of service in the Army Reserves and Arkansas National Guard, including four deployments: the first as part of Desert Storm in 1991, then to Germany in 2003, Walter Reed Army Medical Center in 2006, and Honduras in 2017.
A career in the Army Reserves was not a path Angela could have predicted.
Born in the little township of Red Star, Arkansas, Angela is the oldest of four daughters. At the age of 19, she joined the Army to help pay for college at the University of the Ozarks where she received her Bachelor of Science in Biology. She was trained in the Army as a Lab Technician.
"When I finished school, I was working as a Lab Tech at St. Mary's Regional Medical Center in Russellville. I worked closely with the Emergency Room and was drawn to nursing. One of the nurses there-Jan Fletcher-was a mentor to me then and still is to this day," she says. "I was deployed in Desert Storm in 1991, and when I came back, Jan and my husband, Rodney, had signed me up for nursing school. All I had to do was add my signature."
But even as Angela began her nursing role, she wasn't completely sold on the career.
"Many people ask me how I went from nursing to the Army, but the Army came first. I didn't actually love being a nurse for a long time," she says. "I had always heard that nursing was something you had to fall in love with to do, but I had to do it to fall in love with it."
After years of seeing nursing as simply a career, Angela recalls the moment she realized it was her life's work.
"I was deployed to Germany in 2003 during the first part of Operation Enduring Freedom and Operation Iraqi Freedom," she says. "We had opened Landstuhl Regional Medical Center and were on the ground waiting for soldiers when the first bombs hit Baghdad. We watched it happen on the news, and 18 hours later, we were taking care of the soldiers."
That moment, Angela says, changed her work from just a career choice to a purpose-filled love for taking care of people.
"It was the process of taking care of young soldiers and realizing they were my babies. They were my family," she says. "That's the beautiful thing about the military: we are a family. Even a perfect stranger, if they are wearing this uniform and they need you, you take care of them-they are one of your own."
The experience influenced every aspect of her life, and the family mentality extends to her team at the Mayflower Medical Clinic.
"My favorite part of my job at the clinic is the work environment and my patients. I love my patients; I would go to work every day if I could do nothing but take care of them," she says. "But I would also go to work every day just to hang out with my coworkers. It's another family there. We take care of each other and we support each other, which makes a great environment to provide care for our patients."
In addition to her role as Colonel and APRN, Angela is a wife and mother of two. Her daughter, Samantha, is a junior at UCA studying Nutrition and Dietetics, and her son, Lucas, is a senior at Conway High School.
When asked who she considers a role model in her own life, her mother is the first name on her mind.
"She passed away two years ago, but she was definitely my Wonder Woman," Angela says. "She was strong and independent, and she taught me to be that way, too."
"There are also lots of women in my life that I consider Wonder Women," she continues. "Younger women who I see doing incredible things, and women that I work with every day in the medical and nursing field."
Caring for women is an important part of Angela's life. An active member in the community, she formerly served as Board President for the Women's Shelter of Central Arkansas, a domestic violence shelter in Conway.
Supporting women, she says, is a role we can all take on.
"As mothers and aunts and women ourselves, we need to promote each other," she says. "Let's support each other and lift each other up, instead of tearing each other down. Because unfortunately, we still do that. But we have to stop. Let's support one another from the very beginning instead."
501 LIFE is shining a spotlight on women who are living fearless lives by giving back to their families, their businesses, their communities and more!