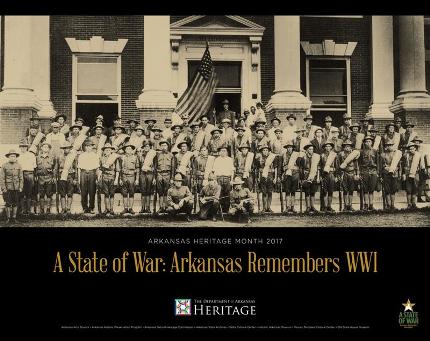 15 May 2017

Activities listed to observe Arkansas Heritage Month

Posted at 11:25 AMh

in

News

May is Arkansas Heritage Month, proclaimed by Gov. Asa Hutchinson and promoted by the Department of Arkansas Heritage. Throughout the month, local museums and organizations offer a variety of interesting and fun programs, exhibits, events and activities related to shared Arkansas heritage.


This year's Heritage Month theme, "A State of War: Arkansas Remembers World War I," focuses on the contributions made by the 70,000-plus Arkansans who served in the Great War. 2017 marks the centennial of the U.S.'s entry into World War I, and Arkansas is joining other states in commemorating this seminal event in collective American history.


Heritage Month is the opportune time to explore Arkansas, to visit unique places and to learn about historic events and interesting people that have made Arkansas what it is today. Here are a few ideas for outings that are just about an hour's drive from Central Arkansas:


Our Railroad Men in World War I is a fascinating exhibit about the importance of the railroads in shipping military and civilian goods and the service of railroad employees in the war effort. It's available through the end of the month at the Arkansas Railroad Museum, 1700 Port Road in Pine Bluff.


Arkansas's Most Endangered Places Bike Ride, hosted by Preserve Arkansas, is the perfect activity for local history-loving cycling enthusiasts. Cyclist meet at Bobby's Bike Hike in Little Rock's Rivermarket at 6 p.m. Thursday, May 18. Each ticket includes a great tour of Little Rock's historic places, a special edition T-shirt from Rock City Outfitters, and a pint of Stone's Throw brew. Bring your own bicycle or reserve one of a limited number of bicycles donated by Bobby's Bike Hike. The leisurely 6-mile ride is suitable for cyclists of all ages and skill levels. Tickets are $20 for members; $25 for non-members; and for $50, ride and become a Preserve Arkansas member.


To Can the Kaiser: Arkansas and the Great War, presented by author and historian Mike Polston, explores how World War I connected Arkansas to the world. Enjoy his lecture at 7 p.m. Thursday, May 18, at the Saline County History and Heritage Society Archives and Family Research Center at 123 N. Market St. in Benton. Free.


Cabot History Fair, from 9 a.m. to 1 p.m. Saturday, May 20, this fun and educational celebration of local history is hosted by the Cabot Public Library, and will include local historians, historic re-enactors, and presentations on cemetery preservation, archeology and genealogy. The event is free and families are encouraged to attend.


World War I in Jefferson County, available through May at the Pine Bluff/Jefferson County Historical Museum, 201 E. Fourth St. in Pine Bluff, features a "Last Man Club" exhibit highlighting items from local individuals who served in World War I. The museum is open 10 a.m.-4 p.m. Wednesday-Friday and 10 a.m.-2 p.m. Saturdays.


For a complete list of Heritage Month events across the state, visit ArkansasHeritage.com.